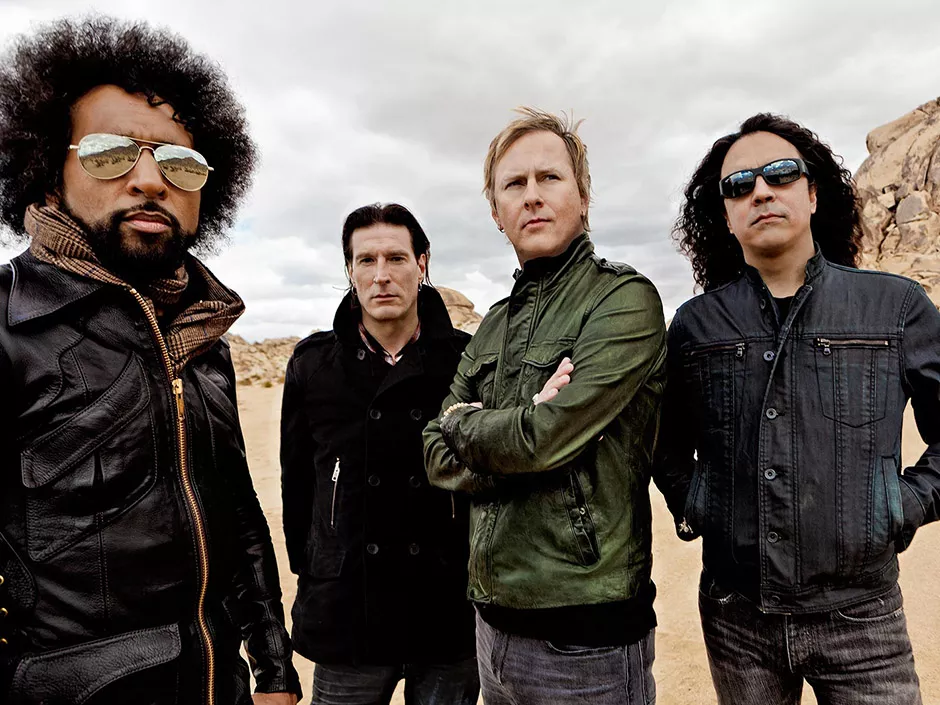 The human body is made to be resilient, to survive in times of unbearable turmoil and heartbreak. The brain may even cope by putting up barriers — amnesia may set in. But Alice in Chains has not forgotten what happened to original singer Layne Staley, who died of a drug overdose in 2002. They have not forgotten what happened to bass player Mike Starr, who died in the same way in 2011.
The death of a lead vocalist is a crushing blow from which many, if not most, bands would not recover.
How can a group move on from it? How do the band's fans accept the new?
William DuVall knows this dilemma better than anyone.
Becoming the band's permanent lead singer back in 2006, he was unsure of his place. He wasn't from Seattle; he couldn't possibly become Staley. But knowing co-founder Jerry Cantrell for years — DuVall's group Comes with the Fall was the backup band on Cantrell's solo tour in 2002 — it wasn't awkward. Confidence was cultivated through fans still resonating with the band.
"Bringing myself, my life experience into it, that's what the whole thing is about — Layne was great because he was being who he was," DuVall says. "It would be a grotesque disservice to the entire enterprise to do it any other way. You can't control the life or death of friends, but we made the personal decision to continue on."
Even after being a part of the group for seven years, the fact that he's not an original member is still hard to shake.
"Sometimes I do get tired of people talking about it," DuVall admits. "Sometimes you want to talk about the present and the future and not the past."
The Alice in Chains origin story has all been told before. The group was part of the Seattle grunge movement in the early '90s, and like all the other bands that didn't know how to cope with fame, they weren't impervious. At that point, DuVall was in Atlanta rocking with hardcore-punk groups that would be a precursor to the Pacific Northwest scene.
"All the stuff that predated Seattle, those are my brother bands," DuVall says. "I remember the early Soundgarden sound coming out and thinking, 'Oh, they're pretty cool.' Of course, when it all exploded, it was verification of what we had been doing in Atlanta."
But as DuVall says, there comes a point when there needs to be a real continuation of the band, not just a celebration of the past.
That's what making 2009's Black Gives Way to Blue was all about. With the success of its single "Check My Brain" and the album going gold, a comeback was cemented.
"We had pulled off a second act; it would have been silly to not follow up," DuVall explains.
"It's been a reawakening internally. We're in a fortunate place to even have this discussion — that's not lost on any of us."
The recently released The Devil Put Dinosaurs Here took almost four years to complete (thanks to a relentless tour schedule and Cantrell's shoulder surgery). But when the disc finally dropped, it hit No. 2 on the Billboard charts.
"That was so validating," DuVall says. "It was a validation and a vindication of everything we've done."
Their sound is still heavy, with smashing bass and drums and darkly themed lyrics with rock leanings in the melody. Also still there is the aspect that always separated Alice in Chains from the pack, the vocal harmony between Cantrell and now DuVall (the two switch between lead and backing vocals).
"I was a guitar player first — that was never the case before [with Staley]," DuVall says. "I'm going note for note with Cantrell. It's a different chemistry with us, but with the same naturalness, not contrived. There's a reason I was asked to even join."
As far as what he'll do after the tour wraps up early next year, a long vacation somewhere tropical is in order. But Alice in Chains' resurgence is far from over.
"It might be a good time to run on this forever," DuVall says. "I don't see any plans for us to shut down the whole thing or anything like that. But we tend to be a bit cagey about these things — we've learned the hard way that planning things is an opportunity to make the universe laugh."
Pain in the Grass Tour Day 2 feat. Alice in Chains, Jane's Addiction, Coheed and Cambria, Circa Survive and more • Sat, Sept. 7 at 1:30 pm • Gorge Amphitheatre, George, Wash. • $73.90 and up • All-ages • ticketmaster.com • (800) 745-3000