Put pictures of 1975-era Aerosmith and 1995-era Guided By Voices next to each other and you probably wouldn't think the bands have anything in common. And, indeed, they don't really — other than both being great American rock 'n' roll bands.

Those particular years mark when each group released what arguably are their best albums. They were certainly the groups' respective breakthroughs — although not all breakthroughs are created equal. This month marks the 45th anniversary of Aerosmith's Toys in the Attic and the 25th anniversary of Guided By Voices' Alien Lanes, and I've been listening to both of them a lot during the pandemic.
We all have artists we turn to for comfort during trying times, but there was no predicting I'd turn to the glorious hard-rock of Aerosmith's early years alongside the sounds of the scrappy lo-fi fiends that I've loved from the moment I heard them. It certainly makes for a sonically bizarre segue between the two albums, no matter which I listen to first. But upon some self-isolation-inspired rumination, I've figured out a few things about what makes each album so appealing, and why you should give them some time in your ears.

It starts with attitude, and how that attitude is personified by each band's frontman.

When Aerosmith's Toys in the Attic arrived, lead singer Steven Tyler was often dogged as a Mick Jagger wannabe, based as much on his ample lips as Aerosmith's bluesy rock moves. But that was unfair, as the then-27-year-old Tyler had already started establishing a presence on stage — sexually suggestive dancing, a scarf-adorned mic stand and glammy attire — that would be aped later by every Sunset Strip '80s hair-metal band that grew up loving Tyler's Boston quintet.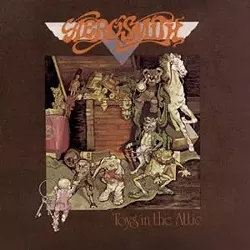 On Toys, Aerosmith managed to take the musical energy of its club days and blow it up into arena-sized riff-rock, and the songs were infused by Tyler's new lyrical focus on sex, sex and, um, more sex for joyfully sleazy songs like "Walk This Way." The combination worked, as Toys in the Attic became Aerosmith's best-selling album (more than eight million copies) and provided the first of the band's 21 Top 40 pop hits with "Sweet Emotion."
Guided By Voices frontman Robert Pollard is the only constant in the band's revolving lineups, and while he's had strong collaborators in GBV's various incarnations, his attitude is front and center with all of them. And if you replace Tyler's scarves with Budweiser cans and pelvic thrusts with emphatic leg kicks, Pollard is every bit the mesmerizing stage performer as his more popular fellow frontman.
On Alien Lanes, Pollard was paired with what many of us consider the "classic" Guided By Voices lineup, with guitarists Tobin Sprout and Mitch Mitchell transforming the former school teacher Pollard's spacey, surreal lyrics into power-pop gems like "Watch Me Jumpstart," "Game of Pricks" and "Closer You Are." While some might argue its predecessor Bee Thousand is the band's best, the 28 songs (!) on Alien Lanes are an ambitious, sprawling example of what creative people can do with great ideas and very little money. Without Pollard and Co. creating a masterpiece piecemeal at home on various four-track recorders, future artists like Kurt Vile or Car Seat Headrest might never have realized you can make amazing albums without a fancy studio.
I probably first heard Aerosmith at exactly the wrong time. By the time of their mid-'80s career resurrection, fueled in part by their collaboration with Run-D.M.C. on a cover of "Walk This Way," the band had (largely) sobered up and reunited after about five years apart. They'd also turned to outside songwriters who slathered the band's massive-selling comeback albums (1987's Permanent Vacation and 1989's Pump) with treacly ballads served up with extra cheese. The band had a huge second act, and continues playing, although most of the music released over the last three decades is hot garbage compared to the stuff on Toys in the Attic and other mid-'70s gems like Get Your Wings and Rocks. If you grew up when Aerosmith was filling MTV with Alicia Silverstone-focused videos and rightfully dismissed them, give the old stuff a chance.

I probably first heard Guided By Voices at exactly the perfect time. Alien Lanes arrived when I was a broke grad student living on a steady diet of punk and indie-rock. Guided By Voices might have been seen by some as another so-called "alternative" band with the potential to blow up thanks to Pollard's classic-rock sensibilities, but the music on Alien Lanes was always too weird for them to barnstorm the radio in 1995 alongside more straightforward "alternative" releases by the likes of Goo Goo Dolls, Oasis or Alanis Morrissette. But when I throw on Alien Lanes in 2020, I don't feel like it's a nostalgia trip at all. When I bought a turntable last fall, that album was one of the first I bought for my new vinyl collection.
Guided By Voices, still making records with Pollard and ever-shifting lineups, is timeless, and they were never better than on Alien Lanes.

<!—————EndFragment—————>