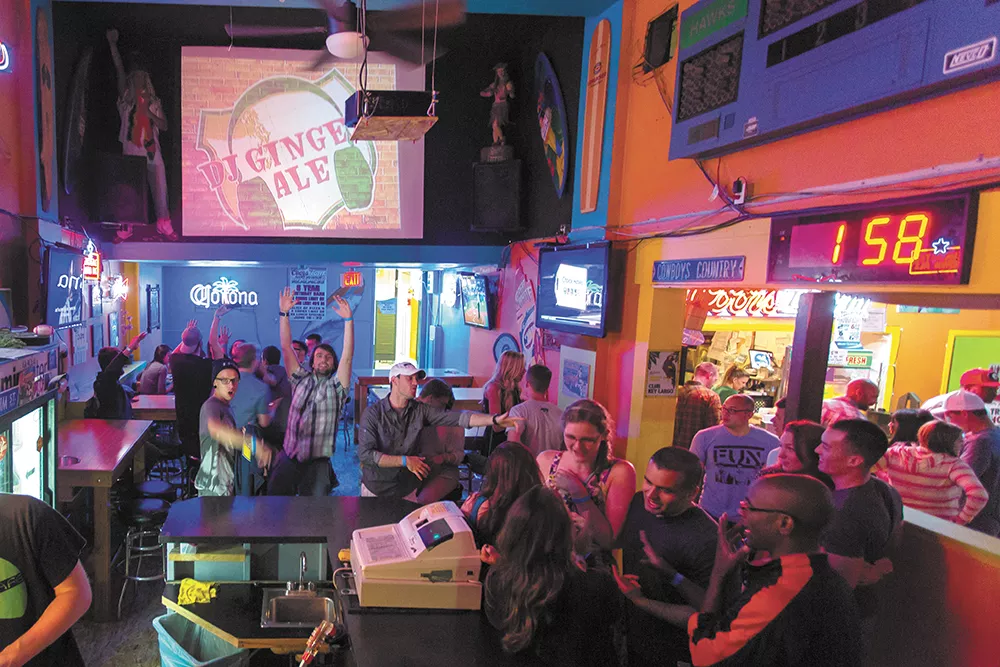 It's the only bar open until 4 am on Friday and Saturday nights in Spokane. That's because IRV'S (415 W. Sprague) wants it that way.
"We're just trying to provide a happy environment," says operations manager David Lewis. That environment means dancing until the wee hours for everyone 21 and over. As with all bars in the state, alcohol sales end at 2 am, but that doesn't mean the fun comes to an end. Along with the dance floor (and a stripper pole), the gay-friendly bar offers pool tables, pinball machines and plenty of seating for those looking to sober up before heading home.
Lewis says staying open so late is worth it because, unlike other bars, they're able to do so successfully.
"It's a place that's been around for six years because people are comfortable when they come here. They can be themselves," Lewis says.
KARAOKE
He's heard it all. Every terrible country song, every Bon Jovi ballad. But MONTEREY CAFÉ (9 N. Washington) manager Chris Skillman has no intention of shutting down the karaoke before 3 am on Friday and Saturday nights just because of a little bad singing.
On the late nights, Skillman says he'll sell anywhere from 15 to 25 pizzas. It's easy to throw back a couple of slices while waiting for a turn on the microphone.
CASINOS
Multiple casinos in the area are open 24 hours a day. For those wanting a place to bet big or small, literally all night long, here's where: NORTHERN QUEST RESORT & CASINO (100 N. Hayford Rd.), COEUR D'ALENE CASINO (37914 S. Nukwalqw, Worley, Idaho), KOOTENAI RIVER INN CASINO AND SPA (7169 Plaza St., Bonners Ferry, Idaho) and the smaller ACES CASINO (6301 N. Division).
FOOD
Sustenance is important after a full evening of drinking, listening to awesome local music or dancing. That's why a handful of establishments smartly decided to profit from those empty stomachs. Since 1998, THE SATELLITE DINER & LOUNGE (425 W. Sprague) has been the classic option for the late-night crowd. After working the graveyard shift for five years, waiter Isaac Lariviere knows how to deal with the drunk crowd — but that's not everyone who comes in late. "We get a lot of nurses in here, actually," he says. "And people coming through on a bus or train stop. We're the only place open down here, so it's really a mix of everyone."
As far as local fast-food joints are concerned, there are a few best bets. The downtown ATILANO'S (725 W. Third) is open until 3 am; anyone who loves authentic burritos knows how much of a godsend that is. When the urge for a hot dog kicks in after 2 am, WILD DAWGS (102 N. Howard) should be your go-to spot. Their offerings range from plain dogs to more gourmet fare, until 3 am. Two ZIP'S franchises are open 24 hours. One is at 725 E. Francis; the other is in Cheney (911 1st St.). Food trucks also have gotten into the habit of serving up late-night fare, with TACOS EL SOL (corner of Washington and Sprague) offering some of the area's most mouth-watering tacos.
After 2 am, these places just taste better. ♦