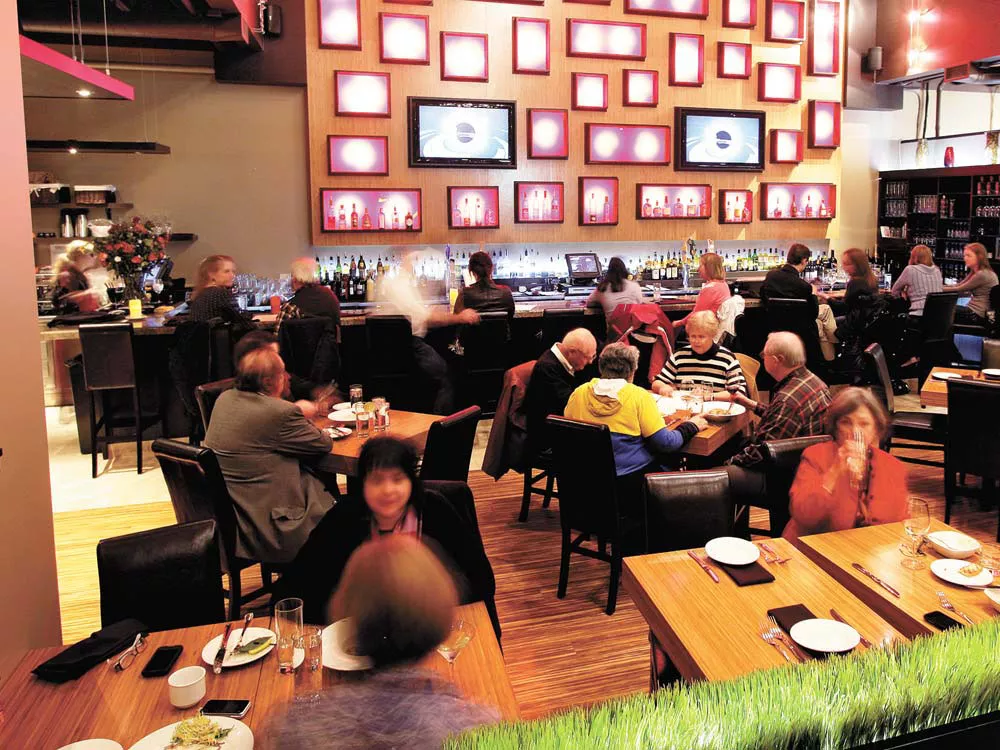 Savory Restaurant & Lounge — recently metamorphosed from a Blockbuster — generated enough pre-opening buzz that the building might have lifted completely off the ground from all the speculation and gassing off. The restaurant had over a hundred reservations during its "soft opening" Nov. 11 and 12. By the time the official grand opening arrived the Monday after, bloggers were blogging about insufficient parking and the staff already wore the look of soldiers in Afghanistan — weary, but vigilant.

The parking lot was, indeed, full. But inside, Savory makes full use of its big-box heritage. The space is huge, and its creators have gone to great lengths to transform it with bamboo floors, mood lighting, vessel sinks and a feature wall of vibrant red color-blocking. The place thrummed with first-night energy, but the cathedral-high ceiling and sprawling square footage keep noise to a manageable din.

There are plenty of seats to fill. A large lounge area makes up the center-rear of the restaurant. The main dining area includes several large booths reserved for large parties, complete with do-it-yourself lighting dimmers. A sizeable outdoor patio is also in the works.

Two "chef's booths" offer diners a view of the kitchen staff at work over sizzling grills and hot plates, a commitment to transparency that puts extra heat on chefs. But Savory's cooks looked well rehearsed.

The menu has a regional bent, with emphasis on farm-to-table. Washington apples, potatoes and pears populated dishes from starters to desserts. What Savory chefs can't grow, they make from scratch: In-house condiments, like ketchup and marmalade, elevated familiar dishes like french fries ($7) and grilled chicken ($17). The house-made mozzarella (prosciutto-wrapped and wood-grilled, with chili lime sofrito, arugula pesto, and fig mustarda, $11) was an appetizer highlight.

Entrees come in generous portions, varying from applewood-grilled meats (try the beef short ribs braised in red wine, with dried plums, green olives and crispy fried polenta, for $19.50) to seafood, vegetarian options and dressed-up comfort food (e.g. Breakfast for Dinner, an open-faced frittata with chorizo sausage, manchego cheese, and chipotle crema, $13). The chicken pot pie ($14) has a golden, flaky crust any 1950s housewife would approve of.
Spoiler alert: Desserts, too, are savory. Apple olive-oil cake and chocolate dunkel cake, made with local apples and brew, respectively, are $5.50 a pop. (Anna Vodicka)
Savory • 1314 S. Grand Blvd. • Mon-Thurs, 11 am-10 pm; Fri-Sat, 11 am-1 am; Sun 11am-9 pm • 315-8050 • http://www.savoryspokane.com
---
Kicking It Down a Notch
For many who have devoted their evenings to watching Food Network, the next phase in foodie education is often cooking classes. There's no shortage of these classes, regularly offered at the Kitchen Engine, and even by chefs like Sante's Jeremy Hansen.

At the Happy Wife, Happy Life Cooking and Mixology Classes, though, things are a bit more relaxed.

During these courses, middle-aged women "Slap Chop" walnuts in one hand and drink beer in the other. Husbands are dressed in floral aprons, at their wives' beck and call. It doesn't really matter if you get elbow-deep in a mixing bowl or just loiter by the drinks and hors d'oeuvres table.

"I wanted to keep the love and joy in cooking," says Scott Cook, co-owner of Two Cooks with Love Catering, where the classes are held. "It's kinda hard not to enjoy yourself, because people always have fun here."

Cook and his wife, Roxane, started the cooking courses last winter during a slow catering season. The series is now 11 courses down and will continue to be a monthly installation.

Their December class focuses on holiday appetizers, drinks and desserts. Imagine things like baked Brie with honey pecan sauce, lemon-zested Everclear-and-eggnog cream puffs. "Everyone has their traditional family recipes, so we want to help you with the before- and after-dinner treats," Cook says.

The clientele is diverse — retired couples to 30-something women to mother/daughter duos. The courses touch upon beginning to intermediate cooking lessons, and the meals are thematic, focusing on things like Oktoberfest, appetizers and soups. Students are broken into groups (i.e. drinks, pasta, sauces, desserts), given ingredients and left to cook at will, guided by Cook and his wife.

"It's a very hands-on experience," Cook says. "They get to taste, mix drinks, and play with a large variety of recipes. They never leave hungry and we keep the costs down. You can't go out to a restaurant and get as full as my students get or drink as much. And on top of it they get to learn." (Jordy Byrd)
Happy Wife, Happy Life Cooking and Mixology Class • Thurs, Dec. 2, 6-8:30 pm • $25 per person, $40 per couple • 21 • 11712 E. Boone Ave. • 891-5980 • http://www.twocookswithlovecatering.com