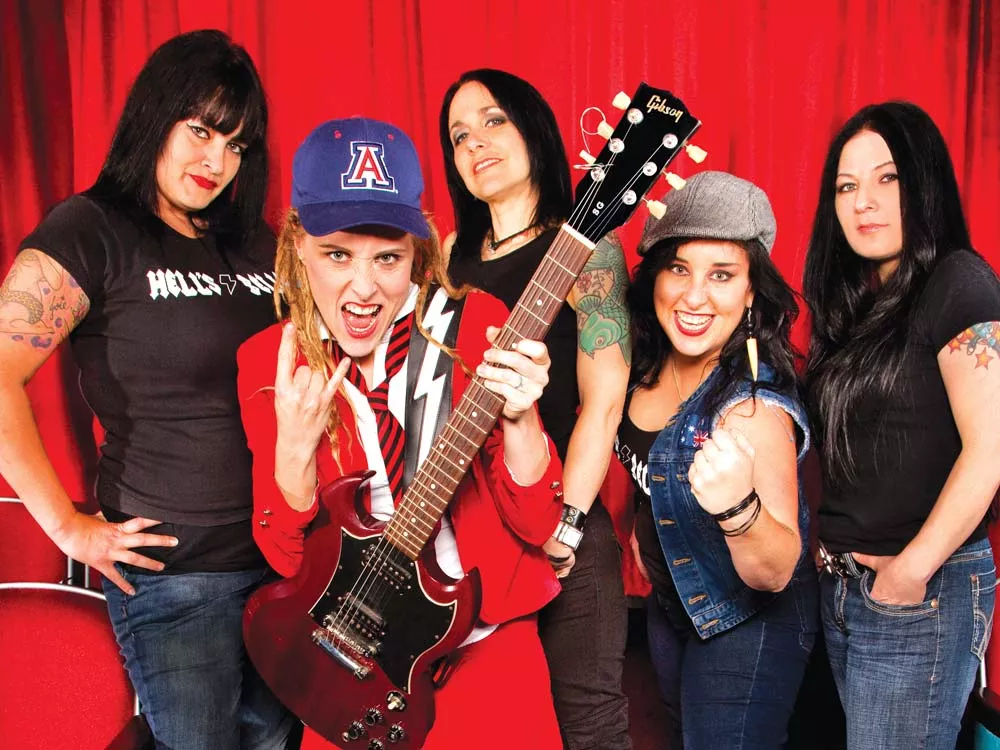 The ever-persistent Hell's Belles are returning to Spokane yet again, for something like the fifteenth show they've played here in the ten years they've been together.
For those who managed to miss the memo the last dozen times, Hell's Belles are an all-girl AC/DC cover group. They have played a massive number of shows in the Northwest area and never seem to have trouble selling tickets. They've played shows all over the world, opened for acts like Ratt, and even received praise from the man himself: AC/DC's guitarist, Angus Young.
The success they have exhibited in the Lilac City is especially noteworthy. Spokane — much like the rest of the planet — is home to a rabid AC/DC fanbase, and I'm pretty sure every one of those (male) fans will tell you that the only way AC/DC could be better is if, instead of five aging men, they were five scantily clad women.
Don't get me wrong: It's not likely that the Belles would want you to take them for some girl group. They prove that women can be just as powerful and defiant as male rock stars. And that gender-equality angle has surely played a large role in their rise to relative fame.
Still, let's not call them feminists. I'm sure one of them will tell you that they are all about the rock, and to look past the all-girl gimmick. Ignore the sexy attire. Look past the often sexually repressive lyrics of the men that wrote the music they make money by playing.
Because the fans will go nuts over them every time, without fail, be it for their good looks, bad attitudes or talented musicianship and spot-on representation of AC/DC's particular brand of rock. If anything has been made clear in all of the years that they've been paying us visits, it's that they're certainly not going anywhere any time soon or changing their schtick one bit.

Hell's Belles play with Diamond Speedboat • Sat, May 21, at 8:30 pm • $13 • All-ages • Knitting Factory • ticketfly.com • 244-3279