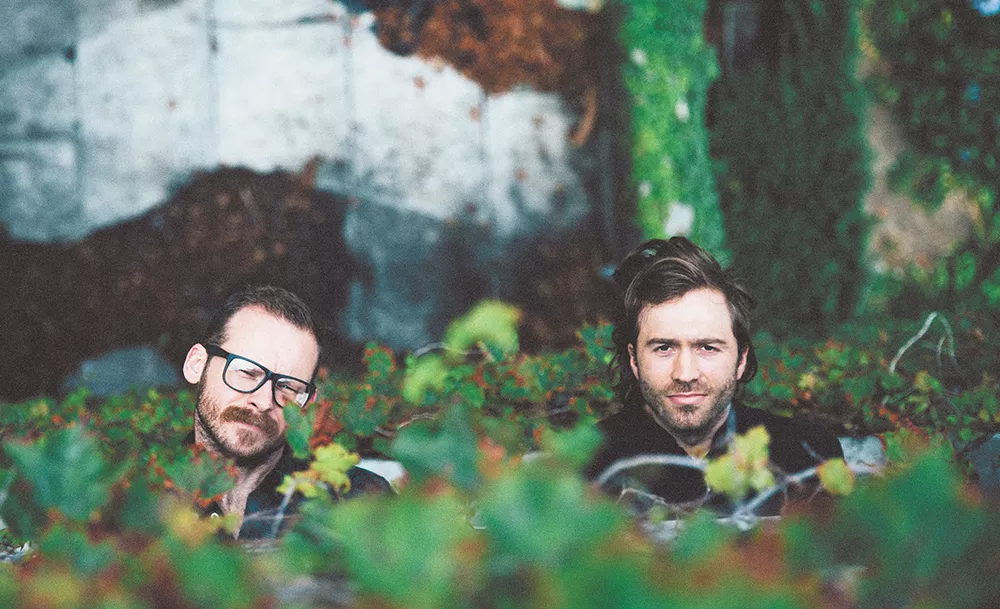 In Native American folklore, a wendigo is a mythological monster that possesses humans and drives them to commit heinous, violent acts. Wendigo is also the name of the latest LP from Andy Baxter and Kyle Jahnke, better known as Penny & Sparrow, and, appropriately, it's an exploration of what scares us and why.
Baxter calls Wendigo, the folk duo's fifth full-length album, "a study in fear": It deals with real-world concerns, the impending spectre of death, and our suspicions that supernatural, cannibalistic shapeshifters might, in fact, exist. Consider it therapy by way of songwriting.
"We were talking about things people were scared of, ourselves included. ... If I'm scared of death, we're going to talk about it a lot, and then see how I feel about it when we're done," Baxter says. "But every conclusion is not a sad, dark one. ... If you shine a flashlight in the dark corner of the closet, you get to figure out if there's anything in there to be afraid of."
The album is perhaps the most ambitious project yet from the two founding members of Penny & Sparrow, who first met as college students in Austin (Jahnke still lives there, while Baxter is currently based in Muscle Shoals, Alabama, another of the country's most famous music cities).
Baxter recalls moving into a house with at least a dozen other guys ("The rent was stupid cheap," he says), and Jahnke was his roommate. They soon discovered a shared affinity for what Baxter calls "sad bastard folk songs," and while Jahnke taught himself guitar, they started jamming together. Soon enough, they were writing their own material.
"It was literally a means of passing the time," Baxter says. "It was never an attempt to form a burgeoning music career. ... We blinked and realized all these weekend runs we were doing for fun were actually getting high numbers in attendance."
And it still works the way it did when they first started out around 2010: Jahnke picks on an acoustic guitar and Baxter sings over it, accompanied by Jahnke's own vocal harmonies.
"The melodies are born with Kyle and the words are born with me," Baxter says. "I keep an ongoing notebook of phrases or words I want to work into songs, and Kyle is constantly mumbling melodic gibberish into his phone. He sends me those, and I go into 'word world' and basically play Mad Libs."
Baxter and Jehnke originally set out to make the Wendigo project into a suite-heavy, narrative-driven record, à la Willie Nelson's 1975 album Red Headed Stranger. Considering their shared love of theater (keep your ears open for explicit lyrical references to Les Misérables), they also briefly toyed with the idea of writing a musical for the stage. And while that idea was mostly scrapped in favor of a more traditional album structure, the finished product is certainly hung upon a thematic through-line; one could argue it's still a loose concept record.
"What was originally going to be a story album, a Broadway musical of sorts, became a more mixed bag," Baxter says. "I think melodically and lyrically we've pushed back on convention [with this album]. Looking back across the landscape of what we've gotten to do, I feel like we experimented more with this."
Like its predecessors, Wendigo is a showcase for the band's haunting musical meditations, with Jahnke's spare arrangements accentuating Baxter's plaintive lyrics about the fallibility of humanity and the meaning of faith. But the typical Penny & Sparrow show, despite the themes tackled in the music, is hardly a grim, morose affair.
"We both think it's disingenuous to be dark and heavy all the time. It's also not genuine to laugh all the time, either," Baxter says. "We run the entire emotional spectrum through the show ... and I think people will be surprised by that." ♦
Penny & Sparrow with Lowland Hum • Tue, Oct. 24 at 8 pm • Sold out • All-ages • The Bartlett • 228 W. Sprague • thebartlettspokane.com • 747-2174