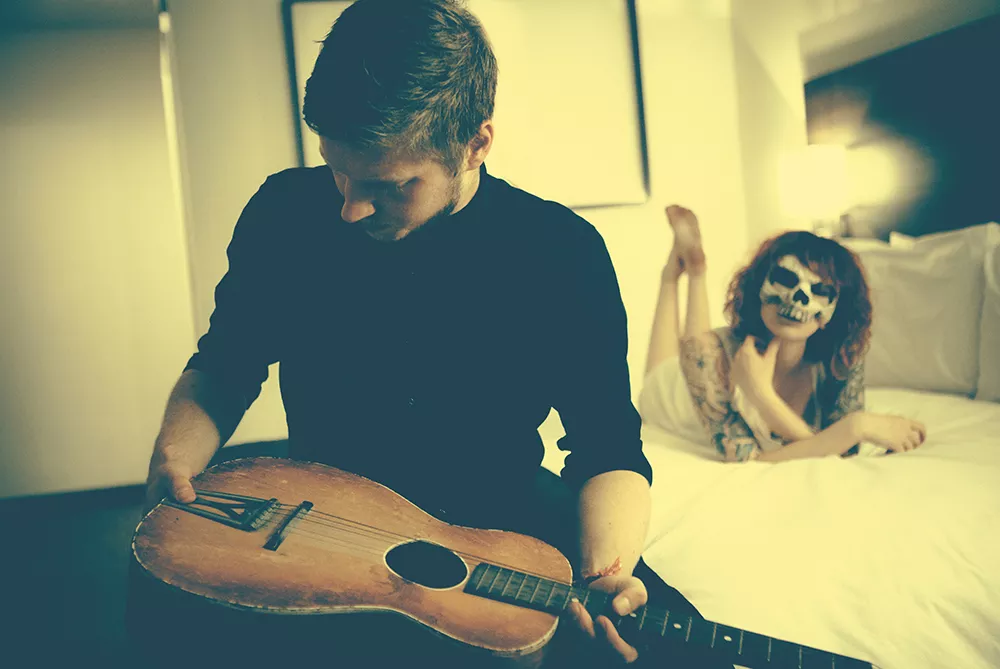 Kent Ueland has been drinking since noon. The shrill doorbell jarred him awake at his Peaceful Valley house this morning. At the door, a postman served him a wage-garnishment order, due to outstanding collection agency debts. But Ueland recently quit his various jobs, so there are no wages to garnish. Hungover from a celebration the night prior, all he can do is smile, take a swig of a leftover beer and get back at it.
At 5 pm he strolls into Mootsy's, his favorite bar in town, wearing a black wide-brim hat, looking every bit the indie singer-songwriter that he is. He settles into a booth's springy cushions and orders a PBR can and whiskey. In this dim light, he unabashedly says everything he probably shouldn't.
"Me and money don't get along," the 23-year-old admits. "I'm bad at making a dollar, and making music is the best way I know how."
His current solo project the Holy Broke (pun intended) is now his full-time gig. This month, he's on a Northwest tour promoting his new album, Do It Yourself. But playing music alone was never supposed to be it for him; that came out of necessity.
As a student at Whitworth University, which his singer-songwriter brother Dane also attended, Ueland formed the seven-piece horror-folk group Terrible Buttons. Over five years the band's star rose steadily in the Spokane music scene; they were voted Best Local Band in the Inlander's Best Of poll multiple times. But last May, the group canceled an upcoming tour and played their packed-out final show at Volume.
The final tumultuous year the Buttons were together, Ueland says he needed an outlet for everything he was feeling. He'd write a song and then challenge himself to record it in same-day spurts.
"Those first solo demos I did were just emotional vomit," he says. "They would expel all of this shit from me. I was trying to be in this band with a girl I loved and who didn't love me anymore. The songs weren't supposed to be heard by anybody."
Needing money, he reluctantly played his first show under the Holy Broke moniker a year and a half ago. After Terrible Buttons ended, he figured the next step was pouring himself into making a solo album.
To write, he'd get up before his roommates and put on a pot of coffee, grab his beat-up $25 classical guitar and head out to the porch, letting cigarette smoke and cold morning air fill his lungs.
Those tracks were recorded at Plastic Horse Records in Northfield, Minnesota, over the course of about six weeks. Ueland describes the experience as one of the best and most frightening of his career. Working with studio musicians like James Buckley of the Pines and the Replacements' Peter Anderson, Ueland says he couldn't stop sweating.
"I'm the worst guitar player I know who's trying to make a living playing it," he says. "I barely know names of chords, so being in a room with such talented players who got things right on the first take, that was nerve-wracking."
But even without world-class guitar skills — which is why Ueland says he plays the instrument riding so high on his chest, for the most control possible — or the most original of distressed-sounding voices, he manages to stand out in an oversaturated folk market, mostly thanks to his lyrics. His idols, Leonard Cohen and brother Dane, also excel at writing brutally honest (and depressing) lyrics, and that's where Ueland says most singer-songwriters stumble.
"I'm just singing about what I was going through at one point," he says. "It's not a statement one way or another. I think a lot of musicians worry about what people will think of them, but I just try to be real, even if it makes me look bad."
Still, with songs featuring lyrics like "Pretty girls weren't made for talking," he admits that some women have walked out of his shows, while other women have thanked him for having such a feminist approach to his songs. Either way, he's just that glad people are listening.
Tonight, sitting and drinking in the bar he frequents three to four times a week, Ueland says he's happy. He's found love again and has an upcoming electronic project with former Buttons members, which he won't talk much about. But happiness brings a new set of problems.
"It's hard to sing these sad-sack tunes when I'm feeling good," he says. "It was a weird situation before and now, all of a sudden, there's a light." ♦
The Holy Broke album release show with Planes on Paper and Matt Arthur • Sat, Jan. 24, at 8 pm • $10/$12 day of • All-ages • The Bartlett • 228 W. Sprague • thebartlettspokane.com • 747-2174