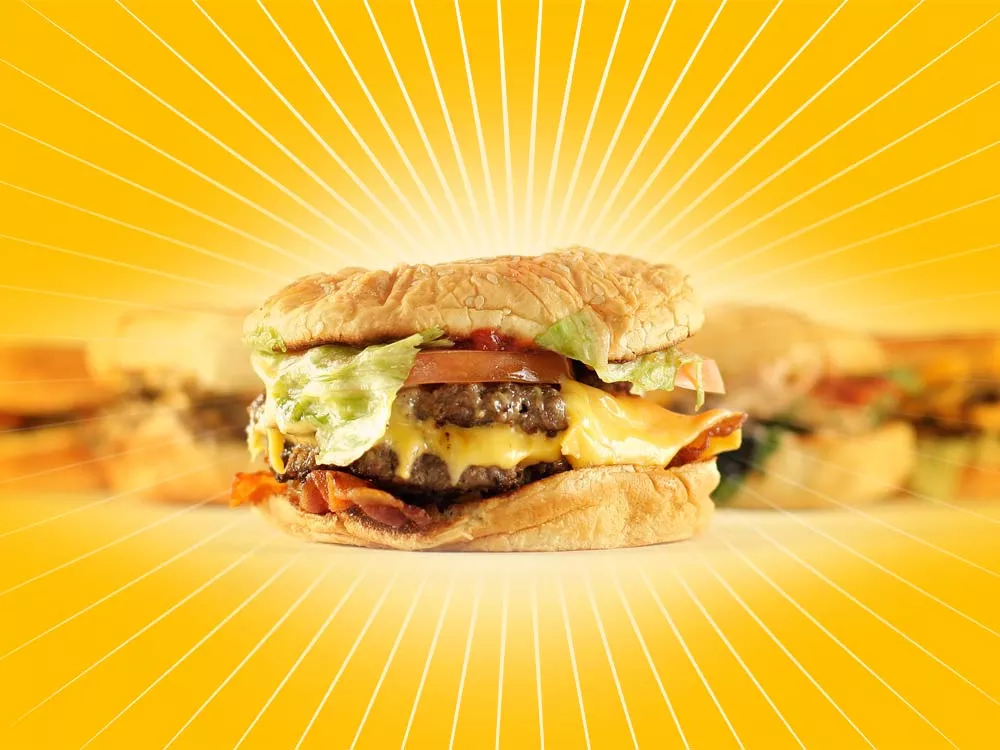 It's difficult to describe the thrill and apprehension that comes from staring down the business end of six different hamburgers.
Double cheeseburgers, to be exact, with bacon where available and onions (grilled, preferably, but raw in a pinch).
It's a feeling not unlike that of extreme sports enthusiasts — they who take their adrenaline with a hint of death fear.
This began as an academic inquiry. Five Guys Burgers and Fries had been named Best Fast Food Burger in America by both Zagat and Consumer Reports readers' polls. They had beaten In-N-Out Burger, which has some of America's most rabid burger devotees, so it's a serious victory.
By definition, though, the only real contenders were national or at least huge regional chains with hundreds of locations. We wanted to see how our local fast food joints stacked up to Five Guys, many of whom have fans every bit as rabid as In-N-Out's.
Simple task, seemingly, but then the day came.
Our burger runners returned one by one — from North Spokane and the South Hill as well as Coeur d'Alene — bearing beef in startling quantities.
This certainly wouldn't kill us, but we were essentially taking one-quarter of Morgan Spurlock's liver-destroying fast-food experiment from Super Size Me and compressing it into a single Saturday afternoon.
The results were surprising. First, though, some notes on methodology.
What Is "Fast Food?"
We didn't want to exclude non-chains, but we didn't want to include burgers from primarily sit-down restaurants. We focused on food designed to be eaten on the go, but Burger Brawl is about flavor, not price. Lastly, besides Five Guys, we avoided national chains. Zagat and Consumer Reports handled that for us.
What Did You Eat?
A geographically representative slate of restaurants. Most have deep roots in the area (the 104-year-old Hudson's in Coeur d'Alene, among them), though one was a hard-charging upstart (Rusty Roof's Burger and Shake Shack from North Spokane).
Who Ate It?
Two burly laborers and two fey writers. Three men and one woman. All lovers of a good burger, and equally disrespectful toward bun-bound pretenders. Cholesterol numbers for those involved were representative of the American population, which is to say: worrisome.
Did You Know What You Were Eating?
No, we had an impartial food preparation expert (my mother) strip each burger of all identifiable markings before delivering them to the testing grounds (my coffee table). This was a blind taste test, no locavore prejudice here.
What Were The Criteria?
We kept it simple, like a truly classic burger: We rated the patty (5 points max), the bun (5 points max) and the fixins (10 points max) — which also included the way the burger functioned as a unit. We added up the points and divided them by the points possible. The winning burger had an 84 percent. We're super-tough graders.
Who Won?
Whoa, chill. This took a lot of gastrointestinal endurance. We're going to milk it.
Five Guys Burgers And Fries — 65%
"The National Champion"
$6.50 • 2525 E. 29th Ave. and 10 N. Sullivan Rd. • 533-1005 and 927-2840
BURGER: Middle of the pack. The group liked the amount of meat, but it didn't blow us away.
BUN: Low- to mid-range bun. Fresh tasting, but unexceptional.
FIXINS: The bacon was great and the burger was stacked tall with grilled onions. One person thought the cheese tasted a little fake.
LOWDOWN: A good burger — great for a chain — but not as good as many of our small, locally grown joints.
ZIP'S — 65%
The Biggest Local Chain
$3.40 • 2917 S. Regal St (and a dozen other locations) • 534-6107 Burger We mostly liked the burger, though one person thought it was a little thin.
BUN: This one split votes: Two people gave it top marks, while two of us thought it was stale.
FIXINS: Could have laid off the ketchup a bit, but otherwise well-balanced.
LOWDOWN: The lowest-scoring burger of the bunch, it bore the tell-tale signs of a chain burger, not particularly fresh. The price is right, and we agreed we'd still take it over national chains — certainly McDonald's — but for high-end fast food, this didn't cut it.
The Thrifty Scotsman — 67%
The Spokane Valley Stalwart
$3.75 • 12024 E. Sprague Ave. • 928-2214 Burger This was a meaty patty for the price.
BUN: Pretty standard white hamburger bun.
FIXINS: The best bacon of the bunch, diner quality. Good pickles too.
LOWDOWN: The name is no joke. Despite the price point, though, the burger was solid all around with some choice fixins. It's also kind of legendary, reportedly being the Valley burger joint of choice for two National Book Award finalists.
D'Lish Hamburgers — 69%
Perennial Best Of Runner-up
$4.25 • 1625 N. Division St. • 323-7130 Burger Juicy patty, but a little thin. Needs the second patty to feel substantive.
BUN: Lowest bun score. Thoroughly average.
FIXINS: Grilled onions upon which all grilled onions should be judged. Excellent.
LOWDOWN: D'Lish isn't fancy, and doesn't come with a bazillion options, but they make an impact with juicy burgers and a few perfectly chosen options.
Hudson's Hamburgers — 79%
The 104-year-old Legend
$4.80 • 207 E. Sherman Ave., Cda • 208-664-5444
BURGER: They pound the patties in front of you, and it shows. The closest any single element came to garnering a perfect score was Hudson's patty.
BUN: Passable — better than average, even — but not up to the handmade standards of the rest of the burger.
FIXINS: Freshest by far. Like, slice-the-onionsand-pickles-while-you-wait fresh.
LOWDOWN: You'd expect a place that's been around a century to let things slide after a while. Hudson's did the opposite. It got beat on points, but it took home trophies for freshness and attention to detail. If you choose to eat in, sit at the long lunch counter. The banter between the cooks and the regulars is more entertaining than most sitcoms.
Rusty Roof Burger & Shake Shack — 84%
Burger Brawl Champion
$6.50 • 101 E. Hastings Rd. • 368-9074
BURGER: Runner-up for best patty, thick and fresh.
BUN: Square and moist, it trapped the sauce and juices into a little flavor bog. May get a tad soggy for some people, but we all thought it was hands-down the best bun.
FIXINS: There was a tang to the sauce that a couple of us mistook for a sourdough bun. That flavor, mixed with nicely grilled onions, pushed Rusty Roof over the top.
LOWDOWN: There's nothing this newish burger joint doesn't do well. They took top marks in both the bun and the fixins categories and took a relatively close second to Hudson's in the patty category. There are increasingly good food excuses to travel to the northern fringes of Spokane (Rusty Roof is well north of the city limits), and Rusty Roof's magnificent burger is among the best. Bring a wet nap, though. Your face gets Deep Water Horizon messy.