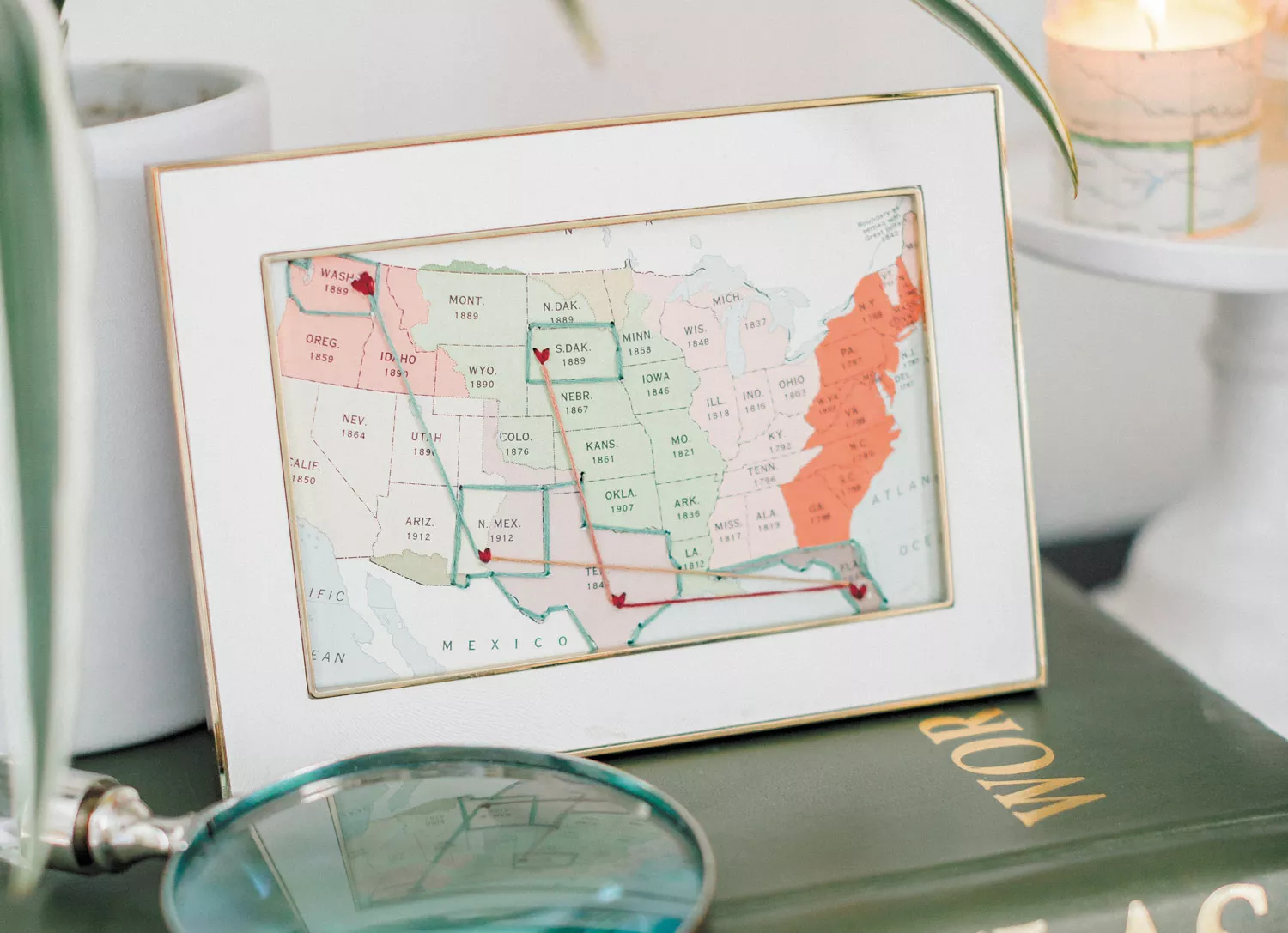 Have you ever wanted to capture your vacations in a fun way to remind you of some of your favorite places you have been to?
Why not frame maps to highlight the places you've visited, catalog the cities that you've lived in or document your bucket list reminders? Hanging your map art as a collage on a wall is an easy project. You can also accessorize the scene with globe-inspired lanterns for a colorful splash of interest.
Map Art
I was fortunate to be gifted some well-loved vintage atlases a few years back and have been happily using them for many projects since. These fun map finds are usually spotted in estate sales, garage sales and antique stores. Folded U.S. and state road maps can work for this project as well.
SUPPLIES
Frames
Maps
Embroidery floss
Needle
Scissors
Scotch tape
Carefully remove pages featuring your favorite locations. Draw hearts, stars or circles around the city of your choice.
Use your needle to pre-poke holes around your city to help guide your path for your thread to go through.
Thread your floss, tie a knot at the end, and get to stitching.
Use Scotch tape over the holes on the back side to strengthen the paper as well as tape the end of the string down at the end of your shape on the backside.
Frame and hang your map artwork — create more than one to build a fun pattern on your wall.
Global Lantern
Adding battery-powered twinkle lights inside these pretty pendants will create a soft glow in the evening.
SUPPLIES
Maps
Paper lantern kit ( 10" 12" 16" rounds)
2½" circle punch
Hot glue gun and glue
String
Clear tack
Punch out a pile of little circular rounds from maps.
Flip the lantern upside down and place a line of glue on the bottom part of circle map pieces. Attach each piece, overlapping one another, to the bottom of the lantern around in a row.
Then flip the lantern to the correct hanging position and attach the next row, spreading a line of glue on the top of the map circle piece and begin placing it on the next line in an over-under pattern. Hint: The top of the map piece will be attached to the lantern, while the bottom will flair out into an asparagus-looking shape.
When all the rows are completed, tie a string to the lantern and hang it on the ceiling. It will be light enough to hang with a tack.
Diane Holm is a prop/product stylist whose home was featured in the October/November 2022 Health & Home. For this project, Diane had help from Jenny Cashion @chicandshab for set dressing and Angie McCoul Weaver of @marigod_vintage_angie for the vintage atlas maps.