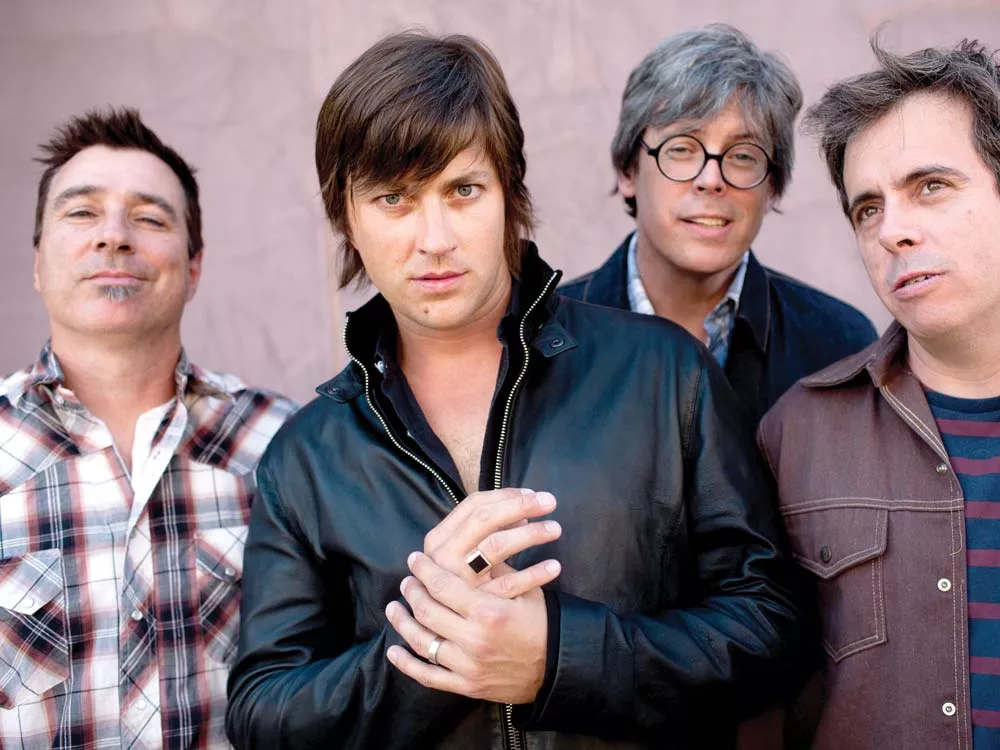 The Old 97's have a dilemma many groups would envy: They've got too many songs. And that makes putting together a set list a challenge.
"It's what I agonize over every night," singer/songwriter/front-man Rhett Miller said in a recent phone interview. "I love making set lists, but now we've got so many songs."
With the band's most recent albums — Grand Theatre, Vol. 1 and the follow-up, Vol. 2, slated for July — the Dallas-based band will have eight studio albums and a pair of EPs in its 17-year discography, meaning they have more than 120 songs from which to choose each night. It's a problem when headlining and playing for a couple hours. And it's a nightmare when opening or playing a short festival set.
"Eventually, we're going to have to start playing for three or four hours or build robots that can play for three or four hours," Miller joked.
But, he said, he can't skip over any of the band's releases in its live shows, and has to include a bunch of songs from 1995's Wreck Your Life (the band's breakthrough album) and Too Far To Care and Fight Songs, their two albums on Elektra Records. Then there's the more recent work … "I look out at the audience and every record, there are people that like songs from that record better than any of the others," he said. "That's kind of cool."
The Grand Theatre, Vol. 1 adds another dimension to the sonic blend Miller and the band have explored since forming in 1993.
"The new record, to me, feels like it has a lot of the sort of garage sound we flirted with on the last record," he said. "There's a lot of tough rock 'n' roll. There are some pretty songs and some of the most country stuff we've done. But to me, it's a garage record."
Miller wrote most of the band's new songs while he was on a solo tour opening for Steve Earle in Europe in 2009.
"That's always good for songwriting. It shakes you up to get out of your natural environment," he said. "You can see things differently. That happens less and less the older you get."
Recording a double album last year, Miller admits, was something of a fool's errand.
"We made a bunch of songs that's essentially a double album — that's anathema these days," he said. "The record (company) doesn't want to put out a double album. It would kill what little profit there is. The public doesn't want to sit down and listen to two albums these days. Maybe they don't have the attention span to listen to a whole record, much less a double album."
Then there's the fact that album sales continue to tumble and music is still widely shared or stolen online.
"My music doesn't have the same value it once did, that's for sure," Miller said. "But I'll take what I can get. Maybe we should put out EPs every six months. The kids seem to like that. I'm just glad people still like music."
Miller's continued enthusiasm for the Old 97's extends beyond the studio to the stage.
"I think part of what fans like is we've never phoned it in," he said.
"I feel like we have two speeds. We're off, sitting on the bus, or we're on stage going 150 miles per hour. Someday we might have to slow down on the live show, but not now. Even though my body aches more when we're through."
The Old 97's play with Sarah Jaffe • Tues, May 31, at 8 pm • Bing Crosby Theater • $25 • ticketswest.com • (800) 325-SEAT