Household do-it-yourself projects — big or small — can seem daunting. So much so that it often appears safer, and tidier, and just plain easier not to do anything at all, or, if necessary, to hire someone else to do it for you.
It doesn't have to be this way. Three Spokane women who share their do-it-yourself triumphs — and struggles — with devoted Instagram followers are proving that with a little elbow grease, lots of paint, and a healthy dose of patience and thriftiness, dramatic transformations are possible, even on a budget.
---
@livingwithlady
When the Morscheck family of five moved into their Five Mile home five years ago, Shannon Morscheck was eager to start transforming it into a space that felt like theirs.
Armed with her most trusty DIY tool — paint — a creative vision and determination to do as much of it themselves as they could on a budget, the Morscheck family's traditional-style, six-bedroom home is now almost aesthetically unrecognizable from the day they moved in.
Morscheck shares exactly how she does it all on her Instagram account @livingwithlady, which has more than 21,800 followers, as well as her lifestyle blog, livingwithlady.com.
"When we moved into this home, I wanted to make it feel ours, but I didn't want to just fill it full of stuff," Morscheck says. "I wanted it to be things that I loved, and wanted to get the look for less, and that resulted in doing projects ourselves and learning how to do them."
Morscheck and her husband J.D., who have three kids ages 9, 7 and 3, started out small. Their first project was to design and build some custom shelving for their older son's room. Not long after, they realized they were ready to tackle something much bigger: A complete rebuild of their back deck.
"The deck is by far the biggest, and that started on a whim," Morscheck says. "One day [J.D.] said, 'What if I rebuild it?' and I entertained the idea. The next day he was tearing down the old one and I was like, 'Whoa, hold on!'"
The couple was able to complete the deck project in about a month, and ended up saving around $20,000 by not hiring the work out.
While not exactly the most beginner-friendly DIY, Morscheck shares all levels of projects on her blog and Instagram stories, from simple handmade pieces and seasonal decorating tips to other custom finishes, like a stunning, built-in bookshelf she and her husband installed at the end of 2018.
This centerpiece of the family's living room also conceals a projector screen for watching TV and movies from the cozy, pillow-laden sofas and chairs filling the space.
"My goals in decorating are to have it be cozy and comfortable, and functional," Morscheck says. "which is why [the built-ins] were so appealing because we had extra storage, seating and it also served a purpose."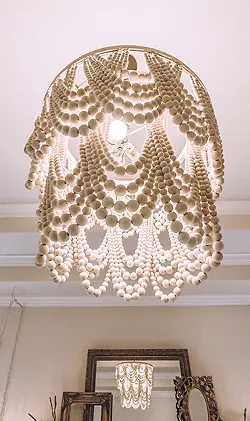 That project began with a sketch. The unit was then created with prebuilt cabinets along the bottom, and topped with custom shelving that frames a cushioned bench beneath an open space for the retractable screen. Materials for that project cost about $1,500, and Morscheck notes that a friend with a similar custom built-in paid around $8,000 to have it done professionally.
Simpler DIY efforts have transformed other areas of the Morscheck home. Earlier this spring, Morscheck updated the dining room fireplace mantel with a coat of deep cobalt paint and a custom board and batten frame above.
"Adding paint can really transform something ... it doesn't take a lot of time or money to do it," she notes.
After seeing a wooden-beaded chandelier at Pottery Barn, Morscheck found beads online and made her own version for the master bedroom.
Despite the carefully curated presentation of photos on her Instagram feed, Morscheck is honest with followers that not every room in her house is perfectly styled and updated (or always spotlessly clean). The kitchen will be a bigger undertaking and probably not completely DIY, as the couple plan to remove a wall and reconfigure the room's layout.
"We live in these homes, too. Just like anyone else, we have toys on the floor and all the things that everyone else does," she says. "When we're working on a project other things get ignored."

Meet Your DIY-er: Shannon Morscheck
@livingwithlady / livingwithlady.com

What's your top piece of advice for DIY projects?
Just go for it. I feel like a person's home should reflect their personalities and it can always be changed or fixed if you don't end up liking it.

What is your favorite current trend?
I love the bold pieces of furniture. If you would have asked me five years ago, 'Would I have this bright green chair?' No. I'm a neutral person, but I am loving the statement-piece furniture.

What are some favorite home and DIY Instagram accounts?
@myhouseof8 (Coeur d'Alene), @nestingwithgrace


---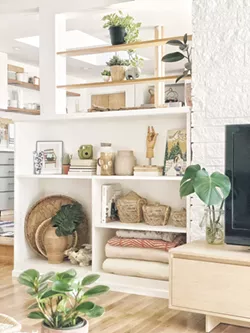 @indie.boho.nest
Until about 10 months ago, Gianna Caputo could only do so much DIYing in the rental she and her husband Mark Braun lived in before purchasing their first home, a 1954 rancher on the border of the Shadle Park and Indian Trail neighborhoods in North Spokane.
She could paint and decorate and hang curtains, but that was about it. In the new home, however, the DIY possibilities for the self-taught interior designer and home stager are now endless. The first thing that she had to change? Paint colors, of course.
When the couple bought it, the midcentury home's interior was stiflingly dark, with lots of deep burgundy paint — including on the brick fireplace — emerald green countertops and dark wood finishes throughout. Painting the entire house a clean, neutral palette of white gave Caputo a fresh canvas for her Scandanavian, boho and midcentury inspired decor style that fills each room. Many of these transformations are featured as striking before-and-after photos on her Instagram, @indie.boho.nest.
Through frequent posts shared with her more than 2,700 followers, Caputo documents her DIY journey and offers decorating tips using the cozy, textural and sunlit spaces of her home as an example.
"I love seeing pretty pictures in my feed, and I wanted to contribute and see what the response was, and be a part of that community," she says of the decision to share her home and bits of her personal life on social media.
Caputo also runs a vintage and thrifted fashion resale shop on Etsy called Blue Pea Shop. Her love of thrifting for unique fashion pieces at a bargain translates to her decorating aesthetic. Many pieces throughout the couple's home were found at local thrift stores.
Beyond easy updates like painting and using decor to modernize each room of the house, Caputo and her husband have tackled a few bigger projects since moving in, like installing new hardwoods in the living room and renovating the kitchen. They didn't change the kitchen layout, and didn't do all the work themselves (tiling the backsplash and installing new countertops), but the results of the mostly cosmetic overhaul made a massive difference in creating a cohesive space that reflects Caputo's personal aesthetic.
A few upper cabinets above the sink were removed to allow for open shelving, which, here, aren't just for looks. Caputo says most of the pieces on the shelves are things the family uses every day — cutting boards, bowls and glassware.
To keep their costs down, the couple kept the home's original cabinetry but repainted it — the uppers are white, while the lowers are a pale green — and installed new contemporary brass hardware.
"Sometimes I still question the painting of the cabinets, but I don't regret it," Caputo says. "I think if you choose something you've gravitated towards for a while you'll be happy" with the outcome.
One dated feature they still hope to change someday is to replace the original hoodless oven and range. Until then, Caputo's creativity has skillfully worked around this detail by making aesthetic changes elsewhere a focus.
On refreshing a home in general, Caputo advises sticking to a tight color palette throughout the home, whether that's paint, rugs, linens or other finishes.
"I think if you just pick two or three colors that you like and those are your main theme, your house will be more cohesive," she says. "It does limit you, but sometimes that's a good thing."

Meet Your DIY-er: Gianna Caputo
@indie.boho.nest
What's your top piece of advice for DIY projects?
Be patient and have fun with it. Give yourself time and know that it can't all happen as quick as you want it to.
What is your favorite current trend?
Basket walls.
What are some favorite home and DIY Instagram accounts?
@deneisebuckophoto, @saltdesignbuild (Spokane); @ispydiy, @42_designs
---

@themindfulhaven
Decorating and DIY-ing is Danielle Loft's zen mode. The mother of three young boys uses her Mead-area home as a constant creative outlet, whether that's renovating a definitely outdated basement bathroom for around $400 or repainting thrifted furniture she found on Craigslist.
"My therapy for balancing motherhood is projects and crafting and anything DIY," Loft says. "I just hung hanging planters last night and it made my whole mood better. Some people like to read a book or take a bath or buy new shoes, and I like to make stuff and make things pretty."
Loft shares her creative pursuits, DIY tutorials and snippets of family life on Instagram as @themindfulhaven. She and her husband Ryan purchased their 1985 home in the Fairwood development in Mead four years ago, and knew making it their own would be a continuing process. Nothing had been updated since it was built.
"Every square inch of this house I painted myself. Every room needed the carpet ripped out, wallpaper torn down and walls retextured," Loft recalls.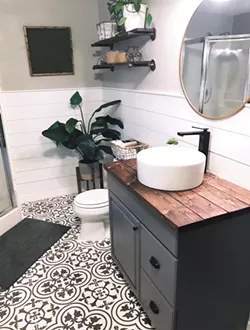 While they replaced the carpet in the living room with hardwoods to match what was already in the entryway and kitchen (a space still on their renovation to-do list), Loft got creative and used black and white paint and a stencil to update and add interest to the dining room tile.
"I didn't want to redo the flooring because by the time you put money in and update it, it's literally out of style," she notes.
Besides adding a fresh coat of paint whenever possible, Loft's go-to strategy is shopping at thrift shops and garage sales, and scouring Facebook Marketplace and Craigslist for cheap furniture and decor pieces with hidden potential.
"My motto is I don't pay retail for anything, and if I can make it, I will, for way less. I always compete with myself to create a look for less," she says.
This decorating and DIY philosophy means Loft isn't constantly spending money on expensive new pieces to update her home to reflect the latest design and decor trends. Plus, she has young kids who aren't easy on the furniture.
Of the many projects she's completed so far, Loft's favorite and most meaningful is her 3-month-old son's nursery, which she designed and renovated while pregnant. She chose an unexpected yet affordable flooring option; 8-inch plywood planks painted white.
"Originally the floors were supposed to be whitewashed, but something went wrong and they turned yellow so that's when I painted them white," she explains.
Almost everything else decorating the baby's room was repurposed, thrifted or handmade for under $500.
"I usually grab things when I find them and then find a place for it after," she says. "If I don't use it, I stage it nice or paint it and make some money off it."
Throughout the home, Loft's decorating style is a blend of boho, midcentury and contemporary. She recalls that when she and her husband were house shopping, they looked at countless homes with basic, builder-grade finishes. They realized that an older, more outdated home would be a blank canvas they could customize over time.
"I'm OK with a project house," she notes. "It's extremely time consuming, but I like doing it. I trade what other people do in their free time for redoing my house."
Meet Your DIY-er: Danielle Loft
@themindfulhaven
What's your top piece of advice for DIY projects?
You don't have to have a million bucks to have your space look like a million bucks. What you need is to shop smart — choose pieces as you find them on sale, thrifted, etc.
What is your favorite current trend?
Probably midcentury. I really love it and got into that style in the last year.
What are some favorite home and DIY Instagram accounts?
@angelarosehome, @chrislovesjulia, @cynthia_harper_