While some fine dining restaurants try to keep up with the absolute latest in food trends, one of the things that keeps Spokane classic Clinkerdagger relevant is its consistency.
"We're the classic," says general manager Debi Moon, who's coming up on 25 years working at the restaurant, which sits in the back of the Flour Mill building overlooking the Spokane River. "If you had the pea salad 10 years ago and want it now, we want it to be the same. We try to keep our core menu the same."
Of course, executive chef Jason Sir has a featured sheet where you'll find fresh seafood and other limited offerings, she says. But on the main menu, you'll always find the Broadway pea salad, the rock salt prime rib, and the burnt cream dessert.
"Some of the things that are our top items we're known for are still the same as 25 years ago when I started," Moon says. "The number one selling item 100 percent of the time is the prime rib."
However, even regulars will find the core menu diverse enough to switch things up depending on their mood.
While not necessarily known for its pasta, the restaurant's pan-seared shellfish fettuccine ($31) is served up with perfectly al dente pasta in a creamy smoked salmon sauce. A mini seafood smorgasbord of seared scallops, prawns and clams is complemented by spinach and fresh tomato speckled throughout, with toasted bread to mop up every bit of the savory sauce.
After sharing the oven-roasted crab artichoke dip ($17) to start and devouring most of two separate entrees, one dish of the burnt cream (aka crème brûlée, $8) to share makes for the perfect amount of sweetness to end the night without feeling too full.
In addition to the food, Moon and her staff pride themselves on offering high quality service.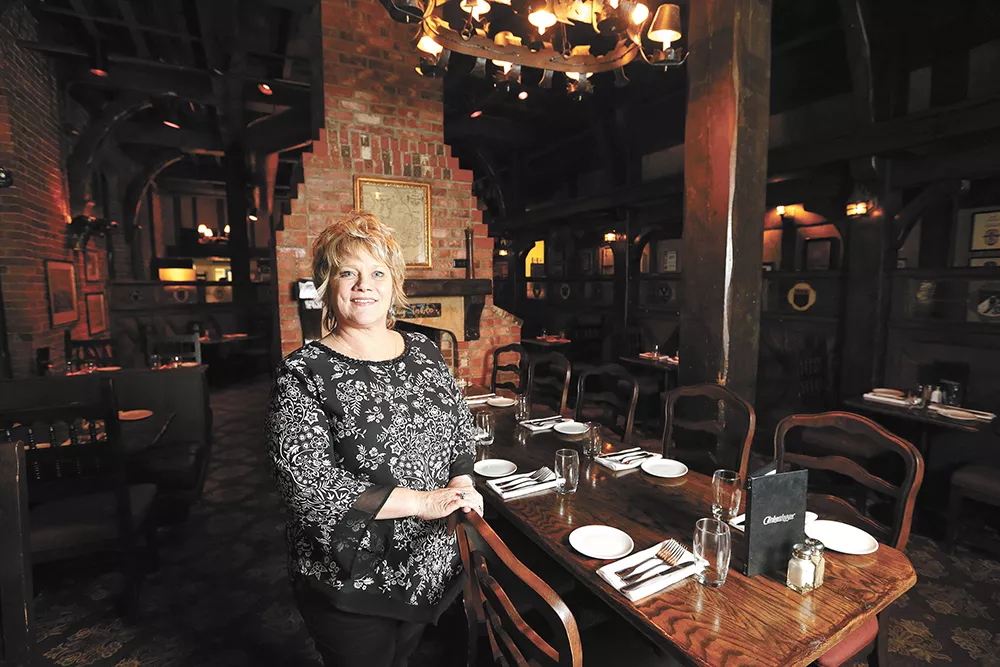 "Our goal is that every guest feels like they're the only one," Moon says, "whether you're taking care of a single guest having half a sandwich at lunch, or the CEO of a company next door."
The staff members also truly know their regulars. Importantly, they even notice when they're missing.
"Recently one of our regulars had a heart attack. We knew something was up because we didn't see him," Moon says. "We got ahold of his wife and found out, and then sent him a card and a care package. Those things make a difference."
Behind the scenes, the restaurant also tries to give back to the community, from offering discounted three-course meals to first responders, health care professionals and educators at different times of the year, to doing a makeover for Crosswalk youth shelter and working with local food banks.
As the years go on, some of its longtime regulars have shifted from dinnertime to lunchtime as they get older, Moon says. To encourage new diners to try Clinkerdagger, on Mondays in October, couples can get a bottle of wine and a three-course meal for $30 per person. Plus, she notes, happy hour is served seven days a week from 3-6 pm.
"We just have a team that's great, and we're looking at ways that we can continue to move forward," Moon says. "We're inviting different demographics in and we're really trying to cater to the next decade of people." ♦
For more great pasta, also try: Italia Trattoria, Tony's on the Lake (Coeur d'Alene), Europa