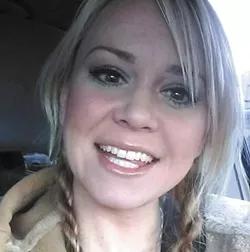 Mike Tibbetts and his family had an empty seat at their Thanksgiving table. Three weeks earlier, his fiancée, Deanne Hastings, had gone to the store and didn't return home.
Tibbetts says he has spent every night since searching until 5 am. Especially near Sonnenberg's Market & Deli, where Hastings' identification was found.
Hastings, 35, previously went missing this past summer, says Teresa Fuller, a public information officer for the Spokane Police Department. Her family and friends say this has happened several times. But Tibbetts says she's never left without her phone or car.
Summer Lowry, a self-proclaimed tracker who is writing a book about missing persons cases in the Inland Northwest, sometimes joins Tibbetts on his late-night searches.
"Well, I do not think she left. Maybe initially on her own free will, but I don't think that's the case at this point. I don't think she's OK," Lowry says.
Some fear that Hastings relapsed and returned to the bottle. A few hope that she checked herself into rehab. Tibbetts believes that maybe this was caused by her state health insurance changing her bipolar disorder medications. Then there are the darkest thoughts in the back of everyone's minds: Hastings, a Ferris High School graduate, could be in serious peril.
According to Tibbetts, Lowry and the "Missing Deanne Hastings" Facebook page, here is a compilation of events surrounding her disappearance.
On Nov. 3: Hastings completed her first day at the Glen Dow Academy. She met her teenage son and his girlfriend at her apartment on the South Hill. She later left a note for Tibbetts: "Ran to store, finished girl's nails, had a great day." Tibbetts got home from work around 10:30 pm, and knew after an hour that something was wrong. He checked there, and then GPSed Hastings' phone, leading him to her car in a parking lot across from the Knitting Factory. She had left behind her phone and purse, but took her wallet with her.
On Nov. 4: Tibbetts waited at the car until 3 pm, then filed a missing-person report. He later saw from Latah Creek Trading Co.'s surveillance footage that Hastings bought four energy drinks, cigarettes, string cheese and birthday cake candles. He has no idea why. According to Lowry, Hastings also bought vodka.
On Nov. 7/8: After seeing the flyers around town, a man called Tibbetts. He told him that he gave Hastings a ride to the store and she left her keys in his car. He later confessed that he met her at a bar, she spent the night and he gave her a ride to the store the next day.
On Nov. 12: A different man was caught on video using her card at a gas station in Spokane Valley. The next day he was seen on tape again with two others using her EBT card at WinCo. They have since been identified by police, but no other information has been released.
Anyone with information is asked to call Crime Check at 456-2233. ♦