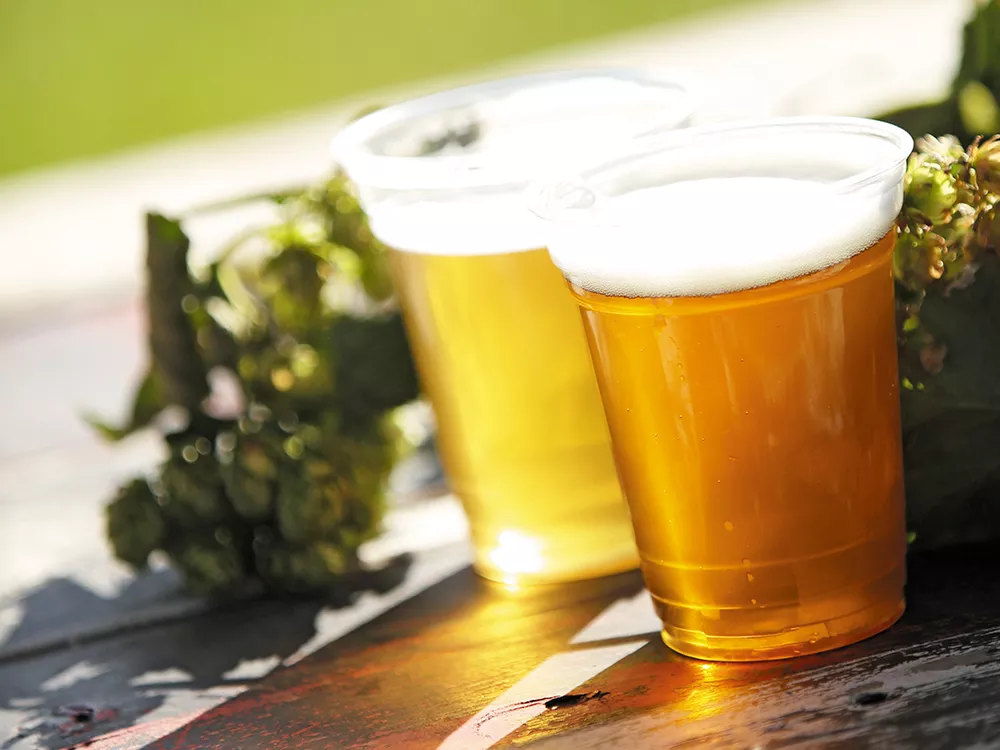 The hop vines sway in the afternoon breeze of a warm September afternoon on Craig Deitz's farm in the Green Bluff agricultural area north of Spokane. Deitz, pacing between rows of vines suspended on ropes, pulls off a few of the hop flowers — bright green cones whose aroma is an instant reminder that they'll someday become part of a Big Barn Brewing Company beer.
It's harvest time for hops, and Deitz and his crew — which includes a group of Burmese refugees he hired through World Relief — are busily picking the flowers from vines and tossing them into crates. From there, Deitz spreads the hops across a platform at the top of his barn, where they're dried, ready to be milled into pellets and frozen to be used in beers for the rest of the year. Some of those hop flowers might even be tossed right into a brew, making for one of the rare fresh-hop brews that beer geeks gravitate toward every fall.
For Deitz, who owns the brewery with his wife Jane and friend and fellow brewer Brad Paulson, adding the brewery component to his farm, Bodacious Berries and Fruit, made perfect sense.
"We started with the berry farm and had the idea for the brewery about four years ago," says Deitz. "We'd been doing farming for a while now, and beer is a farming commodity — the federal government actually recognizes malt beverages as a farming commodity."
Hops, of course, are also a farming commodity. They're one of Washington's most prominent crops, their farmers powering the global brewing industry by growing almost 75 percent of the world's hop acreage in the state, almost all of which is in the Yakima Valley. But Deitz and other Inland Northwest farmers are proving that hops — a resilient plant — can grow here, too.
Ann George, administrator of the Washington Hop Commission and the Hop Growers of America, says that while Spokane isn't going to have a hops market like Yakima — where hop farmers have produced the beer ingredient for generations — anytime soon, the crop definitely can be grown here.
"It can certainly grow in a climate like Spokane," she says. "The key for hops is the day length. The longer the days for the June-to-July season, the more heavily they'll yield."
Spokane is far enough north to bring those sort of long summer days.
Even farther north in Bonners Ferry, Idaho, is one of the region's only commercial hop farms. Owned by Anheuser-Busch, it produces specialty hops for the mega-brewer's beers.
For Deitz, a high school science teacher who also coached cross country before both of his hips were replaced, the purpose of farming his own hops is to make his brewery completely self-sufficient, brewing only from ingredients farmed on-site.
"We'd like everything for our brews to come from our farm eventually," says Deitz.
He's already growing barley he plans to roast, but other brews, including his raspberry wit, blackberry porter and pumpkin ale, are flavored with items produced on the Bodacious grounds, a sprawling farm where Deitz and his wife's home is located.
George says Deitz isn't the only brewer or hop farmer keying in on the locavore movement.
"If you're growing [hops] for your own brewery and interested in riding the tide of the locavore movement, that's great," she says. "We have some small growers in various parts of the country and some of them have decided to produce fresh hops, and all of their hops are going to make fresh hop ales."
Big Barn Brewing's tasting room is located in a cozy, bare-bones wood structure on the farm's pastoral grounds. It's an inviting stop for thirsty apple pickers and pumpkin hunters who crowd the scattered farms of Green Bluff during the late summer and fall months.
For now, the actual brewing setup is, as Deitz puts it, "brutally small," producing only two-thirds of a barrel of handcrafted beer at a time. He's still working with the county to get the permitting required for a larger operation, but for now his homegrown hops will go into the mobile "nano-brewery" rig at the back of his barn.
Farmworkers are wrapping up their labor, checking in with Deitz to make sure it's fine to call it a day. The sun is setting over the rolling hills, and Deitz finally has a chance to sit down with half a pint of Big Barn's Dunn Day IPA. He reminisces about how his kids gave him a home brewing kit for Christmas more than a decade ago, and laughs at how that somehow turned into a business.
He takes a sip of the beer after the conversation veers back toward hops, and how they can be overused in so many of the ultra-IPAs craft brewers have been toying with in recent years.
"I don't like that sting. I don't like it when it lingers and burns. You need to have a balance," he says, looking down into the glass.
The smell of hops is still in the air — maybe from the pints on the table in front of us, perhaps from the crates of hop flowers that had been picked hours earlier. Wherever it came from, it's the smell of a good day of farming.
Big Barn Brewing, at Bodacious Berries, Fruits and Brews • 16004 N. Applewood Ln., Mead • Open Fri-Sun from noon to 6 pm • 238-2489