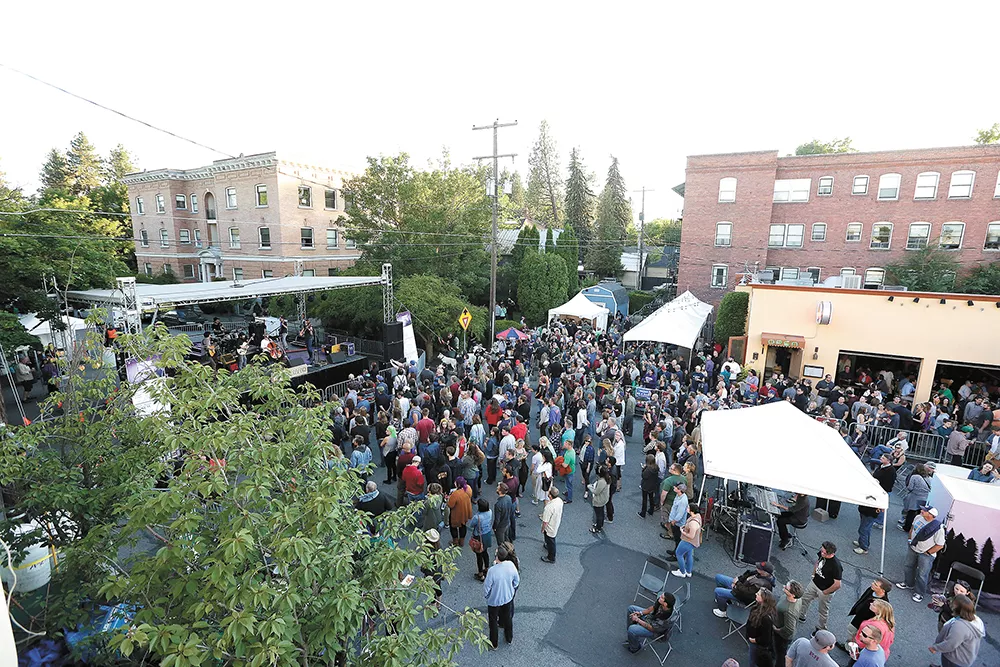 The true start of summer isn't the solstice: It's Elkfest.
The annual Browne's Addition block party, which is set up next to the beloved Elk Public House, has been going strong for 13 years now, bringing recent headliners like Minus the Bear, Pickwick, the Cave Singers and rapper Lyrics Born to the neighborhood.
The best thing about Elkfest: It costs you nothing to attend, and it's open to all ages. And if you don't mind coughing up a few bucks, the Elk's beer garden only costs $2 to get into (it opens at 3 pm on Friday and at noon on Saturday and Sunday).
Here's the skinny on each day's lineup, with touring headliners and local and regional acts filling out the bill.
FRIDAY
3 pm, The Rub: Like last year, these local rockers are the Elkfest host band, opening each day with about an hour of originals and covers.
4:30 pm, The South Hill: The members of this indie rock quintet are relatively recent Spokane transplants, but they've generated plenty of buzz in the two years they've been performing here. Check them out before they drop their debut album sometime in July.
6:30 pm, Marshall McLean: The local singer-songwriter and his sterling backing band are Elkfest regulars, and you can bet his ardent fan base will show up. McLean's latest solo album, SoDak, was released in March.
8:45 pm, The Donkeys: Upon first listen, it's obvious that this San Diego trio is inspired primarily by 1960s beach pop and '70s roots rock. But dig a little deeper into their discography, and it becomes apparent that the Donkeys aren't so easy to pigeonhole. Consider the band's most recent full-length release, 2014's Ride the Black Wave, which tactfully cherry-picks sounds from different genres and decades: Tracks like "Sunny Daze" and "The Manx" float by on retro surf-rock guitar lines, "I Heart Alabama" and "Brown Eyed Lady" have an earthy, folky quality, and the instrumental "Imperial Beach" breaks out the sitar and tabla.
SATURDAY
1 pm, The Rub
2 pm, Griffey: We suggest you keep your eyes peeled for what this Spokane trio does next. They specialize in twisty, slightly proggy indie rock; fans of Volume headliners Built to Spill should dig it.
4 pm, Deer: Speaking of Volume, I heard raves from the folks who caught these local instrumental rockers during their set at the Inlander's music festival. Like Explosions in the Sky, the band's soundscapes are experimental and propulsive but still full of hooks.
5 pm, draw off: In addition to the music, local advertising agency Seven2 is hosting one of its Draw Offs, a so-called "art battle" that kicks off around 5 pm. Local artists are given two hours to create a piece following specific thematic guidelines and using a limited color palette; see vibrant art created in the moment.
5:30 pm, Lanford Black: This Seattle quartet recalls Kings of Leon before they sold out to the Top 40, pumping out no-nonsense, guitar-driven rock that's as rustic as it is swaggering.
7 pm, Fat Lady: For anyone who likes their rock extra bluesy, these Spokane stalwarts have got you covered. These guys (and yes, they're all dudes) are clearly in the business of conjuring up the spirits of the Allman Brothers and early Led Zeppelin.
8:45 pm, Afrolicious: It's hard to imagine an audience standing still in the presence of this Bay Area collective, which has made a name for itself on the touring circuit since starting up about a decade ago. The band delivers a fusion of several danceable, jammable genres — funk, jazz, reggae, house music — driven by bright brass licks and thumping basslines. They're primarily instrumental, though they'll occasionally throw in a guest vocalist or rapper, but you'll be moving and grooving to their beats either way. Imagine if Parliament showed up to play along with the DJs at a particularly raucous house party, and you might have an idea of what Afrolicious is up to.
SUNDAY
1 pm, The Rub
2 pm, River City Roots: They might hail from Eastern Washington, but this band is known for producing reggae that's sure to please any purist of the genre. Good vibes and cool jams abound.
4 pm, Folkinception: If you're an Elkfest regular, then you're no doubt familiar with Folkinception. You can count on the Spokane six-piece, which has a new album due out next month, to always deliver a tight, well-crafted set of folk-rock tunes.
6 pm, Kalaj: Although new to the scene, this collective of established local musicians is already securing some high-profile gigs. How to describe their sound? It's soul meets psych-rock with a healthy dose of jazzy hip-hop thrown in.
7:30 pm, Shakewell: Just looking at the influences listed on this Missoula outfit's Facebook page should get you excited: D'Angelo, Jamiroquai, Stevie Wonder, Aretha Franklin. We think you'll be doing exactly what the seven-man band's name suggests.
9 pm, Dustin Thomas: On his official website, singer-songwriter Dustin Thomas is described as a "wild-hearted globe-trotter," and that's as apt a description as any. Originally from Minneapolis, Thomas frequently plays in his home city when he isn't on the road (and it seems like he's on the road a lot), but he's also taken up residence in Hawaii, where he's earned a reputation as a passionate, energetic performer. Thomas' nomadic existence is reflected in his socially conscious music, which samples all kinds of international flavors and blends them with contemporary beats, and he's stated in interviews that his goal as a live artist is to establish an emotional rapport between himself and the audience.♦
Elkfest featuring Afrolicious, the Donkeys, Dustin Thomas and more • Fri-Sun, June 9-11 • Free; $2 beer garden admission • All-ages • The Elk Public House • 1931 W. Pacific • elkfestspokane.com