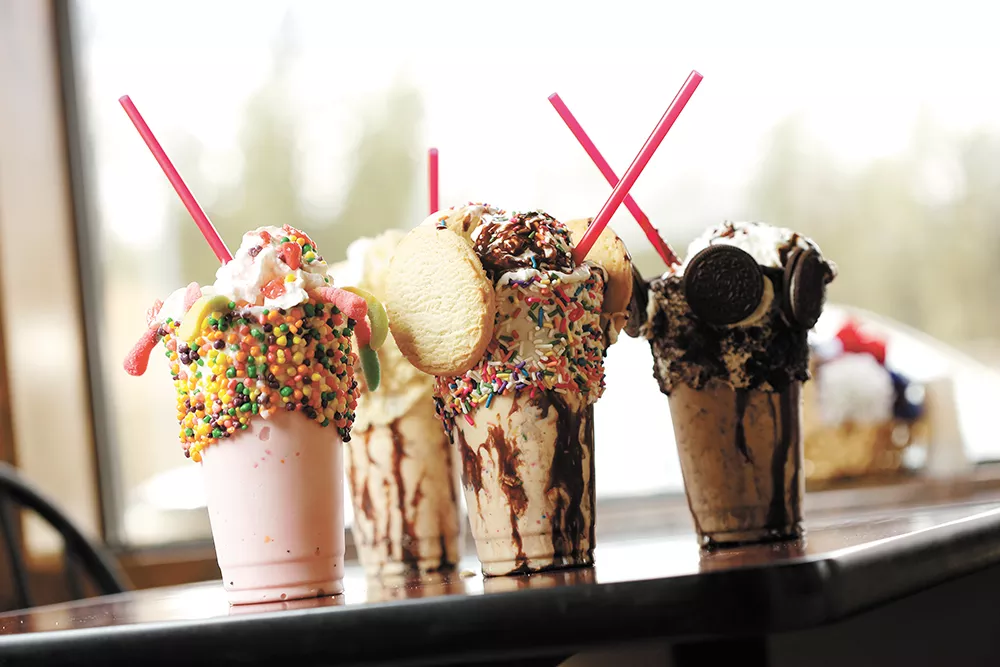 Summer's officially here, which means no one's judging if you eat ice cream every day from now until September. With that in mind, we sent five writers out to sample decadent treats from the menus of some favorite local establishments that will keep you cool through the next 13 weeks.
Mary Lou's Milk Bottle, 802 W. Garland
What we got: Bozo the Clown ice cream sundae, $5
I don't really need an excuse to hit up Mary Lou's Milk Bottle in the Garland District. I love everything about the place, from the charmingly retro décor to the menu full of diner standards like patty melts and burgers. Dessert, though, is really where it's at with Mary Lou's, particularly the house-made ice cream that acts as the basis for a slew of sweet, ice-cold sundaes and shakes.
I've enjoyed exploring the multitudes of ice cream flavors available for shakes and cones, ranging from maple nut and butterscotch to huckleberry and brownie-laced River City Sludge. And the traditional banana splits are satisfying for sure. But there's nothing on the menu quite like the Bozo the Clown sundae, a diminutive dish for which a server takes an ice cream cone full of your favorite flavor and then dumps it into a dish upside-down, turning the cone into a hat that's then given a certain clownish vibe by adding a cherry to its point. For Bozo's ice cream "face," M&Ms and a gummy worm stand in for eyes, a nose and mouth and a serious dose of whipped cream and colorful sprinkles make Bozo's hair the first thing my spoon finds. For just $5 (cash or checks only at Mary Lou's), it's not just a sweet treat, it's a cheap one, too. (DAN NAILEN)
Wolffy's Hamburgers, 1229 N. Hamilton
What we got: Chocolate banana malt, $5.25
Smashed hamburger patties sizzle on the grill mere feet from my face. French fries gurgle in the frier. And the lady behind the counter mixes ice cream, milk, chocolate syrup, a fresh banana and malt powder — the best flavor combination ever concocted — by hand.
She sets the frosty tin on the counter, brimming with thick, rich decadence. You need a spoon at first, because it's so damn heavy. Stir it up a little, and scrape the sides. That's where the extra chocolate syrup and malt powder lives. Now wait a bit for the ice cream to melt, maybe munch on some fries, and reach for a straw. You will require approximately 10-15 square pounds of mouth torque to suck this hefty malt through the straw's entire length.
OK, we made that up. But it will take about three heavy-duty slurps to get it to your face. Wolffy's shake makers use 12 oz. of ice cream, 6 oz. of milk and 2 oz. of chocolate syrup. Plus that banana and a burger and fries, so you won't want to eat for days. If you're a crazy person and think chocolate and banana doesn't jibe, I've heard the huckleberry shakes are fire. (MITCH RYALS)
Didier's Yogurt & More, 10410 N. Division
What we got: Oreos n'MOreos Sasquatch Shake, $10.50
When I saw a Facebook post advertising Didier's Thursday special, Sasquatch Shakes, the first thought I had was "whoa." The sweet monstrosity is something like the most insane Bloody Mary bar concoction ever, but with ice cream's lighter cousin, frozen yogurt, in slurpable shake form. Imagine all that bacon, pickled asparagus and whatever else spilling over the rim and replace it with ungodly amounts of whipped cream, cookies and plenty of sweet toppings mixed in: sprinkles, syrup and more.
Being a fan of anything cookies 'n' cream, there was no doubt as to which flavor of the four options I'd get, the Oreos n'MOreos. There's also the Colossal Cookie (vanilla cookie shake with a "cookiewich" and more), Sugar Rush (strawberry shake with Nerds, gummy worms and strawberries) and Birthday Shake (Funfetti shake with rainbow sprinkles, a "cookiewich" and more). Sasquatch Shakes are only available on Thursdays since they take a bit more time to make than Didier's froyo cups, so plan ahead before you make the trek to this North Spokane favorite that's been operating since 1986.
The Oreo Sasquatch Shake features a vanilla-frosted rim with Oreo crumbles, an Oreo "wall," crumbled Oreos, chocolate drizzle and a LOT of whipped cream. Appropriately served with a straw and spoon, the shake is definitely an indulgence, but being made with froyo versus full-fat ice cream, it's less of a gut bomb than you might think. That said, we still think sharing with a friend or beau is the way to go. (CHEY SCOTT)
CDa Resort Dockside Restaurant, 115 S. Second
What we got: Gooey Monster, $12
As children taught to eat "spinach before ice cream," my best gal pal and I found it decadent to go to a restaurant "just" for dessert, and the Coeur d'Alene Resort is known for its desserts. In fact, in the hallway leading into the Dockside are several luscious paintings of resort desserts, including the one for which they're probably best known: the Gooey.
We debated our choices carefully, considering each of the six standard combinations: crushed Butterfinger bars in the original Gooey, the lure of Reese's Peanut Butter Cup Gooey and the sinful Chocolate Obsession. Inspired by Ben & Jerry's Vermonster — the derailer of ice cream treats — we chose the Gooey Monster and did our level best to create the perfect spoonful of cookies 'n' cream and vanilla ice cream, chunks of cookie dough, baked cookies, hot fudge and whipped cream. The cute lil' blue monster cookie on top held up well, but we were unable to complete our Gooey "dinner" (no dessert for us!).
At $12, it's more spendy than most ice cream fantasies, yet when you compare volume and the potential for sharing such an indulgence with another human, this dish is incomparable. (CARRIE SCOZZARO)
The Scoop, 1001 W. 25th
What we got: $7.50 Berries and Biscoff liege waffle + $3 kid's scoop
On a summer evening, you're liable to find a line winding its way out the door of the Scoop, where super-cool ice cream flavors are mixed in-house using liquid nitrogen. With the shop's restored vintage ice cream truck parked outside at one corner of the store, and outdoor seating on the other, visitors step inside to find a mix of old-school-diner-meets-modern design. The Scoop's fresh flavors change regularly, so you might find classics like chocolate and vanilla next to brown sugar with chocolate bacon bark and a fruity sorbet with a kick of jalapeño.
As if that weren't good enough, the South Hill hangout also offers tasty, sugary liege waffles made to order. While one of the waffles on the menu comes with a simple scoop of ice cream, I wanted something truly extra: lots of toppings, no guilt. So I ask to add a scoop to one of the already delectable options that comes smothered in sweets. While tempted by the many unique house flavors, I go with a scoop of Madagascar vanilla bean on the Berries and Biscoff cookie butter waffle. For $10.50, you'll get the perfect texture combination as you bite through mountains of whipped cream, fresh strawberry slices, cool ice cream, cookie butter and crunchy, warm waffle goodness. (SAMANTHA WOHLFEIL) ♦
MORE SUMMER TREAT SPOTS
Brain Freeze Creamery
1238 W. Summit Pkwy. and 1230 S. Grand Blvd.
Sweet Peaks Ice Cream
415 W. Main and 108 N. Fourth St., Coeur d'Alene
Street Treat
510 E. Best Ave., Coeur d'Alene
Abi's Ice Cream
112 N. Fourth St., Coeur d'Alene
Cougar Country Drive-In
760 N. Grand Blvd., Pullman