Life is too short to dread going to work every day. Perhaps you're looking for a career offering a change of pace, more challenge, something more rewarding, or with better pay and benefits. Whatever the reason, it's never too late to seek a second career.

Taking off down a new career path can be an exciting but daunting task. Prospective students should consider their interests, how much time and money they are willing to invest in the education and training necessary to get a job, and if the wage and job availability supports the means necessary to attain it.
"Do your homework — research the field you're interested in switching to — and listen to your gut," says Stacy Hudson, communications director at North Idaho College. "Are you just going through a rough patch, or is it time to jump out of a nest that you've built up around yourself?"
A college's admissions office can be a good place to start, Hudson says. Reach out to them and they can help you navigate through the process.
The good news for those looking for a career change is that there is no shortage of educational opportunities in the Inland Northwest for those ready to join the ranks of people seeking a new beginning. Many of the programs prepare students for challenging, but rewarding, careers with a growing demand for workers nationwide and comfortable salaries.
Our area's community colleges offer a variety of educational programs that can be an efficient and cost-effective way to train you for a job that works for you. Here's a guide to a small sampling of those programs: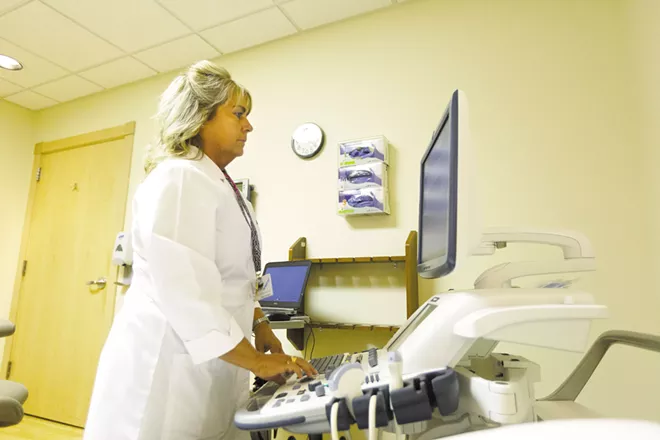 Diagnostic Medical Sonography
Program offered at: Spokane Community College
Program length: Two years
Degree: Associate in Applied Science
Estimated median salary: $66,410 per year nationwide
Job outlook: 39 percent growth (much faster than average) nationally from 2010 to 2022
Interested in human anatomy? Like to help others? Want to work in a patient care setting as an integral part of a medical team? Diagnostic medical sonography might be for you. It's an allied health profession in which practitioners perform diagnostic and monitoring procedures using high-frequency sound waves to make dynamic images of organs, tissues or blood flow inside the body. Those images are then used by physicians to diagnose and treat medical conditions. Sonography also can be used to guide needles for tissue biopsy, or to drain an abnormal fluid collection from a body cavity. Sonographers work in a variety of settings, including hospitals, physician offices and medical and diagnostic laboratories. Diagnostic medical sonography is a rapidly advancing specialty, thanks to ongoing technological advances. Among other requirements, students must provide three letters of recommendation, undergo immunizations and drug screening, and complete 40 hours as a volunteer or employee in a patient-care setting and 10 of those hours need to be in a sonography department.
Students entering this and other allied health care programs should be prepared to work very hard in school, says Dr. JL Henriksen, dean of Health and Environmental Sciences for the Community Colleges of Spokane.
"They are intensive programs," he says. "There's a lot of material, but very rewarding occupations once they make it through the programs."
Radiology Technology
Program offered at: Spokane Community College
Program length: 7 quarters
Degree: Associate in Applied Science
Estimated median salary: $55,910 per year
nationwide Job outlook: 21 percent growth (faster than average) nationally from 2012 to 2022
Radiologic Technologists are an integral part of a team of health-care workers providing patient care. A radiologic technologist performs examinations at the request of a physician. Their primary duties include producing radiographic examinations that aid physicians in diagnosing diseases or injuries.
Spokane Community College's Radiology Technology program — formerly Holy Family Hospital School of Radiologic Technology and Sacred Heart Medical Center School of Radiologic Technology — has graduated radiologic technologists since 1965. The program is full-time and runs for seven continuous quarters, with a new class beginning in September of each year.
Applicants to the program must complete 80 hours of work in direct patient care, either through their job or through a volunteer internship they set up on their own. Ten of those hours must be completed observing in a radiology department, ideally observing CAT scans, MRI procedures, and general diagnostic X-rays, such as those of the spine, chest and abdomen. The time spent volunteering helps the applicant become more comfortable with the sights, sounds, and smells of a medical environment, and to become more familiar with radiology.
Upon graduating and becoming certified, radiologic technologists will work as an integral part of a health-care team.
"Ultimately, that's the direction medicine has gone all across the United States, and Spokane is figuring that out," Henriksen says. "It's all about teamwork, and relying on everybody else as part of a team to help patients."
Aerospace Manufacturing & Maintenance
Program offered at: North Idaho College and Spokane Community College
Program length: 3-4 semesters (NIC) or 2-7 quarters (SCC), depending on the program
Degree: FAA License or Associate of Applied Science, Airframe Maintenance License, General Aircraft Maintenance License, Power Plant Maintenance License
Estimated median salary: $61,000 per year regionally/$22 per hour locally
Job outlook: 600 new jobs expected in the Inland Northwest in the next few years
Get cleared for takeoff by training for a career in the aerospace industry right here in the Inland Northwest. Greater Spokane Incorporated reports there are upward of 120 aerospace employers in Spokane and North Idaho, and those employers anticipate an increase of about 600 new jobs in the area within the next few years. Washington Senator Maria Cantwell estimates that 21,000 aerospace workers will be needed in the state over the next decade.
Spokane Community College began training aviation mechanics in the early 1940s prior to World War II, and has grown to become one of the leading national programs, recently overseeing a $20 million grant to train the next generation of aerospace workers in Washington state. "That propelled us into a bright national spotlight," explains Dave Cox, the dean of technical education for SCC. NIC opened its Aerospace Center of Excellence in 2013 to help meet that growing demand with the launch of its first program, Aerospace Technology Advanced Manufacturing. NIC's Aviation Maintenance Technology technical license takes three semesters to complete, and the Aviation Maintenance Technology Associate of Applied Science degree takes four semesters. SCC's programs span from two quarters up to seven.

Physical Therapy Assistant
Program offered at: Spokane Falls Community College
Program length: Two years
Degree: Associate in Applied Science
Nationwide median salary: $52,160 per year nationwide
Job outlook: 41 percent (much faster than average) nationally from 2012 to 2022
Are you caring and compassionate? Do you like to move? Consider a career as a physical therapy assistant. Physical therapy assistants work under the direction of a physical therapist to help patients carry out their therapy and recover from illness, accident or surgery, regain movement and strength, reduce pain, lessen a disability and improve their ability to function at work and play. As physical therapy assistants help others move, they'll be moving a lot on the job as well. They also teach other health care providers, patients and families to perform the activities that help with the patient's treatment.
The seven-quarter program at Spokane Falls Community College will prepare students to sit for the Physical Therapist Assistant National Licensure Exam upon graduating, and students will gain an understanding of the basic science of physical therapy, including anatomy and physiology, kinesiology and growth and development across the lifespan.
This field offers a lot of job opportunity. Demand for physical therapy services is expected to increase in response to the health-care needs of an older population and growing rates of chronic conditions, such as diabetes and obesity. Employment of physical therapist assistants and aides is projected to grow 41 percent from 2012 to 2022, much faster than the average for all occupations, according to the U.S. Bureau of Labor Statistics.

Health-Care Informatics Technician
Program offered at: North Idaho College
Program length: Two years
Degree: Associate's Degree or Advanced Technical Certificate
Median salary: $48,900 per year regionally
Job outlook: 22 percent (much faster than average) nationally from 2012 to 2022
This career field, which didn't even exist 10 years ago, now is one of the most in-demand specialty fields in the health-care industry. Health-care Informatics combines the fields of computer information technology and health to develop and support the computer systems required to administer information, advance clinical workflow, and improve the security of the computerized health-care systems. The extraordinary advancement of medical knowledge and technologies that can vastly improve health-care delivery to consumers, thereby keeping the information related to these advancements organized and accessible, is crucial. Due to the widespread implementation and complexity of computerized health information, computer IT specialists with knowledge of health-care practices are in high demand: Luddites need not apply. NIC offers two-year options for an Advanced Technical Certificate or Associate's Degree.