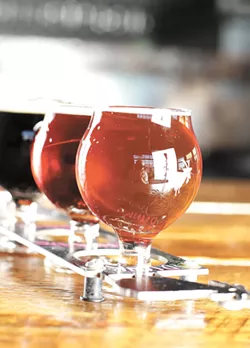 BEER
Food pairing isn't only for wine drinkers. After six years of operating Manito Tap House and the Blackbird, owner Patrick McPherson knows the importance of pairing the perfect beer with the right dish. Your favorite IPA might have a negative impact on your meal, so we asked the Certified Cicerone what pairings he suggested for each course.
Appetizer: McPherson says the general rule is to choose something that compliments or contrasts your dish. A salad with an acidic dressing is going to pair well with a Flanders red ale or any sour beer.
If you're going with a cheese board to start, consider a Belgian pale ale or saison. He says the funkiness from the yeast is a great compliment to the cheese.
Entrée: If you're in the mood for something light like halibut, your best bet will be a German hefeweizen.
"It's going to cut fat and refresh your palate," he says. "It's not going to overwhelm anything."
If you're thinking about red meat or something more hearty, the roasty notes of a brown ale or porter will pair well. Looking for something with a bit more hops? The caramel malts of amber and red ales will still provide that roastiness for a nice compliment.
Dessert: Do you need something sweet that will pair well with that hazy IPA you've fallen in love with? A lemon cheesecake or key lime pie will do you right.
Above all else, McPherson recommends avoiding high bitterness and high alcohol beers that can wreck your palate. Save those for second dessert.
---
WINE
Trevor Treller with Beverly's restaurant at the Coeur d'Alene Resort is a level-two sommelier of the Court of Master Sommeliers. Not sure what that means? Well, there are few people at that level in the area who can say the same, and it means Treller knows his stuff. These are his suggestions for what kind of wine to pair with each of Restaurant Week's three courses.
Appetizer: Everyone loves a deep-fried appetizer that may be common on a Restaurant Week menu. Treller says with those kinds of appetizers, you're going to want something a bit more acidic. One great wine that a lot of people don't realize goes well with those appetizers, he says, is a sauvignon blanc. It cleanses your palate, so each bite will taste as good as the first.
Entrée: For a hearty, fatty cut of red meat — your New York strip, ribeye or even lamb — Treller says to try a red wine like a cabernet sauvignon, a nebbiolo or merlot. For a leaner cut, try a pinot noir, which he says also pairs well with seafood. Oysters, meanwhile, go well with a muscadet. A classic burger, or even pizza, pairs well with a zinfandel or syrah, more "in your face wines."
Dessert: "A lot of people commit trainwrecks" when pairing wine with dessert, Treller says. The rule of thumb: Wine should always be sweeter than the dessert you're eating. It's a myth that chocolate and classic red wines go together, he says. Instead, he recommends a sweeter wine like a ruby port. For something like creme brulee, go with a tawny port.
---
SPIRITS
Steve Marriott, manager at Clover restaurant and bar, has been mixing cocktails at the Logan Neighborhood establishment for more than five years. The guy knows his way around the bar. We asked him to suggest a few drinks that pair well with each course.
Appetizer: The French 75 is a popular starter drink, with champagne mixed with gin, lemon juice and triple sec.
Not feeling champagne? Try something with vodka and citrus, such as Clover's Golden Stonefly made with Dry Fly vodka, honey ginger bitters, Skidmore Alchemy tonics, fresh squeezed lemon juice, honey and Cocci Americana apéritif wine.
"This really works well with a salad course as you're opening up your palate," Marriott says. "The citrus also does a good job of cutting through heavier cream soup or creamy dressing."
Entree: The Negroni is a staple that every bartender should know — gin, campari and sweet vermouth. Marriott says the drink's herbal essences compliment almost any dish.
"I can't think of anything that it wouldn't pair well with," he says.
Prefer whiskey? Marriott would go with the whiskey smash — a nice and simple cocktail made with fresh muddled lemon, mint and simple syrup.
Dessert: Amaro, an Italian herbal liqueur, is a popular after-dinner drink. The syrupy, black liquorice-tasting digestif helps settle your stomach and goes well with sweets. Most places in town carry the brand Fernet, Marriott says.
Not a fan? There's always Irish coffee: a couple of sugar cubes, Jameson whiskey and heavy whipped cream on top.