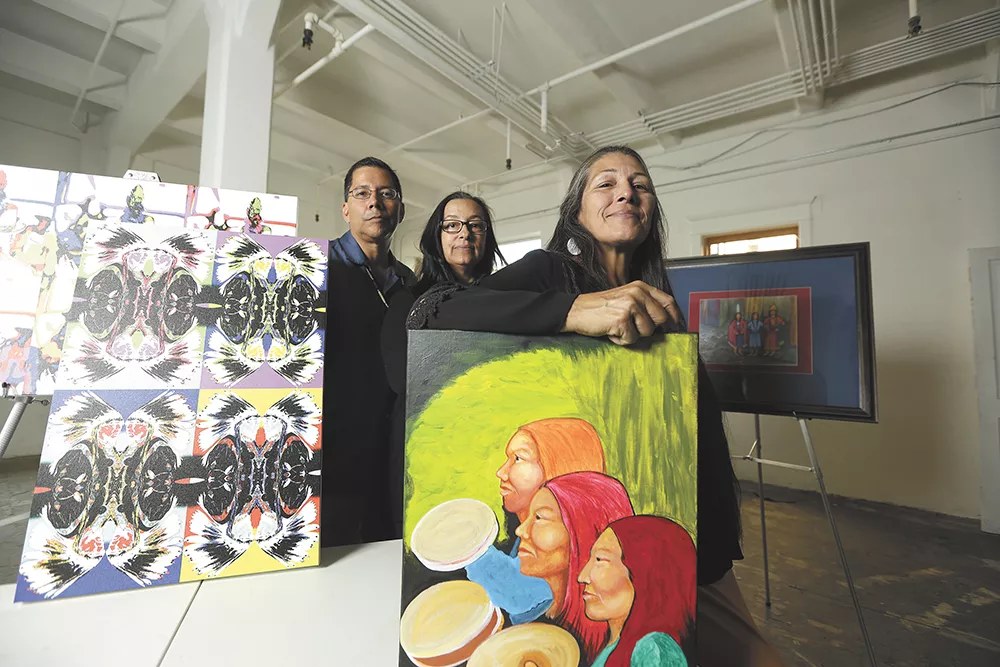 T he mention of Native American art is likely to bring some standard clichés to mind — men in headdresses, images of totem poles and the like. Native artists know this is what you're going to think of when you hear the phrase "Native American art." Here in Spokane, though, there's at least one group working to remind us that there are Native Americans making art, and it's hardly all about clichés.
"People think of headdresses and buffalo and things like that, but it's mixed media, it's modern, it's political, and it can be controversial," says local photographer and Spokane tribal member Jeff Ferguson, one of the organizers of the upcoming One Heart Native Arts & Film Festival.
The event, taking place over two days at the Bing Crosby Theater and the Kauffman & Associates building in downtown Spokane, aims to provide a venue for Native artists to display work that often never makes it off of the area's reservations or is otherwise overlooked by the artistic community. It's also a chance to celebrate the creativity found among the tribes, Ferguson says, adding that he hopes the inaugural festival breathes some life into a subset of Spokane's creative community that's taken a hit lately. He cites the recent deaths of visual artist George Flett and musician Jim Boyd as big losses for Native-centric arts in the area.
"Things aren't where we want them to be right now, but I envision One Heart as a step toward creating a Native American arts scene that has surpassed anything that's been done before," says Ferguson, part of the One Heart leadership committee that includes a mix of young and established Native and non-Native leaders.
Perhaps the biggest draw of One Heart is Friday night's reunion of the cast and crew of the breakthrough 1998 film Smoke Signals, which was filmed around the region, including in Spokane. This means that one of the Northwest's most prominent literary voices — and arguably its most widely known Native voice — will be on hand in the form of Sherman Alexie, who wrote the novel on which the film was based, as well as its screenplay. The event marks the first known time that the Smoke Signals cast and crew have gathered in such numbers to discuss a film that remains impactful, especially in Native communities.
"We'd heard that [a reunion] hadn't been done before, but we all know how iconic that film is in Indian Country," says Ferguson. "To be able to do that in Spokane with Sherman and those cast members — we wanted to make a big impact."
On Saturday, there's a short film program consisting exclusively of films made by Native American filmmakers, as well as a collection of films from Steven Paul Judd and a screening of Mekko, a heralded thriller from Native director Sterlin Harjo.
The visual arts component of the festival on Saturday features some established artists, including Ryan Feddersen, a Colville tribal member based in Seattle who came to Spokane last summer to oversee the 900 Horses community mural, which brought in passersby to stencil and color in images of horses to represent the animals slaughtered by General George Wright's forces as an intimidation tactic in 1858. There's also Diane Covington, an artist living in Wellpinit on the Spokane reservation who found art later in life. Ferguson's pop-inspired photography will also be on display, as will the iconic work of Ric Gendron, who was featured in an Inlander cover story last year.
Ferguson says that bringing more Native American art to our galleries and other art spaces isn't always easy. The reservations are often short on internet connectivity, leaving some creatives without a means to easily put together a portfolio, for example, he says. He hopes One Heart can help bring more artists into the fold, while also enabling non-Natives to have a look at these often-unseen talents.
"I want everybody who has an appreciation for Native American art and film to come out — especially people who want to come to things like this, but are thinking, 'Are we allowed to go to a powwow?'" says Ferguson with a laugh. "We want people who appreciate this work." ♦
One Heart Native Arts & Film Festival • Fri, Sept. 30 and Sat, Oct. 1 • For ticket prices and event times, visit oneheartfestival.org