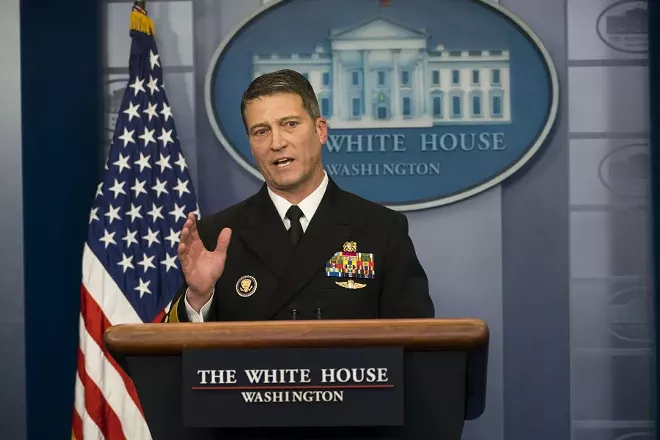 By NICHOLAS FANDOS
© 2018 New York Times News Service
WASHINGTON — The Senate Veterans Affairs Committee is examining allegations that President Donald Trump's nominee to lead the Veterans Affairs Department oversaw a hostile work environment as the White House physician and allowed the overprescribing of drugs, according to congressional officials briefed on the committee's work.

They have also received claims that Dr. Ronny L. Jackson drank too much on the job.
The allegations, which have been under investigation since last week, forced the postponement of Jackson's confirmation hearing, planned for this Wednesday as senators scrutinize the nominee's time leading the White House medical staff. Officials familiar with the allegations against Jackson declined to offer precise details but said that they suggest a pattern of behavior, not just one or two isolated incidents.
The committee did not announce a new date for the hearing.
"The Senate Committee on Veterans' Affairs is postponing the hearing to consider the nominee to be secretary of the U.S. Department of Veterans Affairs in light of new information presented to the committee," said Sens. Johnny Isakson, R-Ga., the committee chairman, and Jon Tester of Montana, its ranking Democrat, in a joint statement which did not detail the allegations.
In a letter to the president, both senators requested "any and all communication" between the Defense Department, the White House Military Office and the White House medical unit "regarding allegations or incidents" involving Jackson back to 2006.
Jackson, a rear admiral in the Navy who serves as the White House physician, was already expected to face difficult questioning during his testimony before the committee. Last month, Trump fired his first Veterans Affairs secretary, David J. Shulkin, an experienced hospital administrator and veteran of the VA medical system, and then chose Jackson largely out of personal affinity.
The White House did little or no vetting of his background before announcing his nomination on Twitter. Before serving as a White House physician, Jackson had deployed as an emergency medicine physician to Taqaddum, Iraq, during the Iraq War.
Senators were keeping the details of their investigation under wraps but let it be known that the allegations are serious. Sen. Mazie K. Hirono, D-Hawaii, a member of the Veterans Affairs Committee, said she had heard enough from colleagues to have "deep concerns" about the nomination. "This is concerning even for a very ethically challenging White House," she said.