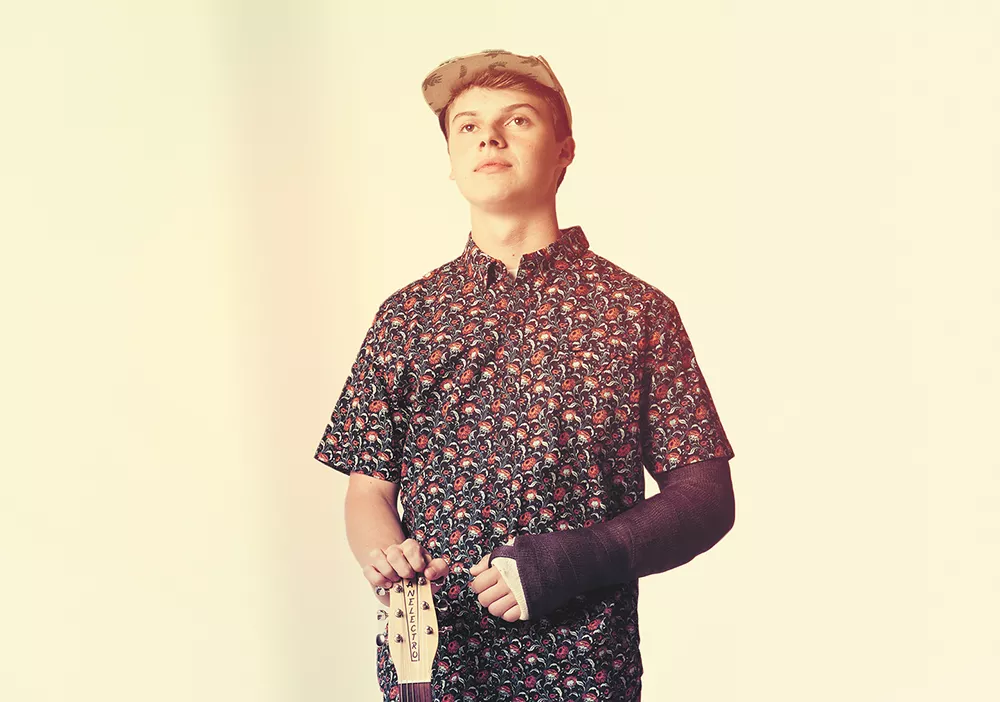 L ike many of the world's great artists, Norman Robbins is charmingly bad at talking about himself.
The 17-year-old Robbins is the sole member of Jan Francisco, a local music project that is pushing the sharp simplicity of rock 'n' roll to its limits. Typically speaking, a Jan Fran show lineup consists solely of Robbins, his guitar and a kick drum under his right sneaker.
What Jan Francisco lacks in personnel is more than compensated for by a truly stunning combination of prodigal songwriting prowess, crunchy overdriven tones and biting social satire implying a man wise beyond his years.
Robbins, who also finds time to play in Spokane rock outfits Outercourse and Holy Cows (which he plays in with his parents, Mark and Kristen Robbins of the Camaros), is unsurprisingly eloquent when chatting about musical gear, local bands and the like. But when attempting to explain himself, things get tricky. He's not overthinking what he makes — he's just making it.
"Movies," Robbins says, are among his biggest influences. "One thing that got me really interested in music is film scores, and how they musically connect to the visuals."
Coming from a performer with a refreshing lack of dramatic overtheatricality, this answer comes as a bit of shock. Yet it's completely in line with how Robbins appears to approach music: as a storyteller.
"My lyrics are something that I really want to be a special part of my music," says Robbins, who has been writing songs since he was 13. "I'd rather it be the lyrics that move somebody than my music."
This certainly goes hand-in-hand with the atmosphere at a live Jan Francisco show. Robbins says he'd like to think of Jan Fran as something more like performance art.
Still, this isn't a conceptual art piece. There's no pretension, no self-indulgence.
"I'd like the performance atmosphere to be less of a live show and more of a party," Robbins explains.
Anytime he plays around town, which is often, the exceptionally friendly Robbins leaves the room, and Jan Francisco enters. With some variety of vintage guitar around his neck, he'll stomp the kick drum at his feet with furious abandon, managing to keep steady time. The blistering tones bursting out of his simple guitar setup are hotter than hell. The angular chords cut deep, and his vocals spit salt into the wounds.
"I like to write songs from the perspectives of different characters," says Robbins, "and it is sort of a way for me to use different points of view to talk about the stupid things that people do."
Despite Jan Francisco being a take on a decidedly classic sound — one that would be at home on any bill with Iggy Pop or Richard Hell — Robbins' musical influences are disarmingly contemporary. Among them, he references Animal Collective member Avey Tare and the recently re-formed LCD Soundsystem.
While those influences don't speak much to his overall sound, they shed some light on not only his interest in blending musical styles, but his keen ear for sound. When and if Robbins gets around to recording a Jan Francisco record, rest assured it will sound stellar.
For now, Jan Francisco is partially special because of its limited availability. It's lightning that may be difficult to catch in a bottle, as a large part of Jan Fran's magic is improvised.
"I've got all of the parts written, but I usually decide how I want to put them together on the spot," Robbins explains, adding that improvisation is one element of his performances that makes the concept of Jan Francisco becoming a full band close to impossible.
More important, Robbins gets a kick out of how much he can distill the ingredients of rock music down to its simple core. Any added instruments or elements would only serve to bog down the captivating purity of the one-man-band setup he has mastered. ♦
Jan Francisco plays Volume Fri, June 3, at 6 pm on the Terrain Stage • 304 W. Pacific • All-ages