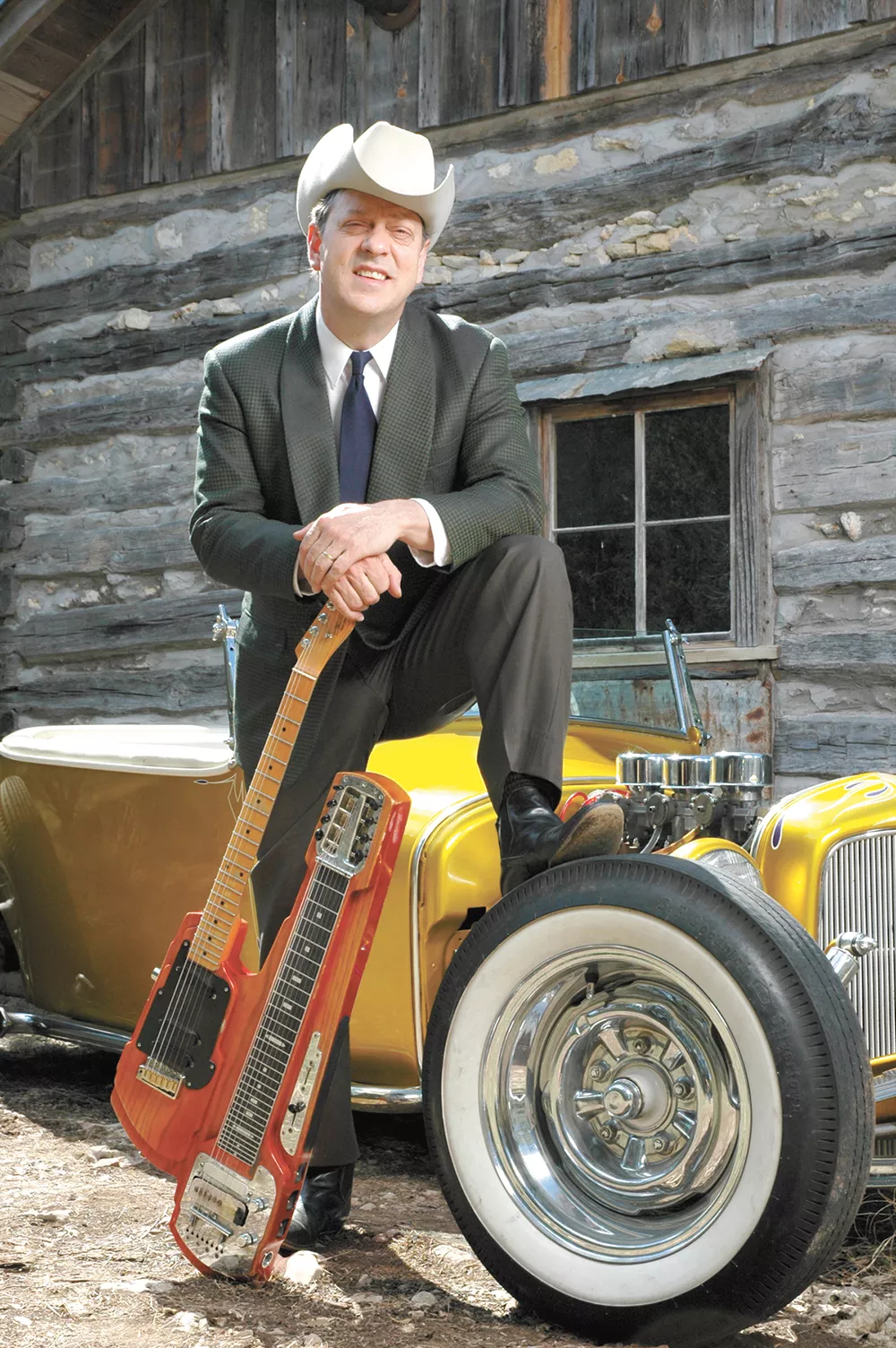 To some degree, Junior Brown thinks you can judge a musician by his album cover. That's what he was going for with his new collection.
"When you look at it, it didn't have to tell you 'country and western.' You knew exactly what it was by the barn in the background," Brown says of the cover of Deep in the Heart of Me that features the suited, cowboy-hatted, smiling 66-year-old leaning on a fence, a couple of horses hanging in the background.
"I like looking at the cover of a CD. It helps me get into the personality of an artist and the flavor of the album, the mood the album was cut in, and the time period it was cut in. That's all reflected in the cover. It gives you context."
The Deep in the Heart of Me cover is intentionally old school in its design; it looks like something you'd find digging through vinyl bins of '70s country treasures with its 11 song titles printed below Brown's name. And that vibe is no accident, as Brown prides himself on his classic approach to the music business.
He tours like crazy — we talked as he drove across Oklahoma on his way to launch a tour in Montana that won't end until three days before Christmas in Alabama. When he hits the stage, he's always in a suit, always in his hat and always with his wife Tanya at his side, playing in his band.
Perhaps the only nontraditional aspect of Brown's music and performances is his instrument, a double-necked beast known as a "guit-steel," thanks to its creative fusing of a traditional electric six-string with a steel guitar. Brown invented it back in 1985 so he wouldn't have to keep switching back and forth from playing his regular guitar standing up, then sitting down to get after his pedal-steel.
At first, Brown recalls, no one paid much attention to his new instrument. Then he built a stand that tilted both necks toward the audience to see his playing.
"A steel guitar has never been that kind of instrument," Brown says. "I brought it from being a guy sitting 'ironing shirts' in the background to being up there in your face with a slide-guitar type thing. Being able to stand up is a big deal. That puts you in a more 'entertainer' character."
That suits Brown just fine as he's been playing in front of audiences for most of his life, since learning guitar as a kid after his parents gave up on piano lessons. He spent years playing at roadhouses, college dances, even a massive Boy Scouts jamboree in front of 5,000 when he was still a teenager. From his earliest memories, Brown loved the guitar, "really feeling that string and pulling the tone out of it somehow," and his early adoption led him to become an ace player across a number of styles, all the better to stay employed.
It was country music, though, that stirred his soul like no other genre, eventually leading him to Nashville and then Austin where his deep baritone, knack for penning humor-laced tunes like "Highway Patrol," "My Wife Thinks You're Dead" and "Venom Wearin' Denim," and that distinct double-neck guitar helped him stand out.
"It's just the feeling of it, the personality that comes through, the honesty," Brown says of his love of country. "The same things I like about the blues. To me, the blues is country music. People playing blues on a back porch, and then they took it up to Chicago. To me, that's just honest folk-country music.
"And I liked the humble personalities of the [country] singers and the players. They were always such nice guys. When I was hanging around with country pickers, they were always eager to show you stuff and tell you stories. Real nice. Then you hang out with rock guys and they're all like, 'Get out of my face. I don't have time for you. I'm too cool.'"
The new songs filling Deep in the Heart of Me show that Brown's gift for penning memorable tunes remains as strong now as on his solo debut, 1990's 12 Shades of Brown. "Another Honky Tonk Burned Down" is an instant two-steppin' classic, "The Cockeyed Cop from Camp Kakanakakee" fuses jokey lyrics with stellar guitar work, and the title track is a stirring, straightforward love song.
Brown's latest is his 11th album, and the first in six years, but that doesn't mean he's been slacking. He was just touring and writing and waiting for when the time felt right.
"I don't like to put out a lot of records," Brown says. "They've become too easy for people to make. You'll see an artist and you might know him by some of the songs he had back whenever, and they think that by putting out lots and lots and lots of CDs that they're somehow going to get their fame back or something. It's boring. You can't sit there and listen to somebody's 40th CD. It's just too much. The personality of the songs and the personality of the artist just get watered down when you do that.
"I write songs. And I feel like when I'm ready to say something, I say it, and when I'm not, I don't. It's a different approach." ♦
Junior Brown with Silver Treason • Sun, July 29 at 8 pm • $22 • All ages • The Bartlett • 228 W. Sprague • thebartlettspokane.com • 747-2174