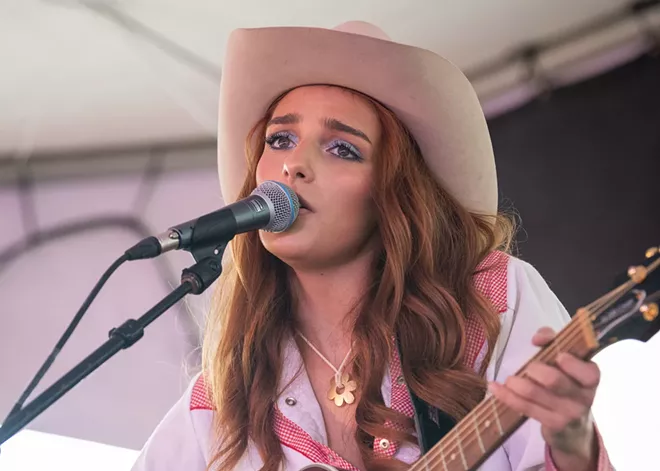 Gabriella Rose isn't just another pretty country flower. Fittingly, she's got some thorns.
Even just listening to some of the singles the 21-year-old singer-songwriter has released over the past year makes that instantly clear, as the combo of a country spirit and retro vibes blur together with an attacking sharpness.
On "Because You Got Caught" the sweetness of her vocals hide her bad girl lyricism flavored with south-of-the-border sounds. She sings in a much smokier tone on "In the Dark" as she broods over an unfaithful lover. And "Deadbeat Disco" owes as much to '60s pop R&B girl groups and cheerleading chants as it does to country crooning. Rose ain't painting by the numbers.
But as we sit down to chat over a drink at Coeur d'Alene Coffee Co., the bold, inner style clashing in the fibers of her being slowly becomes apparent. She's adorned in a yellow country girl dress and cowboy boots, but she's also rocking a chic leather jacket and fidgets with its various snaps and zippers with an ADHD bashfulness. She speaks glowingly of her country influences like Lucinda Williams, Colter Wall, and Johnny Cash, but she also quotes Against Me! and Mitski lyrics as we chat. (She feels like the line in "First Love / Late Spring" — "I was so young when I behaved 25 / Yet now, I find I've grown into a tall child" — describes her to a T.) The Western stories she's drawn to aren't those of the idealized homes on the range, but the brutality of Cormac McCarthy's novel Blood Meridian and the feminist abandon of Thelma & Louise.
She might look like a manic country dreamgirl on the surface, but there's an outlaw ferocity ready to carve her own path lurking just below the dusty denim and fringe.
Rose grew up in a musical family in Southern California, where her mom was a singer in the '90s Gwen Stefani mold and her dad produced the music. Eventually, her parents split and her mom and stepdad got into farming and brought Gabriella along for the journey, first to Northern California and then up to the Spokane area when she was a tween.
While her mom kept Gabriella singing in church and acted as her vocal teacher, she wasn't too keen on revisiting her musical past and home was somewhat of a culturally isolated relic centered around bygone decades.
"What we listened to was just old-fashioned country. I was only allowed to watch like black-and-white reruns of Bonanza, Shirley Temple, Popeye, all that kind of stuff. I remember listening to Taylor Swift and that was about as far as I was allowed to go," Rose says. "So now when I sing people are like, 'Why do you sing like that?' because I kinda croon a little bit. But it's like I was a 1950s baby. My name should've been Mabel."
As part of sibling rivalry with her guitar-playing brother, Rose picked up the instrument to show him that anything he could do, she could do better. Family — and the tough emotions of loss that come with it — sparked Rose's musical creativity.
"The thing that actually led me to write music was my grandmother on my dad's side got terminal cancer, and she ended up passing away," Rose says. "And I remember as a kid, I was like how do I process this? I have so many words that I want to get out, and so I wrote my first song and it just kind of took off from there."
She started performing on Inland Northwest stages when she was still a teen, finding a welcoming home at now-defunct venue the Bartlett, even winning the club's Breakout Artist of the Year award when she was 17.
But after early success, Rose — like many a musician — hit a mental wall when the pandemic happened.
"During COVID, I actually pawned all my music equipment. I sold my guitar, and I just said, 'I'm not doing this, I'm gonna go to college, I'm gonna get a real job,'" Rose says. "But then if I went to a house and I found a guitar, I would just take it to a corner and play it and write little songs. It was like I was an addict or something. And I started just realizing I miss performing. I am not happy doing anything else."
GABRIELLA ROSE
Sept. 29 & Oct. 6, Brick West Brewing Co.
Oct. 13 with Sam Leye Band, Bing Crosby Theater
Oct. 27-28, Coeur d'Alene Casino
Follow @gabriella.rose.music on Instagram
Back on the proverbial saddle, Rose signed with Coeur d'Alene Records two years ago in order to try to make music her full-time career. This fall she has a slew of concerts on her schedule, during which she can usually be found playing in a duo setup with Hank Flint on electric guitar.
Rose is poised to be a breakout Inland Northwest act, but she's also willing to take her time. She's already recorded a full LP, but for now is content just releasing singles, waiting till one of the songs finds a foothold before dropping the record.
On the horizon she'll be releasing "Just Say Yes" (a love song during which her brother actually proposed to his fiance at one of Rose's gigs), a duet with Nashville country singer Michael Warren called "She Cries," and a reimagined piano cover of the '80s hit "Melt with You" with Jackie Miclau of the LA indie band Mt. Joy. Those singles are a bit scattered, but that's kind of Rose's style, both musically and literally.
"What I like about country music, especially the fashion, is it's so gaudy and over the top," she says. "My mom is always like, 'Can't you just like, wear something normal? Why do you have bright red cowboy boots and like a star spangled outfit on when we're going to the grocery store?' Life's too short to wear boring things."
Life's too short for boring music, too. But pricking yourself on one of Gabrielle Rose's sonic thorns can help fix that. ♦