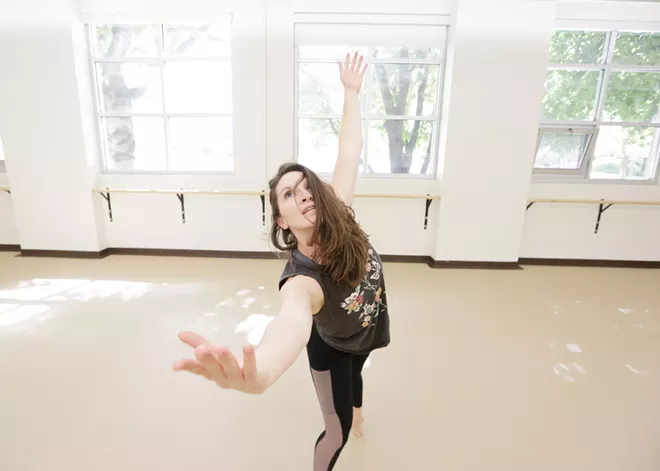 Often, we compartmentalize our lives and limit our self-expression, but for CarliAnn Forthun Bruner, dance has the power to shatter these self-imposed barriers.
"I can express myself kinesthetically and tap into parts of myself that maybe I'm not acknowledging in my everyday life," Bruner says. "As an artist, as a mom, as a teacher, you have to section your brain off a little bit, and when I dance I feel like all of those barriers melt away and I'm able to feel all of that in a healthy and safe space."
Originally from Tacoma, Bruner moved to Spokane in 2018 when she began teaching dance at Gonzaga University.
Bruner has always been a very agile and active person, training as a gymnast until she suffered an injury that shifted her into the dance world at age 13. She primarily focuses on contemporary dance, a style drawing from ballet and modern, among other genres, with an emphasis on expression, innovation and fluidity.
A descendant of the Confederated Tribes of the Colville Reservation and Secwépemc band in Canada, Bruner discovered Indigenous contemporary dance while searching for a topic for her master's thesis in 2019.
"Indigenous contemporary dance is the intersection of Indigenous worldviews and contemporary dance," she says. "A lot of these choreographers are using contemporary dance as a tool to explore and tell stories of their Indigenous heritage and worldviews, such as matrilineal aspects, relationality with the land and being connected with all relations."
Learning about the dance style has allowed Bruner to connect more with her own history, specifically to her great-grandmother who was a Powwow dancer, and to start looking at dance through a different lens.
"It's a way for me to have an in to asking questions and then embodying it, which has been really healing," she says. "It's niche for sure, but there are a lot of choreographers out there doing their thing, you just don't hear about it as much."
To Bruner, dance is a crucial art form for any city. She says Spokane has a strong youth dance scene and training opportunities, with many young dancers leaving the city to pursue professional dance careers.
But there's a lack of studio space and performance opportunities to many outside the youth sphere, which Bruner says is beginning to change as dance overall increases in popularity in Spokane. She says the city needs a smaller venue than the Fox or Bing Crosby Theater to remove barriers preventing some artists from performing.
Bruner also envisions Spokane becoming an alternative destination to Seattle for dance, in part due to the lower cost of living here and proximity to other cities with vibrant art scenes like Coeur d'Alene, Missoula, and Nelson, British Columbia.
"We're within distance of quite a few cities that are of similar size and interest and have art scenes going on that could be really nice sister cities for touring, bringing artists in, supporting one another," Bruner says.
She notes that many artists in Spokane are excited to see and collaborate with dance and performing artists, but that the abstract nature of dance is still daunting to some.
"Sometimes dance is kind of scary to watch, like you have that fear of getting it," she says. "By the way, it's OK if you don't get it as long as you're moved by what you see.
"I think that consistency of those opportunities and the quality of dance that's been coming out of these various organizations is making it just more accessible," she adds.
When Bruner moved here from Seattle in 2018, she saw Spokane's dance scene as being on the crest of a wave. Then the pandemic hit, and only recently has that momentum begun to rebuild.
RISING TIDE: A COLLABORATIVE EVENING OF DANCE
Thu, Sept. 28 and Fri, Sept. 29 at 7:30 pm, $25-$30
Bing Crosby Theater, 901 W. Sprague Ave.
As part of that effort, she and other artists are producing "Rising Tide: A Collaborative Evening of Dance" featuring works by Bruner, fellow Gonzaga dance instructor Sarah Glesk, Quiero Flamenco's Monica Mota and Vytal Movement Dance's Melanie Rose Huff and Lexie Powell. Thirty local and regional dancers perform for the concert's two nights.
"We want to just come together and support each other and get our choreographic voices out there," says Bruner, whose piece depicts feeling out of place and stifling oneself to fit within various social constructs.
"It's really inspired by my 4-year-old and all her glory of being just her glorious self, and dancing like no one's watching," she says.
Bruner hopes Rising Tide showcases Spokane's potential to become an even stronger epicenter for dance.
"I hope and dream that it will become a community where people feel safe to continue their dance career here," she says. "It doesn't end when they move to Spokane, but flourishes and blooms in a way that they want it to." ♦