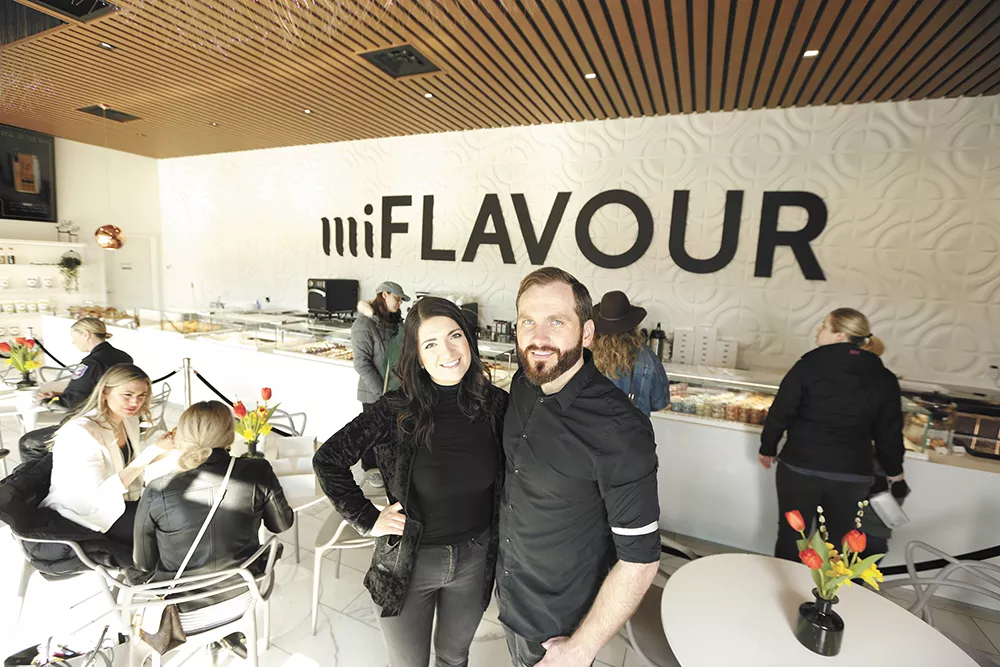 A little more than a year ago, local French-inspired bakery miFlavour moved into a building on East Sprague Avenue after two years in a shared commercial kitchen. Then, late last year, owners Ella and Max Piskun debuted miFlavour's sleek and contemporary retail space and cafe, worthy of any Instagram feed.
The chic spot, decked out with bright white finishes, marble tile, natural wood, metallic light fixtures and a focal wall covered in faux greenery, has vibes of a spa or boutique, but it's croissants, macarons, cakes and espresso that customers find there.
Now that they've settled into operating the full-scale commercial bakery to stock the cafe's pastry cases and fulfill wholesale accounts around town, the Piskuns are gearing up to add artisan bread loaves and some frozen desserts to miFlavour's product line, though launch timelines have yet to be announced.
Before designing the space, the couple traveled to Paris to eat their way around the city's patisseries for inspiration. The cafe's faux "living wall" was directly inspired by details they saw there.
"We're really excited about the cafe. We've finally reached our goal and dream from when we opened the business, and up to this point it took us three years," notes Max Piskun. "Now we have a full espresso bar and we're still expanding and want to offer more and more different products."
Locally raised, natural honey ($5-$8) is one of those products, under the brand name Citrine.
"We acquired a honey farm around Colbert, and we sell it at the cafe," Max says. "When we were opening the cafe, the idea was to offer high quality products but make it a single-stop shop."
To that end, a display near the door features fresh flowers. MiFlavour's cafe also stocks greeting cards. Another recent introduction are gourmet chocolate bars made in-house from dark, white, milk and ruby chocolate with various toppings.
MiFlavour's espresso menu features coffee specially roasted for the cafe by local, one-man operation Waverly's Coffee. Customers can purchase bags of the house white and decaf coffee, along with dark and medium roasts. Besides coffee on the espresso menu is the non-caffeinated Ruby Rose, a hot beverage consisting of ruby chocolate (a recent introduction to the market with a pink tint and fruity flavor notes) and rose water, topped with a pink marshmallow rose.
Next to a long, rainbow-colored display of its popular French macarons and other desserts, miFlavour now serves four savory croissant sandwiches ($11-$12): smoked salmon, prosciutto with brie and apples, a croque madame and a vegetarian option.
Other sweets new to the cafe format are 10 flavors of ice cream sandwiches ($8) made with large versions of miFlavour's classic macarons, as well as more French-style pastries, like danishes and various croissants. These new products are all in addition to 60 desserts and pastries available for special order or in the case on any given day, from tarts to biscotti; cake by the slice to creme brulee.
"We have so many people who come into the cafe say that it's really modern and inviting," Max says. "That was a challenge because we wanted to create this really modern place, but not be too clinical. We were able to achieve that and we're happy people are able to come here and relax." ♦
MiFlavour • 3404 E. Sprague Ave. • Open Mon-Thu 7:30 am-7:30 pm, Fri 7:30 am-9 pm, Sat 9 am-9 pm, Sun 9 am-7:30 pm • miflavour.com • 315-4516