Isaac Murcar and Michael Starry's other bandmate in Runaway Octopus is always on time for practice, doesn't voice differing opinions and rarely — if ever — makes a mistake.
That's because it's a reel-to-reel tape machine, one of those bulky vintage ones that you might have seen at a garage sale or two, and though it may be an inanimate object, it's essentially the third member of the band.
Starry and Murcar, both 23, grew up in Spokane, though they didn't know one another until several years ago when they were recruited to be the rhythm section for Soul Man Black, the solo project of local glam-rock musician Dylan Black. They bonded over a shared obsession with the Pixies, but they didn't talk much after that gig ended, until Starry received a text from Murcar: Want to start a surf band with me?
That was in early 2016. Runaway Octopus began as a trio with a drummer, but when that arrangement didn't work out, Murcar got out the old reel-to-reel he purchased from a co-worker, loaded it up with tape he found at thrift shops and recorded some drum tracks onto it so he and Starry could play along to it.
"I think it started out as a practicing tool until we found a new drummer," Starry says of the tape machine.
"Which we never did," Murcar adds.
"So we started playing a couple shows with it, and the audiences were really pumped about it," Starry says.
It's not all that different from, say, electronic artists playing along to pre-recorded backing tracks on a laptop, but it's a little more cumbersome, and it requires an entire show's worth of percussion to be recorded on a single reel of tape.
"The only thing that really ties us down is there always has to be something constant on there," Murcar says. "It's possible to get off from that, like if there's a section without drums. ... That's really the only thing we have to think about it."
"It's like we're playing to a click track for every show," Starry says, "but it's sort of forced us to be really tight for our live shows."
"They don't play back precisely all the time, so you can get out of tune really easily," Murcar says.
Bassist Starry has a background in jazz, and guitarist Murcar actually started out playing drums, but they've both always been drawn to the allure of surf. Runaway Octopus is not only indebted to all the genre's greats — Dick Dale and the Ventures, of course — but to contemporary artists like Shannon and the Clams, La Luz and Tacocat, all of whom indulge in those reverb-y Fender guitars.
They're also big fans of the musical malapropisms of They Might Be Giants and the Presidents of the United States of America, and they've found common ground in embracing the lighthearted tone of those cult bands.
"Neither of us is high maintenance about it," Starry says. "I'll bring an idea and we'll work around it, or [Isaac] will bring in an idea. Nobody's saying it has to be this way all the time. We're always flexible with each other, and that's how it's ended up working so well together."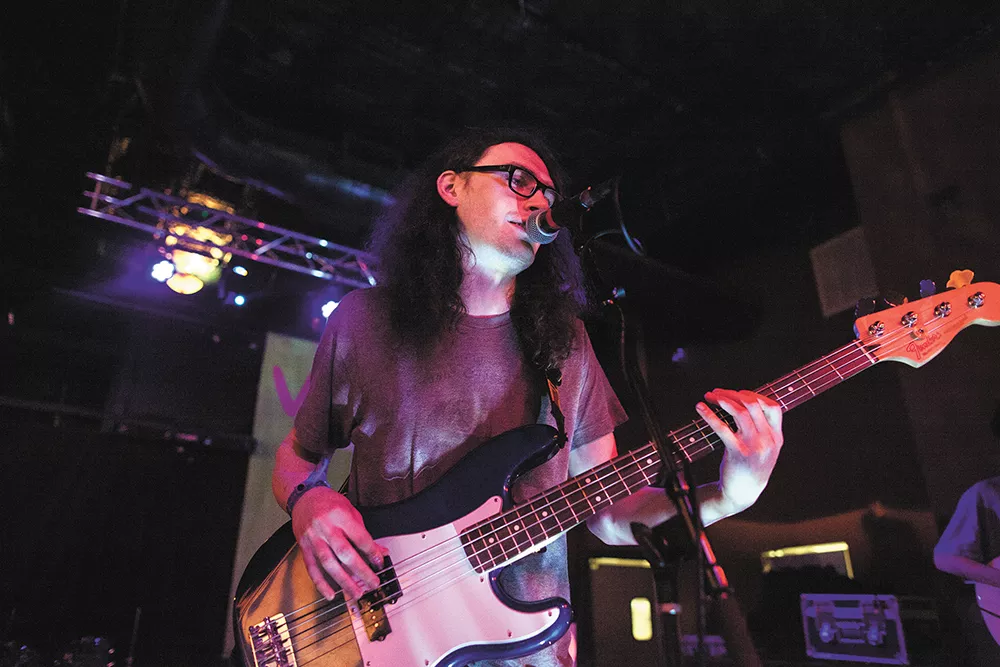 Though they have a handful of demos available on Bandcamp, Runaway Octopus has yet to release an official album. They have a backlog of material that's already been recorded, and they say they'll put that out before starting on a new batch of songs that may take them in a new stylistic direction. Until then, the best way to see them is live, with the reel-to-reel in its full analog glory.
"It's two guys up on stage making fools of themselves half the time," Starry says.
"Yeah, pretty much," Murcar agrees.
Starry continues: "We don't do much audience interaction. We normally just let the tape play. We want to make it all about the music up there."
"It really feels like if you reach over and stop the tape player, you have to have something really important to say," Murcar says. "If you stop it, and then you're like, 'Thanks for coming out,' and you start it again, it's just —"
"You know what we should do, we should record it on the tape player," Starry says. "We'd like to thank 'insert venue name here.'"
And what if the machine were to ever malfunction? Luckily it hasn't yet — knock on wood.
"Though we should probably have a plan for that," Starry says. ♦
Runaway Octopus with Long Neck and Fern Mayo • Sat, Aug. 18 at 9:30 pm • 21+ • $5 • Baby Bar • 827 W. First • 847-1234