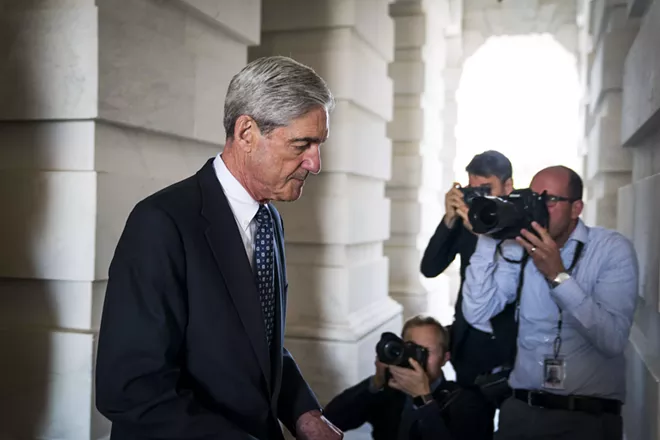 By Sharon LaFraniere and Eileen Sullivan
New York Times News Service
W
ASHINGTON —
Robert Mueller, the special counsel, on Wednesday declined to clear President Donald Trump of obstruction of justice in his first public characterization of his two-year-long investigation of Russia's interference in the 2016 presidential election.
"If we had had confidence that the president clearly did not commit a crime, we would have said so," Mueller said, reading from prepared notes behind a lectern at the Justice Department. "We did not, however, make a determination as to whether the president did commit a crime."
He also said that while Justice Department policy prohibits charging a sitting president with a crime, the Constitution provides for another process to formally accuse a sitting president of wrongdoing — a clear reference to the ability of Congress to begin impeachment proceedings.
Although his remarks closely matched statements contained in his more than 400-page report, Mueller's portrayal of Trump's actions was not as benign as Attorney General William Barr's characterizations. While Barr has seemed to question why the special counsel investigated the president's behavior, Mueller stressed the gravity of that inquiry.
"When a subject of an investigation obstructs that investigation or lies to investigators, it strikes at the core of their government's effort to find the truth and hold wrongdoers accountable," he said.
He suggested that he was reluctant to testify before Congress, as the House Judiciary Committee has asked.
"The report is my testimony," he said.
Trump and his advisers sought to play down Mueller's comments. The president said that they made little difference and conflated Mueller's assertions that his investigators found insufficient evidence to charge a conspiracy with Russia but declined to make a decision on obstruction because of the prevailing Justice Department view. "The case is closed!" he wrote on Twitter.
Democrats pointed to Mueller's remarks as a fresh call for them to investigate the president. Rep. Jerrold Nadler, D-N.Y., the chairman of the House Judiciary Committee, said Congress would continue to scrutinize the president's "crimes, lies and other wrongdoing."
Nadler has sided with Speaker Nancy Pelosi, D-Calif., and other Democrats who have avoided calling for Trump's impeachment, creating division in the Democratic Party. In her own statement after Mueller's remarks, Pelosi sidestepped impeachment.
"The ball is in our court, Congress," said Rep. Justin Amash, R-Mich., the lone lawmaker in his party who supports impeachment proceedings.