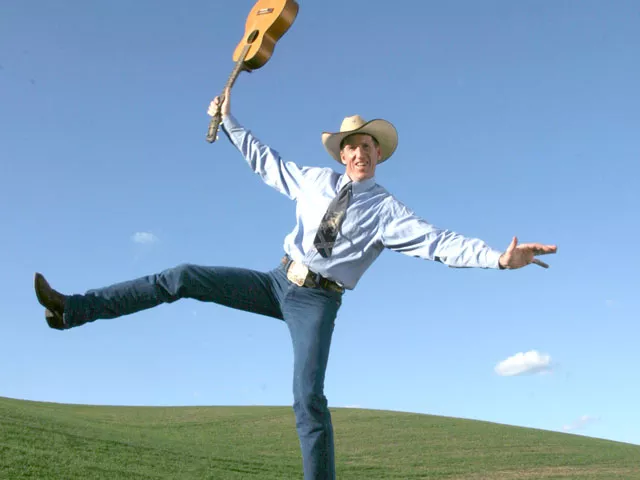 Label Wylie Gustafson a country singer, and he will politely ask that you remove the red-hot metal from his rump.
"I'd like to make the distinction between our music and 'country' music," the Montana rancher and bandleader says. "Our music is cowboy music, which relies heavily on the lyrics and the reflection of this wonderful land of the West. ... Country music — that's something from Nashville that, to me, sounds like bad '70s rock 'n' roll."
Gustafson knows quite a bit about branding. He is just back from burning his father's symbol, a "Cross Three" in the shape of a plus and the numeral, into the spring's youngest cattle.
"Yup, red-hot metal on innocent little calves," he says. "But they have a pretty good life after those brief, few moments of unpleasantness."
And Gustafson hopes to have a pretty good show at the Spokane Symphony, even after receiving the unpleasant brand "country" in our headlines. But that's a word —along with "folk" — that the Symphony's materials use to describe Gustafson's "Cowboy Show." Then again, the show is part of the Symphony's "Superpops" series, which has seen collaborators Ben Vereen and Béla Fleck, who are hardly Lady Gagas.
But, like Lady Gaga, Gustafson also understands how corporate and trademark branding works. Start with the fact that he rarely performs without a hat the size of his home state. What's even bigger: Since 1996, he's borne the mark of Yahoo! (or perhaps it's the other way around) as the singer who recorded the Web giant's signature yodel. First "ya-hoo-ooo," and later, "ya-hoo-oo-ooo," those warbled syllables inspired the company's annual yodel competition, which attracted 21,000 entries in 2009.
That's the definition of popular appeal. If the YouTube videos of Gustafson's only other appearance with a symphony — February 2009 with the Smokey Mountain Symphony — is any indication of his plans, Gustafson will walk his Spokane audience through the heritage and motivation of each song, many of which will feature cowboy poet Paul Zarziski, to produce an accessible musical experience.
If being a bandleader with an unfamiliar audience sounds an awful lot like herding cattle or training horses, Gustafson agrees.
"They gotta wrangle it all together," Gustafson says. "That's one of the purposes of going with the symphony. That's just one way for us to reach people who don't think they have a connection with the cowboy or with the West."
Wylie Gustafson and Paul Zarziski's "Cowboy Show" rides into town with the Spokane Symphony and conductor Eckart Preu at the Martin Woldson Theater at the Fox on Saturday, April 24, at 8 pm. Tickets: $27-$54. Visit www.ticketswest.com or call 624-1200.