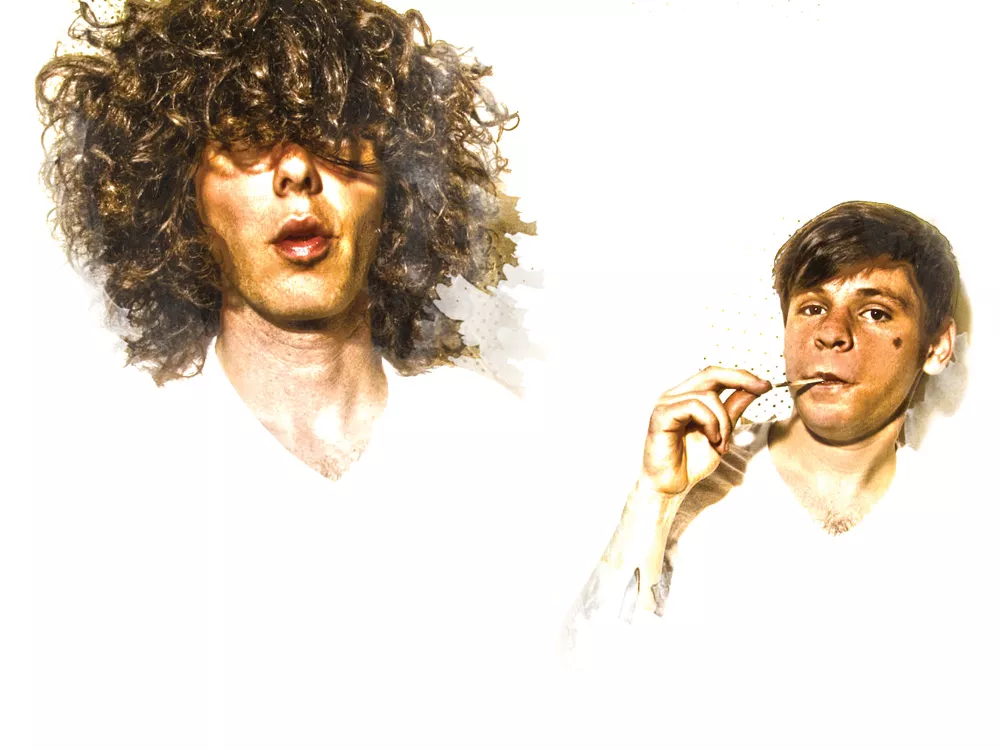 Japanther is an unusual, wild beast. At first glance, it seems only to be a harmless rock duo. But on closer observation, the creature is befuddling. Japanther does not practice typical migratory patterns. It appears to have no natural habitat, adapting to various artistic elements almost casually and on a whim. And unlike most domesticated musical acts, its primary focus does not seem to be music.
"First and foremost, I think of Matt [Reilly] and I as artists," says Ian Vanek, Japanther's drummer and singer. "And then secondly, we're messing around with making sound, making song. We're not in a band, per se, 'cause it's a duo, so we have a lot more freedom in choices."
And that freedom is something Japanther exercises — constantly. The duo has been accused of starting a riot at the Lincoln Center in New York City and performed multiple illegal shows on the Williamsburg Bridge. But that's
straightforward punk-rock fare when compared to some of their medium-blending artistic collaborations.
In 2003, Japanther performed in Miami, Minneapolis, Berlin and Vienna as part of famed conceptual artist Dan Graham's exhibit Don't Trust Anyone Over Thirty. In 2006, the band played a show at New York University's pool, accompanied by synchronized swimmers. This time last year, Japanther was in Vienna playing for 84 straight hours with no food or sleep, on a stage that rotated the entire time. The duo is now planning both an upside-down concert and an upcoming performance art project on America's prison industrial complex, in conjunction with the Experiential Media and Performing Arts Center.
So it's appropriate that Vanek refers to the duo's past work as their "portfolio."
While these performance projects might appear to be radical, Vanek simply sees them as creative. If Japanther seems unorthodox, it's only due to the banality of "typical" bands.
"Doing things other bands haven't done is kind of very easy, because most bands are doing the exact same things as each other — down to mimicking sounds and instruments and not even inventing ideas," he says. "They're paying homage to people like Ticketmaster and Clear Channel and playing the same venues that are organized in the same very boring way, where you get some water in plastic bottles and a very good P.A. and things handed to you like you're a baby."
But the band's artistic urges do have fairly common roots: art school. The two formed the band in a computer lab (one which Vanek wasn't supposed to have the keys to, but did) while studying at Brooklyn's Pratt Institute.
"We started by talking about visuals and things that inspired us in a way that I think wouldn't happen with most musicians who come together and already have formulated ideas," Vanek says. "We had this very open-minded conversation, talking a lot about performing and the way that we could make something interesting to look at on the stage. Something very wild, something very free feeling, like an animal in a room. So when you let our band play or 'perform,' that's kind of your fault for letting Japanther into your environment."
Both guys still love to make non-music art, especially in the fields of printmaking and typography.
"We printed 144 shirts yesterday in the backyard. People that wear a Japanther shirt should know that Matt and I had our hands on it when we were making it, dying it, hanging it in our backyard, folding it, and ironing it," Vanek says. "We're running a business that runs on certain business models that we learned in the punk world, and others we learned in the art world, and even more that we learned just being in New York City."
Oh and yes, there is actually the music itself, which is a noisy form of drum-and-bass pop.
"I think 'simple' is an important word. Populist," Vanek says.
"There's a sense of melody that's easily accessible and a sense of repetition that is easily accessible. I would always tend to lean toward saying it's cartoonish punk, pop, rock 'n' roll music."
Which brings us to Japanther's performance at this year's Terrain pre-party. After being unable to be part of the festivities last year, Vanek is "really excited" to be part of it now. Vanek sees Terrain as part of a budding scene in the area.
"Spokane is — Eastern Washington is — a really vibrant place, culturally. Most people from New York wouldn't maybe say that, but I really believe Spokane is a cool place."
Japanther believes in your art, Spokane. Return the favor.

Japanther plays with Unstoppable Death Machines on Thurs, Oct. 6, at 6 pm • All-ages • Japanther plays with Bandit Train and Space Movies at 10 pm • 21 • Baby Bar • $7 per show; $10, both shows • 847-1234