MICHELLE SEALS
I love to kayak on the river. There's so many put-in points.
Where's your favorite place to start?
That's a tough one. You have a really cool trip from the downtown put-in point, and you can go to No-Li [Brewhouse] and come on back, and that's a great after work kind of trip.

---
KIRSTIN BIANCHI
I have so many. I have memories from the Valley and memories from downtown. I love the waterfalls downtown and going across the bridges. Having lunch at Clinkerdagger, sitting outside on the veranda looking at the falls.
---
DIANE HUBBARD
A river rafting trip on the Salmon River in Idaho.
Was that scary?
There were probably some class-three [rapids]. It was not a death-defying experience, but it was exciting. It was a three-day thing and we camped.

---
CLARK HUBBARD
I enjoyed a river trip on the Danube River going up from Budapest up to Germany. It was a really interesting trip into the past.





---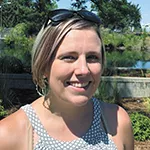 REBECCA LONG
When I graduated college, my family came to visit. I didn't know what to do with people after graduation so we walked across the little walking bridges and watched the waterfalls. It was peaceful, and I had actually never done it before.



---
INTERVIEWS BY BROOKE CARLSON
7/25/2018