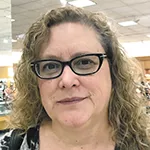 VIVIAN NIELSEN
Going to the lake.
What would you say is No. 5 on your summer bucket list?
Finding a new restaurant, a little hole in the wall. Something good and new and different.
---
STEPHEN BARBIERI
My summer bucket list? North Cascades hike.
What do you really like about that?
Getting outdoors and into the mountains. That's what summer's about.


---
MARY BRECTO
I have a memory book for each one of my kids. I did one for each one of my grandkids, 72 pages long for 13 grandkids. It took me a year to do them all, and it's been hard for me to get back at it to do the ones for my kids. But I'd like to do that.
---
RAUL MENDOZA
I'm doing it now. I went to Yosemite, I went to Yellowstone National Park, now I'm just exploring the coast of California.
What has your favorite part of that journey been?
I have to say Yellowstone National Park. Yellowstone is the best. It's a magical place. It's beautiful.
---
LEAH BIRR
Hoopfest. Does that count?
What's No. 5 on your bucket list?
Getting the inside of my house painted. I've been wanting to do that.