TIM STARK
My favorite part [is] definitely overlooking the falls.
Do you think think the city should spend $1 million to improve the Rotary fountain?
Nope. Honestly, I'd work on more practical park stuff, like better bike paths to get [to the park].
CHRISTIAN HUNT
I really enjoyed how open it was, and communal, because it was kind of an environment where you could just "go forever."
Would you spend $1 million to renovate the Rotary fountain?
I wouldn't, because it's a fountain. If I were to spend a million bucks on anything in Spokane, it would be to improve the road systems.
NICHOLAS UNDERWOOD
It was really cool to walk through. The carrousel. It's pretty historic, and it felt different than the rest of Spokane.
Do you think the city should renovate the Rotary fountain?
It feels like they just put it in, didn't they? You could probably use that money to fix 100,000 potholes in the city.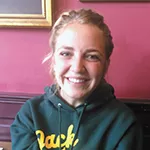 SHANNON MANSO
I loved the strip where you could run across the bridge and go up the hill, and there were all the trees lining it.
Do you think the Rotary fountain is worth the $1 million renovation?
Wow, I don't know. After Bloomsday, a lot of people were bummed because they couldn't take pictures in front of the fountain. And kids love it.
SYLVIE BAMIS
Walking by the Convention Center and the footbridge by the red wagon.
What are your thoughts on the Rotary fountain?
I'm not a fan. It's too crowded, and it smells like bleach and gets too many people wet.