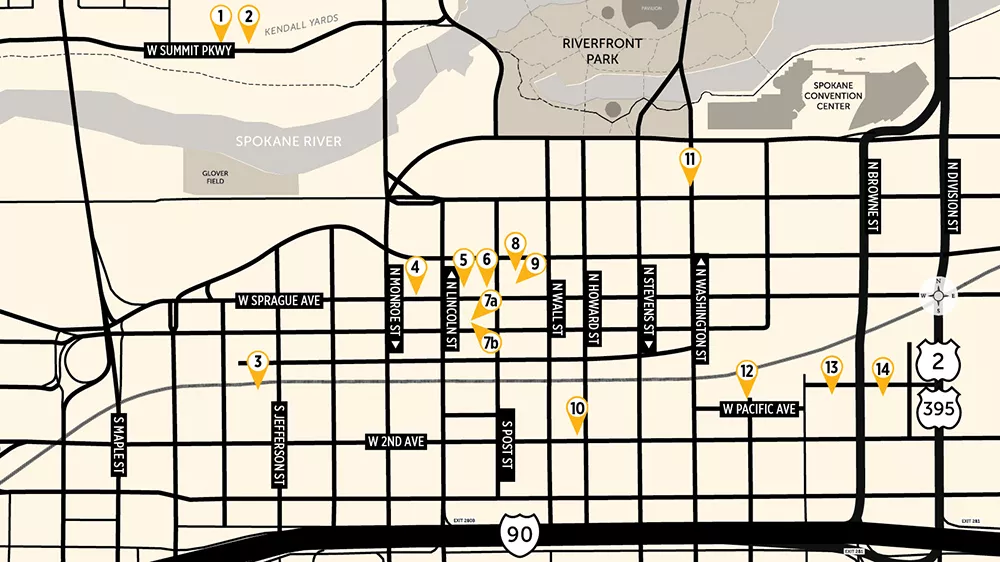 This Mother's Day weekend, the wineries within Spokane's self-christened Cork District will be celebrating the occasion by uncorking a bevy of new wine releases, and you can travel from one winery to another to get your fill of pinots and cabernets. What a way to ring in spring and celebrate Mom at the same time. And it's not just tastings, either: There will be food pairings, local artist showcases and live entertainment, including a weekend-long music festival at Bridge Press Cellars. It's a good excuse to explore beyond the downtown core, including outlying wineries in Liberty Lake, Green Bluff and Spokane Valley.
Spring Release Weekend • Fri, May 10 through Sun, May 12, noon to 5 pm • Details at facebook.com/corkdistrict
1. Maryhill Winery 1303 W. Summit Pkwy.
2. Craftsman Cellars Tasting Room 1194 W. Summit Pkwy.
3. Barrister Winery 1213 W. Railroad Ave.
4. Terra Blanca Spokane 926 W. Sprague Ave.
5. Helix Wines 824 W. Sprague Ave.
6. Renegade by MonteScarlatto822 W. Sprague Ave.
7a. Va Piano in the Historic Davenport Hotel 10 S. Post St.
7b. Arbor Crest Tasting Room in the Historic Davenport Hotel10 S. Post St.
8. Tempus Cellars 8 N. Post St. Ste. 8
9. Cougar Crest Estate Winery8 N. Post St. Ste. 6
10. Barili Cellars 608 W. Second Ave.
11. Barrister Winery Tasting Room 203 N. Washington St.
12. Overbluff Cellars 304 W. Pacific Ave.
13. Robert Karl Cellars 115 W. Pacific Ave.
14. Bridge Press Cellars 39 W. Pacific Ave.
SPOKANE-AREA TASTING ROOMS
Winescape 6011 E. 32nd Ave.
V du V Wines 12 S. Scott St.
Townshend Cellar 8022 E. Greenbluff Rd., Colbert
Liberty Lake Wine Cellars 23110 E. Knox Ave., Liberty Lake
Arbor Crest Wine Cellars 4705 N. Fruit Hill Rd., Spokane
Nodland Cellars 11616 E. Montgomery Dr. Ste. 69, Spokane Valley
Latah Creek Wine Cellars 13030 E. Indiana Ave., Spokane Valley