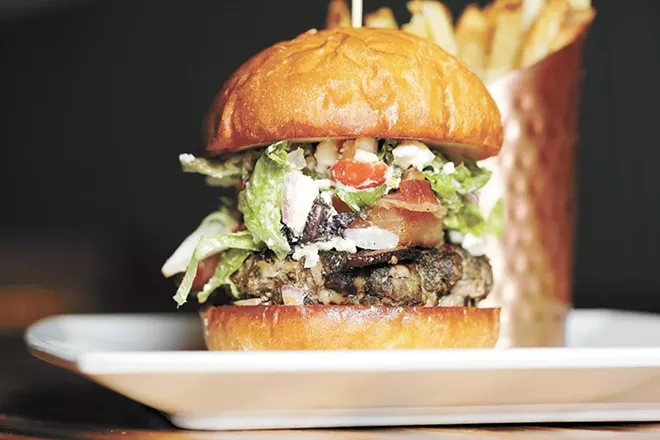 T
he good news:
Prohibition Gastropub almost depleted its current supply of gift cards over the past few days.
The bad news: Chef-owner John Leonetti plans to make a decision Saturday on whether to keep offering take-out service until the statewide ban on dine-in service at restaurants due to the coronavirus pandemic is lifted.
"It's been hard. The first couple of days it was extremely slow and it made us start to reevaluate how we're going to be able to do this because our minimum, just turning on lights and keeping one person working a day, is about $500 to break even," Leonetti says.
Things were looking up Wednesday though, he says, when customers turned out in response to
a post
on Prohibition's Facebook page notifying the public they could purchase excess perishable food at-cost, like salmon and potatoes. In addition, he says the restaurant's kitchen filled about 25 to-go orders and sold dozens of gift cards.
Despite these outpourings, it's hard to predict if this demand will continue over the coming weeks.
"I've talked to a lot of owners and chefs in the area, and even though [the state says we're closed] until March 31, it might be another two weeks after that," Leonetti says. "It's hard when you're trying to plan stuff as a restaurant. We understand they are trying to give us an ability to try and keep the doors open, but really it's just a Band-Aid."
As soon as the statewide ban was announced Sunday night, Leonetti says all front-of-house staff were laid off so they could file for unemployment. He's keeping three cooks on for now, but only scheduling one of them each day.
The chef is optimistic, however, that when the ban is finally lifted that Spokane-area diners will rally to support the culinary community.
"Everyone is going to be tired of being inside their house or eating at home," he says.
Until Leonetti makes his decision come Saturday about whether to remain open or close shop until the pandemic passes, customers can order for take-out by calling 474-9040 or delivery via local service
Treehouse Deliveries
. The restaurant is currently open daily from 11:30 am to 6:30 pm. Find the
full menu
online.
To encourage customers' support in the coming weeks, Prohibition is one of more than a dozen local eateries that have partnered to offer a $5 coupon punch card with every $25 take-out order. Those coupons are redeemable on one future purchase at each of the partnering restaurants
through June 16
: Prohibition, Gander & Ryegrass, Durkin's Liquor Bar, Stella's, Ruins, Eyvind, Hunt, Downriver Grill, the Flying Goat, Republic Pi, Cochinito Taqueria, Hogwash Whiskey Den, High Tide Lobster Bar, TTs Old Iron Brewery and Zona Blanca.
"We've always said we have some of the best customers. They have been sending texts and messages on Facebook to ask what they can do besides ordering food," Leonetti says. "Some people have been placing orders every day since then."