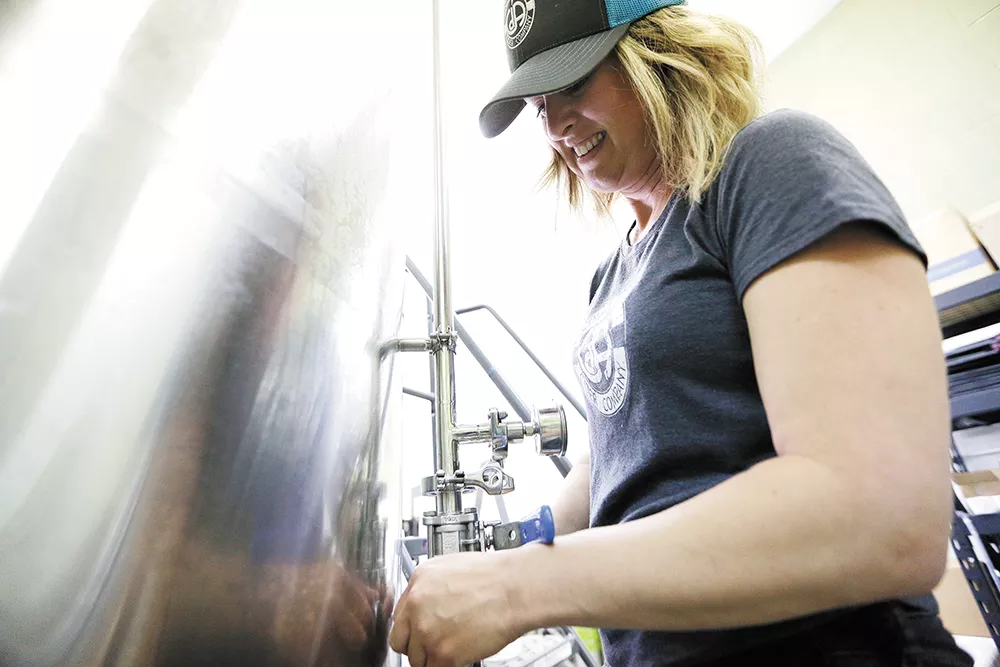 RETURN OF THE RAMEN
Soup season is here, and helping kick it off is the Spokane Buddhist Temple's annual Ramen Fest on Sunday, Oct. 28. Offering dine-in or take-out orders from the temple in the South Perry District at 927 S. Perry, the festival from 11 am to 3 pm serves a menu of pork, chicken and tofu ramen ($12 each). Sides include inari sushi ($6), which doesn't contain raw fish, but rather a pocket of sushi rice and veggies enclosed in fried tofu. Snacks for sale are edamame ($5) and Chex arare ($5), a salty-sweet mix of rice cereal coated in sesame seeds and soy. For dessert is Japanese mochi ($6), a sweet rice-flour treat that's being made in three flavors: butter, red bean or peanut butter and honey. Stop by, or call 534-7954 to place an order for pickup.
RUINS LAUNCHES VEGETARIAN DINNER SERIES
Vegetarians now get a night all their own at Ruins, the celebrated small plates restaurant from chef Tony Brown. Ruins' new "Last Supper" series is served Sunday nights from 5-9 pm, offering a $35 fixed-price menu of four vegetarian courses. Brown says the series will showcase weekly rotating menus created by himself and Ruins' sous chefs, and potentially from local guest chefs as time goes on. The first Last Supper dinner on Oct. 20 featured mushroom fritters with spiced yogurt and cilantro; a salad course of celery root, pear, coleslaw, carrot and raisins; main course of curried root vegetables, toasted grains, pumpkin seed and coconut cream; finished off with dessert of apple cobbler and chai ice cream.
AMY'S DONUTS OPENING IN SPOKANE VALLEY
The anticipated Spokane Valley location for small national chain Amy's Donuts is set to open on Monday, Oct. 29. Located at 11519 E. Sprague in a pink-and-orange-striped building, the store is now one of five locations for the eclectic donut shop that started in Colorado Springs in 2013. Amy's Donuts locations are all open 24 hours a day; the treat shop is known for its funky, nontraditional donut toppings and flavor combinations.
Some of the more creative standouts on the Amy's Donuts menu include a pistachio cake donut, "Nutella fluff," and plenty of pastries topped with cereal and candy bar crumbles. Seasonal flavors listed include a maple pumpkin spice and the "spider donut," a glazed donut topped with two donut holes forming an abdomen, with legs and eyes in icing.
COEUR D'ALENE CIDER IS GETTING A TASTING ROOM
Earlier this year, we introduced readers to a few members of a growing female demographic of the region's craft brewing industry. One of those brewmistresses is Jill Morrison, owner and brewmaster of Coeur d'Alene Cider Co., which opened last year to become North Idaho's third craft cidery. While the cidery doesn't have its own tasting room, instead selling its seasonal and staple lineup of ciders — including a blackberry lemon, winterberry and semi-dry cider — at farmers markets and via other retailers, that's about to change. A recent announcement made on Facebook shared the news that Coeur d'Alene Cider Co. is getting a tasting room and bottle shop on East Sherman Avenue, with more details forthcoming.
BRICK WEST BEER BREAKS GROUND
Amidst all the construction that's been going on around downtown Spokane's west end this year is a new project that beer lovers can get excited about. Brick West Beer was announced earlier this fall to be moving into a historic building at 1312 W. First built in 1905 that long served as an automotive shop. Brick West Beer is owned and operated by four local business partners made up of two sets of brothers with collective experience in real estate development and the hospitality industry. The brewpub is projecting to open by mid-2019, and in time for summer's patio dining season. Plans for the venue include both rooftop and street-level patios, with plans to host live music, events and more. Follow the brewpub's progress at facebook.com/brickwestbeer. ♦