As he sits across the table from KXLY 920 radio talk-show host Mike Fitzsimmons, Mayor David Condon says he's at a boiling point. In fact, he says it twice.
Because now it's not just the scathing accusations the recent independent investigation made against his administration. It's not just the ethics complaint he's spent the past year fighting. It's not just his clashes with a city council which chased away his city-attorney pick and put his police chief nomination in peril. It's not just the media outlets obsessed with how he tried to hide the sexual harassment allegations against his previous police chief.
Now it's the mayor's job — not just his reputation — at risk. Last Tuesday, a recall petition was filed against Condon.
As Condon riffs with Fitzsimmons, he shows a different side than reporters have seen over the past year. His answers are direct, passionate, defiant, angry. He announces that he's going on the attack.
"I will fight this. We will fight this," Condon promises. "We will take actions that the law allows against those who are doing this."
'COORDINATED... COLLABORATED'
To hear Condon tell it, the recall attempt is the culmination of something close to a conspiracy.
"It's been going on for months," Condon says. "It's coordinated. It's collaborated."
But according to the man who filed the recall, certified public accountant David Green, the story is a lot less dramatic. He says it was basically him alone.
Over the past few months, he says he'd repeatedly seen comments on news websites saying that somebody needed to step forward.
"Unfortunately, that turned out to be me," says Green. "It's sad that we have gotten to that point. I'm not taking any pleasure in doing this."
Green, a Democratic activist and frequent political donor, has two law degrees. If anyone had a shot at putting together a legally defensible recall petition, it was him, Green decided.
"I could put together a reasonably balanced, well-written perspective," he says.
After all, most recall attempts in Washington state die in a courtroom, before receiving a single petition signature. For the recall attempt against Condon to move forward, it first has to get past a Superior Court judge, who will determine whether accusations against Condon meet the legal requirements for a recall.
Aiming to meet that standard, Green is relying on the independent investigation that Condon himself played a part in initiating: It concluded that his administration intentionally withheld important records about still-unproven sexual harassment allegations against former police chief Frank Straub until after Condon's re-election last November.
On the radio, Condon refers to investigator Kris Cappel's assumptions as "grossly overexaggerated" and dismisses her assessment of political motivations as a "conspiracy." He denies that any of his staff members intentionally withheld documents for any reason.
But Green's recall filing actually goes further than Cappel's report: He accuses Condon himself of conspiring to withhold documents — a conclusion Cappel backed away from at the last minute — and charges Condon with mishandling the sexual harassment allegations.
Green also charges that Condon was lying in a September press conference when he said "no" when the Inlander asked if there had been any sexual harassment complaints lodged against Straub. Next month, Condon and his attorney will go before the ethics committee to make his case — that he'd only been denying there had been any official complaints.
Finally, Green charges Condon with violating the city charter for refusing to submit his recent police chief pick, Craig Meidl, to the city council, and Green effectively bundled two police chief controversies into one massive recall package.
On Monday, after pressure from the city council, the mayor pulled back on his appointment — agreeing to put Meidl up against a pool of outside candidates in a full vetting process.
So what does that mean for the recall effort? Green isn't sure, but says it's ultimately out of his hands.
"I can't change anything that's in the petition," Green says. "The judge is supposed to make the independent determination."
Green says he doubts he would move to appeal the recall if it was persuasively rejected in Superior Court. A defeat might mean that he too would push for closure.
"Either we move forward or we heal," Green says. "If the judge says these are not valid grounds to moving forward, then the community needs to take the signal that we should heal."
RELUCTANT RECALL
If Condon has reached a boiling point, the recall effort so far remains lukewarm — at least until it reaches a judge. Until then, Green says, there's "no point, in my opinion, in getting people all riled up one way or another."
Some of Condon's most vocal critics, including the Peace and Justice Action League of Spokane and the National Organization for Women, haven't yet joined the recall effort. Shar Lichty, who the mayor crushed in last year's election, says she supports the recall efforts, but has intentionally tried to stay out of it.
"I don't want it to appear that it's vindication on my part," Lichty says.
The mayor's most influential political opponent, City Council President Ben Stuckart, also will keep his distance.
"I don't think it's appropriate for an elected official of a city to comment on a recall attempt of another elected official," Stuckart says.
Condon speculates on the radio that the recall attempt has been "orchestrated between the Center for Justice and Mr. Green."
Center for Justice Executive Director Rick Eichstaedt has been litigating the ethics complaint against Condon and is preparing to a file a public records violation claim against the city.
But both Eichstaedt and Green say there was no orchestration. Eichstaedt says he declined to give Green help.
"I made it clear to him that that's something that the Center can't do," Eichstaedt says. "Generally we don't sponsor ballot measures. This is electoral politics."
While Jim CastroLang, chair of the Spokane County Democrats, had put out a press release calling for Condon's resignation and describing a recall as "inevitable," he says the party hasn't been behind the recall. They might endorse it, but don't want to lead it.
"None of us want to play political games," CastroLang says. "If something like this is going to succeed, it's going to need to have some grassroots energy."
That's what happened during the most recent successful recall in Spokane, back in 2005 when Shannon Sullivan, a single mom, rallied the city against against conservative Mayor Jim West.
But back then, the allegations — that West was trolling gay sex websites to pick up young men, and offering them city internships and appointments — managed to outrage both parties: Social conservatives saw immorality and betrayal, while social liberals saw rank hypocrisy. The local Republican and Democratic parties and an unanimous city council all called for West's resignation.
So far, there's no apparent Republican support for recalling Condon. Last Thursday, Republican activist Kelly Lotze notes, Condon received a standing ovation at a barbecue held by his former boss, Republican U.S. Rep. Cathy McMorris Rodgers.
"One mistake, if true, pales in comparison to the great things accomplished over four years," says Lotze. He says he generally considered Green to be genuine, but sees this recall effort as "entirely political."
Green insists he's not motivated by "political animus." Still, he is the chair of the Third Legislative District Democrats. He's donated to Stuckart and Lichty. He sent a letter to the Salary Review Commission urging raises for the city council and city council president.
Condon, noting that he was nonpartisan enough to be willing to appoint Green to the Salary Review Commission, attacks the recall as politically motivated.
"This is a political move, and I am no stranger to politics," Condon told Fitzsimmons. "I have no problem bringing together a team, with a political action committee, that will address this issue."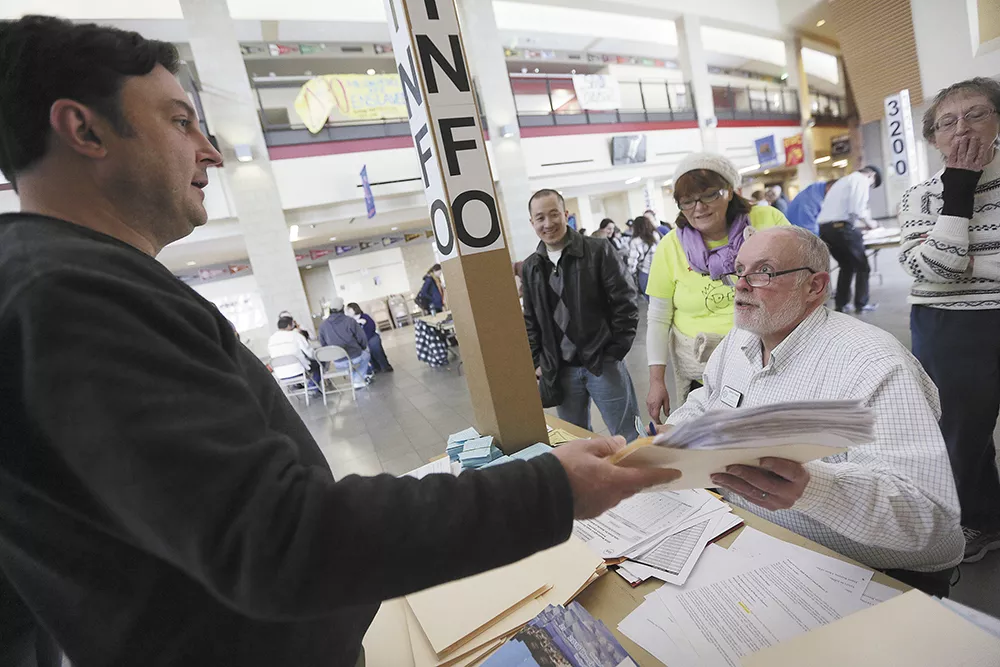 CONDON'S POLITICAL OPPONENTS
Condon knows the political power of a scandal. In 2011, he won the mayor's race partly by lobbing his own allegations at then-Mayor Mary Verner for refusing to fire the assistant city attorney accused of covering up information in a police brutality scandal.
"Mary Verner and the bureaucrats at city hall are guilty of wasting time and hundreds of thousands of dollars in a vain effort to keep the facts from coming out," Condon wrote, his words echoing those of his critics today. "The mayor needs to show leadership and stop hiding her head in the sand."
Five years later, in the radio booth, Condon recognizes that this scandal has done real damage to Spokane's reputation.
"It devastates me when I'm at the U.S. Conference of Mayors, when two other mayors and national media consultants say what a laughingstock this has [made of] our community," Condon says. "Those are my words, not theirs."
He lays much of the blame at the way the scandal has been covered by a media drawn to conflict and confrontation.
"Unfortunately, the commercial media lives and dies by this controversy," Condon tells Fitzsimmons. "This is completely a sideshow."
While the Fitzsimmons interview had been scheduled before the recall was filed, there's no question it was friendly territory. Fitzsimmons calls the recall effort "thin," "petty" and "schoolyard juvenile," accusing the mayor's critics of "tossing rocks through windows."
Condon hasn't granted other media outlets asking about the recall the same access: The Spokesman-Review got a written statement. The Inlander, despite interview requests through city spokespeople, never heard back from the mayor.
During a break in the radio show, the producer of KXLY's 5 pm news broadcast asked the mayor in the hallway for an on-camera comment on the recall. Condon refused.
"Make your own ratings," the mayor shot back, according to the producer. By raising money for a campaign through a political action committee, Condon suggested to Fitzsimmons, he'll be able to share the message he wants heard directly with the public.
"I will use that opportunity to tell Spokane's story. And say where we're going, and how we're going to face the challenges going forward," Condon says. "I think the people deserve to be communicated to." ♦