So much has changed in the tiny, remote village of Kopanga, Kenya, in the past eight years.
There are more sources of clean water than ever before. There's a new health clinic. Malnutrition in infants and children is declining. The village residents aren't sick as often from drinking dirty water, eating bacteria-tainted food or other poor hygiene habits. Teen pregnancy rates are dropping. And thanks to scholarships, 11 students have been able to stay in school instead of dropping out because they don't have or know of any other options.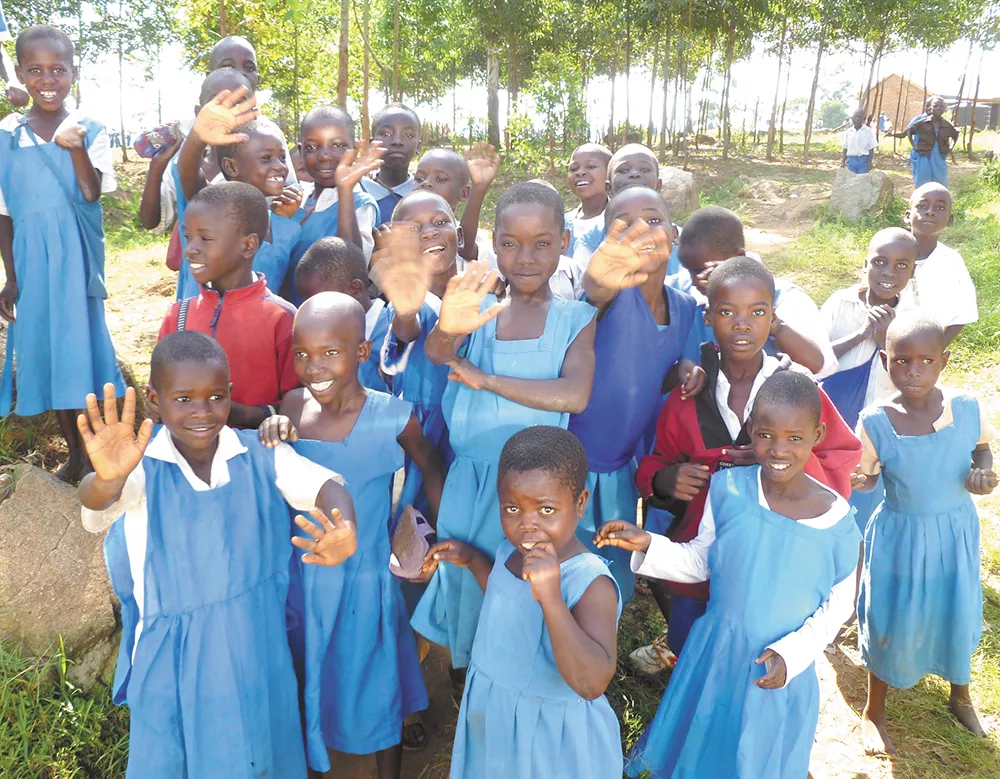 All of this progress has been the ongoing work of Spokane-based humanitarian nonprofit Partnering for Progress, or P4P. Since its co-founders Sandy Ivers and Stacey Mainer took their first volunteer medical trip in June 2007 to the poverty-stricken region of southwestern Kenya, P4P has been actively working to improve basic living conditions there with the underlying goal of ending the cycle of poverty. Since that first visit, Partnering for Progress has continued to organize at least two trips a year, with more than 80 volunteers from the greater Inland Northwest traveling to Kopanga to volunteer their expertise in health care, education and other areas. The next visit is scheduled for November.
Helen Biggs, a retired teacher and P4P member, has traveled with the organization (all members travel at their own expense) a half-dozen times. More memorable than the physical changes in the village each time she has traveled, though, are the people.
"The last time I was there, I was without Stacey and Sandy and had never traveled without them," Biggs recalls. "I walked in [to the school], and everyone knew who I was... it's a sense of community above and beyond."
As the group readies the November journey's agenda, its members can reflect on all that's been accomplished so far. Partnering for Progress' work is guided by the philosophy of giving a hand up, not a hand out, to ensure that all of its projects become self-sustaining when left as the responsibility of the Kopanga community. So far, that hasn't been a problem, and the residents have been tremendously responsive and eager to learn from their American supporters.
"We want to help them achieve what they want, not tell them what they need and then give it to them," Biggs says.
The first project, and one of the biggest, was planning the construction of a clinic to replace a primitive, overwhelmed rural facility — where babies were delivered on the floor — that served up to a thousand people a month, many for preventable conditions. The new Comprehensive Rural Health Clinic building was completed back in 2009, but P4P continues to support it by helping buy pharmaceuticals, training medical workers and volunteers, and educating local residents about preventing the spread of disease.
A newer program is finding funding for scholarships to send high-achieving, motivated students to Kenyan high schools. For many students, high school is cost-prohibitive because of required uniforms, books and boarding fees. Currently the nonprofit is supporting for 11 Kopangan students, totaling $5,500 per year, executive director Dia Maurer says.
"It changes lives," she comments. "It's directly impacting their health and their children and the community's health."
The group, with an annual budget of $90,000, all from donations and fundraisers, has also started an infant nutrition program called the Power of Milk to help babies identified as being at risk for malnutrition. The infants and their caregivers attend a free weekly class that teaches cooking skills and provides a cup of milk to each baby.
"There are several instances where a caregiver is a grandmother or someone else because the [baby's] parents are gone," Maurer explains, adding that the level of malnutrition is so severe in some cases, they've seen 3-year-olds weighing less than 20 pounds.
Though she has yet to travel to Kopanga, Maurer says that really doesn't matter.
"I think everyone engaged has a passion for the planet and all peoples," she says. "We come with different motivations, but I think everyone involved sees Kenyans as brothers and sisters ... it's an honor to be able to serve these people." ♦
For more information about Partnering for Progress' work and Into Africa, its upcoming annual fundraiser on Oct. 3, visit partneringforprogress.org.