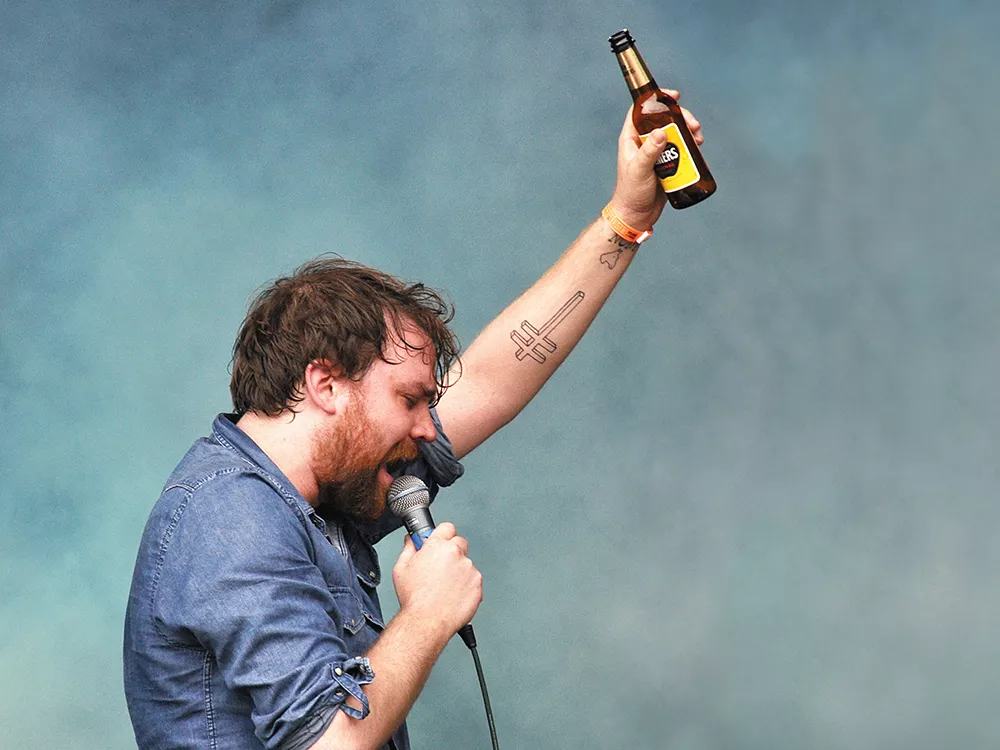 Either he's lying, or Andy Monaghan really does like wheeling around the world on a tour bus. This is a helpful attribute, as that's what his band Frightened Rabbit has been doing for the past year. Last week during a phone interview, Monaghan — who plays guitar, bass and keyboards for the indie rock band — was on a bus, cruising out of Atlanta where they opened for melancholic rock act The National.
Since January, there's only been one week that Frightened Rabbit got to go home to Scotland to rest. Other than that, it's been a ceaseless barrage of promoting the new album Pedestrian Verse.
"Once you've been on the road for a while, you get into the swing of things," Monaghan admits.
In order not to go totally bananas being somewhere new every night, always living in hotels, Monaghan makes it a priority to find out a little bit about the culture of the city where the band is playing.
"It's important to hit up a good taco place or bowling place or art gallery," Monaghan says. "Anything that says something about the town."
In a way, Monaghan has always just been along for the ride. A decade ago, Scott Hutchison convinced his brother Grant to play drums for a project he was working on. At that point, the hottest group in Scotland was Franz Ferdinand. While there were plenty of emulators, a backlash against the Glasgow scene's eclectic pop movement also emerged. Along with the likes of We Were Promised Jetpacks and The Twilight Sad, Frightened Rabbit led the charge.
With a sound fusing the sadness of singer-songwriter Damien Rice with Snow Patrol if they went more folk, Scott wrote lyrics that read like diary entries, letting music be the place he let go of his emotions. The frontman acted as the band's lead songwriter until Pedestrian Verse.
"We did that to just mix it up a bit," Monaghan explained. "There's a lot of pressure on Scott to come up with stuff, and dividing up the task takes a wee bit of the pressure off of him. It makes everyone feel a part of the band."
The new album was written over the course of three years, with so much music composed that an EP with three new songs, Late March, Death March, was released this month to accommodate the spillover.
But 2008 was the defining year for the band, as Monaghan, already a member of the group Piano Bar Fight, was asked to join over more than a few pints.
"Scott got really drunk one night and asked me to be a part of the band," Monaghan recalls. "The next morning I wouldn't let him go back on his word."
The album Frightened Rabbit had just completed, The Midnight Organ Fight, had too many guitar parts recorded, so the band needed to add another guitarist for the tour. Success came gradually. They opened for Death Cab for Cutie in the UK while the album received accolades from Pitchfork and A.V. Club. Two years later, Atlantic Records called.
"When I first joined the band, my dad was skeptical of what I was doing," Monaghan recalled. "But the last time we played in Glasgow, he was there and he was so proud."
Friends were a different matter; they were on board since the beginning.
"Everyone is very supportive — the scene in Glasgow, all the bands are in it together," Monaghan says. "My friends live through me. They want to know all the stories from the road."
For most Americans, it's a challenge to understand what someone from Scotland is saying — subtitles would be helpful, as the brogue is thick. Many English acts sound American when they sing, but Scots can't seem to kick the accent (check out the recent Frightened Rabbit single, "The Woodpile," for an example).
So after traveling around this country, is there anything Monaghan thinks Americans do well?
"Coleslaw and pizza — my mind just directly went to food," he confirms. "Also, Game of Thrones. We've watched every single episode while on tour."
Rolling into Spokane next Thursday for a show, perhaps the band will take in the MAC's latest installation or munch on tacos at Atilano's beforehand. Either way, a couple of things will go down onstage: Augustines, who recently changed their name from We Are Augustines and moved from Brooklyn to Seattle — "they're such beautiful men," says Monaghan — will open and Frightened Rabbit will surprise.
"We've been mixing it up every night," he says. "Who knows what will happen?
Frightened Rabbit feat. Augustines • Thu, Sept. 26 at 8:30 pm • Knitting Factory • 919 W. Sprague • $16 • All-ages • sp.knittingfactory.com