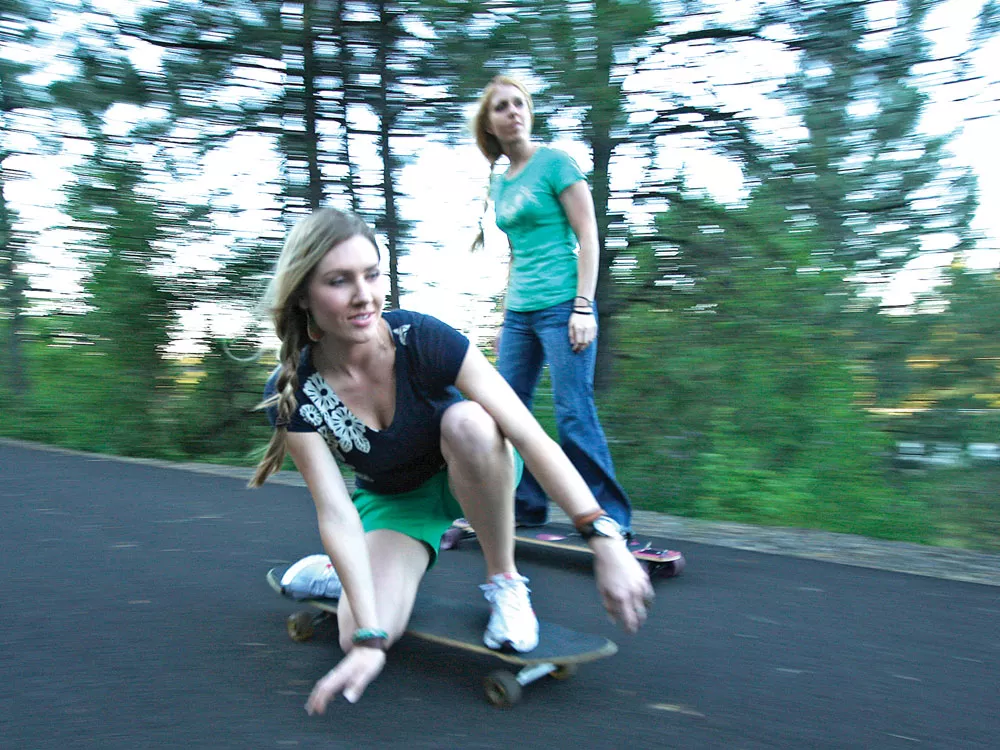 The world is a soft purple blur, as my Sector 9 longboard carries me farther and farther up Fish Lake Trail — a picturesque 10-mile path that begins off Sunset Highway and Government Way, just minutes from Browne's Addition.
Rolling fields draped in velvety carpets of lilac-shaded lupines engulf both sides of the road. Evening's late light washes a golden hue over the Palouse hill crests, and the air smells like summer camp: sweet, thick, and heavy with pine.
It's almost nauseating how ridiculously well this fits Spokane's "Near Nature, Near Perfect," slogan (a phrase I had gawked at six years ago after reading it fresh off a plane from California).
How is it, I marvel, picking a gnat from my tongue, I live two and a half minutes away from this place, and never set foot or wheels on it?
"You guys go on ahead," says Selina Shehan, fearless facilitator of the Bomber Betties, the all-women's longboarding group that meets for communal skates at 7:30 every Tuesday night. She pushes away from our band, the plum-colored wheels of her board rolling away in the opposite direction. "I'm gonna go back and make sure nobody's died."
This is a playful euphemism, of course. Fish Lake Trail is a tame, cruising stretch of marble-smooth asphalt — save for the occasional pinecone, leashed dog, or the part where the entire thing turns into gravel near Fish Lake (but you've got a good five miles before this happens).
Shehan, on that note, is the perfect hostess — gracious, patient with newcomers, knowledgeable about basic techniques and generous with equipment. (She loaned me a helmet.)
Bomber Betties is geared towards beginners and intermediates. So unless you're male, you have no excuse not to venture out with this fantastic group of girls.
Ride locations vary. Visit boardofspokane.com or call 768-5917.
UTF DOWNTOWN
"This place has the least amount of stuff, but the most amount of culture," says longtime skater Sean Scoggins. "Half the time, it's just what guys bring from their houses." At first glance, this under-the-freeway urban hangout downtown (between Browne and McClellan) looks like a place to get shot or buy meth, but if you want a legitimate concrete jungle — graffiti art and all — UTF is bitchin'.

HILLYARD
Arguably the nicest skate park in Spokane, this is Hillyard's crown jewel (next to its 58 antique stores). Located in Harmon Park, near the corner of Francis and Market, regulars love it for the toboggan-like snake run and the massive center bowls, which reach 10 feet deep. If you're looking for quality and variety (ledges, boxes, mini-bowls, rails), this is the spot to skate.

SPOKANE VALLEY YMCA
"One of the biggest things about our skate park is that it's supervised, and that's not normal with the city ones," says staff member Eric Denney. (Sorry, kids, no drugs for you!) But you can check out the upcoming skate contest (held Wednesday, July 28, from 5-8 pm at 2421 N. Discovery Place), which will include timed street and bowl runs, food, music and a T-shirt. Cost: $15. Call 777-YMCA.

COEUR d'ALENE
Besides its recent makeover — a red, white and blue paint job — the Coeur d'Alene skate park (480 W. Garden Ave.) is funky and simple, with one half pipe, a big pyramid and a flat freestyle area. "It's not supervised. There's no helmets. It's Idaho. We have freedom here!" laughs park supporter and city councilman Woody McEvers. "The kids call it the oldest and the worst," he says. "But there's cool history there."

POST FALLS MILLENIUM SKATE PARK
Two half-bowls, a four-sided pyramid, three ledges and a six-stair rail are the dominant features of this all-concrete park, which Pyramid Skate Park & Pro Shop owner Eric Nelson describes as beginner to intermediate. The fourth annual River City Jam will be held here (Greensferry and Third Ave.) on Sunday, July 18, with practice at 10 am and competition at 11 am. Cost: $12. Preregister at Pyramid Skate (1000 E. Third Ave.), which also has a 3,500 square-foot indoor skate park.

RIGGZ
This sprawling warehouse and pro shop on the corner of Crestline and Euclid in Spokane has you covered. Literally. There's a 12-foot ramp running straight up to the wall all the way to the ceiling, two half pipes, multiple roll-ins, a stair set with railing, a bathroom, pool table, monthly competitions, lessons, camps, and a 20-foot projector that plays videos on the walls. Riggz is monitored full-time and open Sun-Thurs from 3-9 pm; Fri-Sat from 3-11 pm. Costs vary. Call 218-0842.

DWIGHT MERKEL SPORTS COMPLEX
Merry Christmas, skaters. Santa's coming early this year and he's bringing you a shiny new park. The grand ribbon-cutting and drop-in will be held on Saturday, Aug. 7, at 10 am. Pistole skate shop will be on hand to host a free skate class, demonstration, competition and pro gear demos. Call 473-9430. (BT)
ROLLER VALLEY SKATE CENTER
At first glance, there's nothing sparkly or disco-ish about this unassuming turquoise tin building sitting in a humble area off South Dishman-Mica Road and East Fourth Avenue. But don't be fooled. This is a 1970s gem, and it's damn classy on the inside. Visit rollervalley.com.
PATTISON'S NORTH SKATING RINK
Who wants to go in-line skating on hot asphalt when it's 101 degrees outside? Lace up and keep it cool at Pattison's North, open since 1951. It's hallmark Spokane — everyone should go there at least once. It's that place on North Mayfair Street before Fred Meyer (with the skating rooster on the sign). Hours and days change in the summer. Visit pattisonsnorth.com.