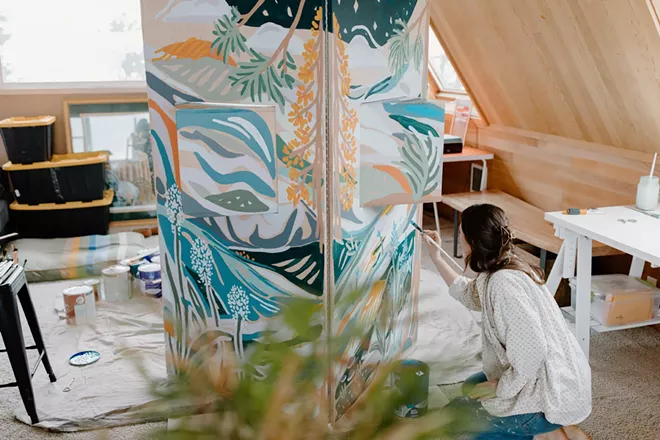 For weeks, a telephone booth-sized contraption loomed in the middle of artist Tracy Poindexter-Canton's Spokane home.
Physically, it's the biggest piece of art she's ever taken on. At a table nearby, cans of paint, scraps of blue, lavender and coral paper, plus various other found objects from pinwheels to plastic cups have been collected, soon to be attached to the 7-foot-tall wood structure. Next to this assortment is a sketch of Poindexter-Canton's vision for a colorful, texture-filled ode to imagination, an infinite portal unlocked by reading.
Her colorful assemblage's purpose? A pop-up community lending library, created to raise funds for the creative literacy nonprofit Spark Central.
"I love the challenge, that's why I do mixed media," Poindexter-Canton says, now that her Little Free Library, as the structures are known, is complete and ready for its public debut this Friday during a fundraising kickoff at Auntie's Bookstore.
Little Free Libraries are community book exchanges with 24/7 access and that encourage anyone to "take a book, leave a book." Often built and maintained by private individuals in neighborhoods, but also in public spaces, Little Libraries mirror Spark's focus to increase literacy and spur creativity.
"I love using unconventional materials and trying to problem solve, like okay, how can I make this work?" Poindexter-Canton continues. "I am not a muralist by any means — I've done some fairly large-scale mixed media pieces, but not to this magnitude. I hope when people see it, they're like 'Oh, that's cool,' or 'What is that she put on there?'"
Poindexter-Canton's Little Library is among three such structures being sold to support Spark, a 9-year-old nonprofit based in Kendall Yards that offers free and low-cost programming, largely geared toward kids in the West Central neighborhood. The nonprofit's mission is to provide anyone, regardless of their economic background, access to its technology-centric and creative programming.
Poindexter-Canton's library has already been purchased via a $10,000 donation from the Avista Foundation and is set to be installed at the Carl Maxey Center in the East Central neighborhood. Two others individually embellished by fellow artists Vanessa Swenson and Reinaldo Gil Zambrano are to be auctioned off at Spark's ticketed Salon fundraiser on April 29 at the Central Library.
"The story behind my Little Library is that my grandmother had a bunch of grandkids, but one way that she made me feel special... is that she would keep a box for me under the chair in her broom closet of little knickknacks and materials," Poindexter-Canton says. "So later on, that totally fostered my inspiration to be a mixed-media artist."
Swenson's art, meanwhile, is influenced by native plants and trees, with a softer, natural color palette and more abstract brushstrokes and shapes. Mirroring his work as a block printer, Zambrano's Little Library was created by carving and painting the structure's wood surface using relief printmaking techniques.
Leading up to the Salon (which is nearly sold out), anyone in the community can pitch in while learning more about Spark's mission. For the Little Library's unveiling, the trio of artists are joined in presentations by Spokane writers Jess Walter — also one of Spark's co-founders — Shawn Vestal and Laura Read.
Planning for the 2023 Spark Salon has been underway for the better part of the past year as Spark's team took on numerous challenges, like figuring out how to build the libraries themselves.
"This project is great as part of our Salon, but at the same time this also needs to be celebrated just for the immensity as an art undertaking," says Margaret Starry, Spark's donor and event coordinator.
Starry also notes that one of her main goals was to make Spark's fundraiser this year widely accessible to community members from all backgrounds, regardless of their ability to donate. Those who can't afford to give are warmly welcomed to view and interact with the artist-created Little Libraries and, hopefully, find out more about how Spark could open doors for their future.
"This is the start of how to break down, weirdly enough, a process that promotes accessibility in the community but in the past has been inaccessible," Starry says.
At the non-ticketed kickoff guests can also help buy books from Auntie's to fill the libraries, with 10 percent of those proceeds going back to Spark. Additionally, Auntie's is donating $650 toward books for each library.
Leading up to Spark's big fundraising in April, the three Little Libraries are going "on tour" around Spokane to generate even more community exposure. While the structures are ultimately being auctioned off, a stipulation for winning bidders is that each library must be installed in a publicly accessible area for at least five years, Starry says.
Last spring, Starry and Swenson, who also served as the project's artist consultant, began brainstorming how to build each library from scratch. The structures needed to be somewhat mobile for transport, have plenty of surface area to feature art, and sturdy enough for long-term use. Fortunately, Swenson's husband, Michael Townshend, was able to lend his carpentry skills to design and build all three.
"This is my first real experience of, like, this was just a little idea in our heads, to see it grow as we all had to figure out unexpected surprises," Swenson says. "It's felt really special that we brought something so cool into existence."
Unlike a typical Little Library placed atop a fence post with its contents largely protected from the elements, Spark's creations were designed to be displayed indoors, in part to protect the artists' work. Two large, hinged panels open up to support a rectangular box that serves as book shelving, and with a slanted roof overhead giving the retro phone-booth vibe Poindexter-Canton mentions. The libraries' construction and art creation was funded by a Spokane Arts Grant Award.
"To make the project even more complex, we ran a youth storytelling workshop at the end of December based on the artist statements that were provided," Starry says. "So the kids telling their stories, we recorded, and we're going to have a QR code on [each] library" so people can also listen to those stories.
"Everything is meant to feel very tangible with this project," she says. "It's all meant to feel incredibly community-oriented. Like everyone is a part of this." ♦
Little Libraries, Big Stories Kickoff Event • Fri, Feb. 24 at 6:30 pm • Free • All ages • Auntie's Bookstore • 402 W. Main Ave. • Find more events at spark-central.org