The spectacle of a slight New Yorker, with nothing more than a quick wit, taking on all the phonies, night after night — to me, that's America. As Jon Stewart ends his tenure on The Daily Show this week, here are a few random thoughts about his 16-year reign: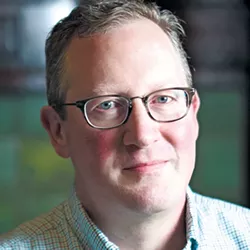 HE WORE THE MANTLE WELL: Stewart is the latest in a long line of beloved American humorists who have taken aim on the pompous and powerful. There was Mark Twain, then Will Rogers and now Jon Stewart. See if you can guess which quote goes with which: "I don't make jokes; I just watch the government and report the facts." "Evil is rare; ignorance is epidemic." "Loyalty to country always. Loyalty to government when it deserves it."
HE HATED PHONIES: Yes, if Holden Caulfield had a late-night talk show, he would have sounded like Stewart. And like Toto in The Wizard of Oz, Stewart pulled back the curtain on the phonies who infect so much of our political system — aptly illustrated by the timeless Will Rogers quote that "A fool and his money are soon elected." Stewart relentlessly poked holes in the forgery of journalism that is FOX News, and he never wasted time on lame, famous-for-being-famous celebrities.
HE TAUGHT US TO READ: Speaking of literary fiction and pseudo-celebrities, Stewart always played more to the New Yorker crowd than to People readers. He took books seriously. Many guests were nerdy writers of obscure tomes; the discussion was high-minded and extremely refreshing. Doris Kearns Goodwin appeared so frequently, she was practically his sidekick.
HE LAUNCHED A THOUSAND LAUGHS: With both Steve Carell and Stephen Colbert getting their starts on The Daily Show, Stewart has a healthy comedy tree. Here's hoping that Colbert will keep the edge he honed on Comedy Central, because without Stewart, the late-night landscape is looking pretty vanilla. The Jimmys — Kimmel and Fallon — are funny, but their jokes are carefully calibrated not to offend.
HE WAS A WARRIOR: "The human race has one really effective weapon, and that is laughter." That's Twain, and for Jon Stewart — all 5-foot-7 of him — wit was a bazooka. For 16 years, he patrolled the wall for all of us, righteously calling bullshit whenever somebody had it coming. After 9/11, in particular, when the world seemed to be going crazy — "Wait, what? Now we're invading Iraq?" — watching The Daily Show was like the French Resistance gathering around a BBC report. It sounded like... hope.
Stewart did say "ignorance is epidemic," but thanks to his inoculations, the ravages of the disease — among some, at least — have receded. ♦