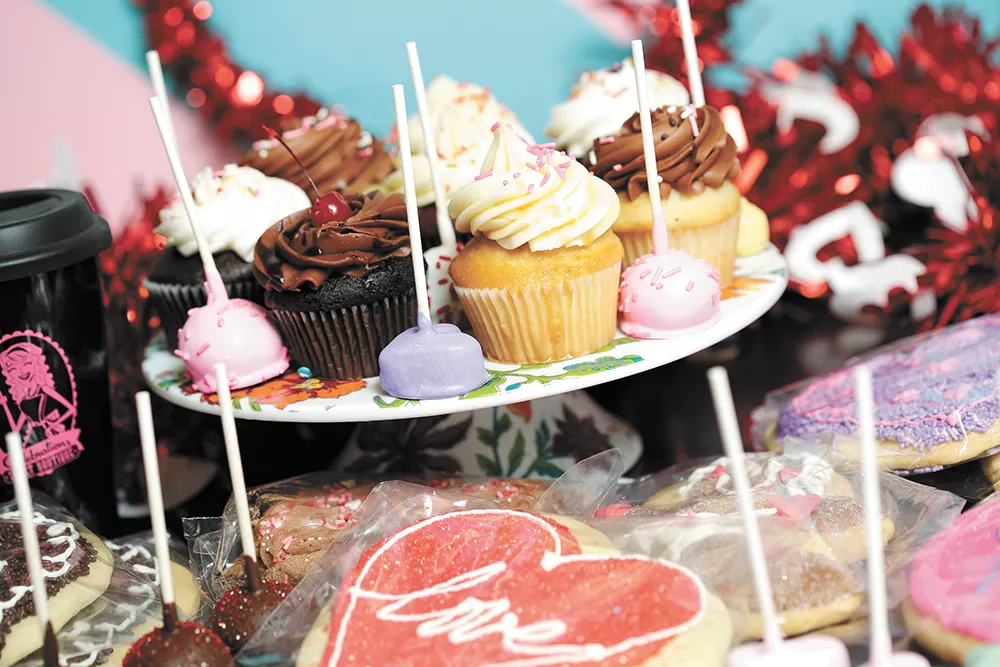 Don't be caught empty-handed (or empty-hearted) this Valentine's Day, coming up Friday, Feb. 14. We chatted with local bakeries and confections purveyors to get a rundown of what special sweets and treats they're offering this year to show some love to your partner, bestie, work wife, family members and whoever else you love. Keep in mind that pre-ordering is never a bad idea, as each vendor told us, and helps make the holiday smoother for everyone.
Lilac City Bakery / Celebrations Bakery
1215 N. Ruby St. / 315 S. Sullivan Rd., Spokane Valley
From cake pops in the likeness of one Baby Yoda — because, "baby, Yoda only one for me!" — to curated treat boxes ($25 each), sweet options abound at Lilac City Bakery and its sister bakery, Celebrations.
Owner Amber Owens says besides its adorable Yoda-inspired cake pops, both bakeries are offering other seasonal cake pop flavors like chocolate cherry, red velvet and more. Some are even creatively decorated to look like chocolate-dipped strawberries. Cake pops range from $2.75 to $3 each, or $27.50 to $30 per dozen.
Leading up to the love-soaked holiday, both locations plan to stock up with lots of pink, red and heart-shaped goodies, including conversation heart cookies and seasonally decorated cupcakes. Pre-orders are highly recommended and ideally should be placed by Feb. 12, Owens notes.
A few days before Valentine's Day, kids (ages 5+) can make their own special cake pop treats during a Feb. 12 class ($30) at Celebrations, while adults (ages 14+) can sign up for a special royal icing cookie class on Feb. 13 ($50/person; $90/two) at Lilac City. (CHEY SCOTT)
Hermine's Old World Confections
2415 Government Way, Coeur d'Alene
Ready to try something different this Valentine's? Marzipan is a rich, almond-based confection often found in European markets and shaped into small, bite-sized treats decorated to look like fruit or little animals. Try owner Hermine Sittel's 6-inch marzipan heart ($7.50) covered in dark chocolate and wrapped in colorful foil. Although the store specializes in marzipan — their web address is marzipanlove.com — you'll find all manner of chocolatey goodness here, from baked goods like the Black Forest cake to assorted chocolates. (CARRIE SCOZZARO)
Halletts Market & Cafe
14109 E. Sprague Ave., Spokane Valley
Besides offering a dizzying array of chocolates and gooey caramel that can be presented in a classic, heart-shaped box ($6.95-$30.95), Halletts Market has a huge selection of gourmet food products, including wine, craft beer, tea, nuts, huckleberry-based goods and more. Owner Cindy Hallett says custom gift baskets, whether you include chocolate or not, are popular this time of year and can be made in-store with any combination of goodies customers choose. See the market's Facebook page for gifting ideas and pre-made basket options. While Halletts Market is owned separately from the local chocolate factory and downtown shop of the same name, Hallett says both locations also offer heart-shaped candy boxes to custom fill. (CHEY SCOTT)
Shenanigan's Sweets & Treats
312 E. Sherman Ave., Coeur d'Alene
Your truffle-loving sweetheart will thrill to receive a heart-shaped box full of truffles ($30 for 12 pieces; $51 for 25) from this downtown dessert-oriented shop that also serves other sweets like pie, caramel corn and ice cream. And since red is the color-of-choice for all things Valentine's, try their take on the classic red velvet cake with a sweet, creamy red velvet crepe ($10). (CARRIE SCOZZARO)
miFlavour
3403 E. Sprague Ave.
The trendy, modern French-style bakery in East Spokane is offering three special gift boxes for Valentine's Day, while its pastry cases are filled with seasonal hues and flavors leading up to the holiday. The "Perfect" gift box ($25) comes with a house-made chocolate bar, 6-ounce jar of honey, strawberry marshmallow rose, 3-ounce bag of coffee and a fresh rose. If your sweetie is a fan of the bakery's signature macarons, pick out 10 to present in a box for $39. The "Sweetheart" box, meanwhile, features four mirror-glazed, heart-shaped mini mousse cakes. Or, build your own gift box with any fresh-made confections, and pair it with a card and fresh flowers, also on hand. Pre-orders are recommended since Valentine's is the "biggest event of the year," for the bakery, notes co-owner Max Piskun. (CHEY SCOTT)
Chocolate Apothecary & Coffee House
621 W. Mallon Ave., Suite 419
Fill up a heart box with truffles, chocolates and caramels of your choice at this longtime local confectionary, which has options priced from $13-$45, says co-owner Dennis Powell. The shop is also selling fondue kits for two ($25) to take home, complete with chocolate, fruit and other goodies to dip. Or bring your honey by to sip some drinking chocolate served in-house and topped with whipped cream and a cherry. Powell expects there to be a line out the shop's door come Valentine's Day, so come early to get the best selection. (CHEY SCOTT)
Sweet Frostings Blissful Bakeshop
15 S. Washington St., 10406 N. Division St.; inside NorthTown and Spokane Valley Malls
Expect to encounter a love-filled frenzy at this popular bakery and cupcake purveyor's four locations come Valentine's Day, says co-owner Sally Winfrey.
"It's one of the busiest days of the year for us," Winfrey notes. "It's like Mother's Day in a floral shop."
To make sure they're prepared, Sweet Frostings' staff is buckling down to bake in the days before, preparing dozens of holiday-themed cookies, cupcakes and other goodies. Special products for Valentine's Day include a candy and cookie gift box ($25), mini cakes for two ($25), conversation heart sugar cookies ($4.25 each), macaron sets ($10), Valentine-themed cupcake boxes ($45/dozen) and "love bug" jumbo cupcakes ($13-$15), among other sweets. Sweet Frostings is also stocking sweet cards and fresh floral arrangements. (CHEY SCOTT) ♦
Other Sweet Stops
Spokandy
1412 W. Third Ave.
Bruttles Gourmet Candies
828 W. Sprague Ave.
Nothing Bundt Cakes
2525 E. 29th Ave.
Hello Sugar
419 N. Nettleton St.; 11205 E. Dishman Mica Rd., Spokane Valley
Just American Desserts
213 S. University Rd., Spokane Valley