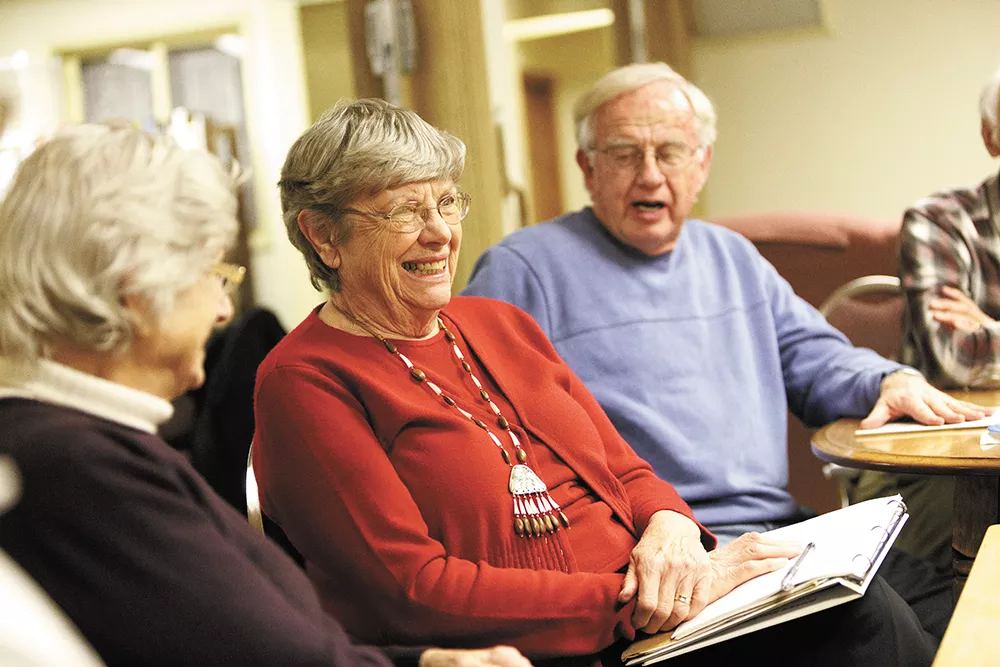 Andy Shields goes first, recalling the first winter he worked as a kids' ski instructor. Lee Smith, a petite, white-haired woman in a plum sweater, then animatedly tells a Native American lore-inspired tale of how the Great Spirit created the owl and the rabbit. Next up is semi-retired math professor Roy Colver, who recounts the story of the "foxy boxer," a feisty, stubborn student who sidelined as a bikini bar fighter.
Seated in an array of mismatched chairs around two tables — one square and one round — in the basement of the Corbin Senior Center on a foggy Tuesday night, members of the Spokane Storytelling League take turns weaving yarns both factual and imaginary. At the end of each story, the group claps politely. A few then ask the storyteller questions. When did that happen? How old were you?
Almost all of the league's members are well into their mid- to late-70s. Shianne Veltri — a bright-eyed 12-year-old who tells a story about a prank on her older brother gone wrong — is the youngest person there by many decades. She started attending the monthly meetings with her grandmother Kay Veltri, who's 79. Tonight is Shianne's fourth visit to the group.
"It just kind of interests me because I love to tell stories and I love to hear stories," Shianne says.
The age gap between Shianne and her grandmother's peers is a striking sign of the Spokane Storytelling League's future. Without more young people, storytelling leagues could soon fade away. The Spokane league and 11 other groups like it in the U.S., including another Washington-based group in Tacoma, are shrinking every year.
The first storytelling league was officially founded in 1903, by a Tennessee literature professor. Local league president Jennilyn Weight says at the height of storytelling leagues' reach, during the 1940s, more than 5,000 members were registered with the National Storytellers League. That number has dwindled to around 400. Spokane alone was once home to five separate neighborhood storytelling groups, which eventually merged to form a single entity. Now, around 15 people regularly attend the monthly meetups.
"As time has gone on and age has eroded the [league's] membership, TV has taken over for entertainment, and the number has shrunk," Weight says.
Several members seated around the two tables last Tuesday evening have been longtime storytellers.
Hobbyist film critic Vaughn Overly launches into a retelling of a Bollywood film called Lagaan. Overly, a balding man in a burgundy turtleneck with a deep, projecting voice, stands up from his chair to speak. He gestures wildly with his hands as he talks, changing the timbre of his voice to become characters in the film. His one-man reenactment of the three-hour film brings on several bouts of laughter from the group.
Overly's story is a stark contrast to Barbara Brown, 77, who recounts a vivid childhood memory of traveling on a train full of World War II troops with her mother, to join her father who'd gone ahead of them to find a job in Spokane.
"At that time we couldn't buy candy or treats or anything, just military could. So these guys would go out and come back with bags like this," Brown says, stretching her arms out wide. "I was sick by the time I got to Spokane," she laughs.
Brown isn't alone in recounting a fond memory of days past. Herb Bradshaw, tall and soft-spoken with a gray mustache and matching bushy eyebrows, reads a story about a summer when he worked at a grain elevator in Downs, Wash. Then he moves onto a poem he discovered many years later. Though not his own words, Bradshaw's voice wavers ever so slightly and fills with nostalgia as he reaches its final lines:
"From the fencepost the lark, as though he had waited for just a moment, sings, letting each liquid song seep into the dry ground." ♦
Spokane Storytelling League • Meets monthly on the second Tuesday, from 7-8:30 pm • Free to attend • Corbin Senior Center • 827 W. Cleveland • 467-5703