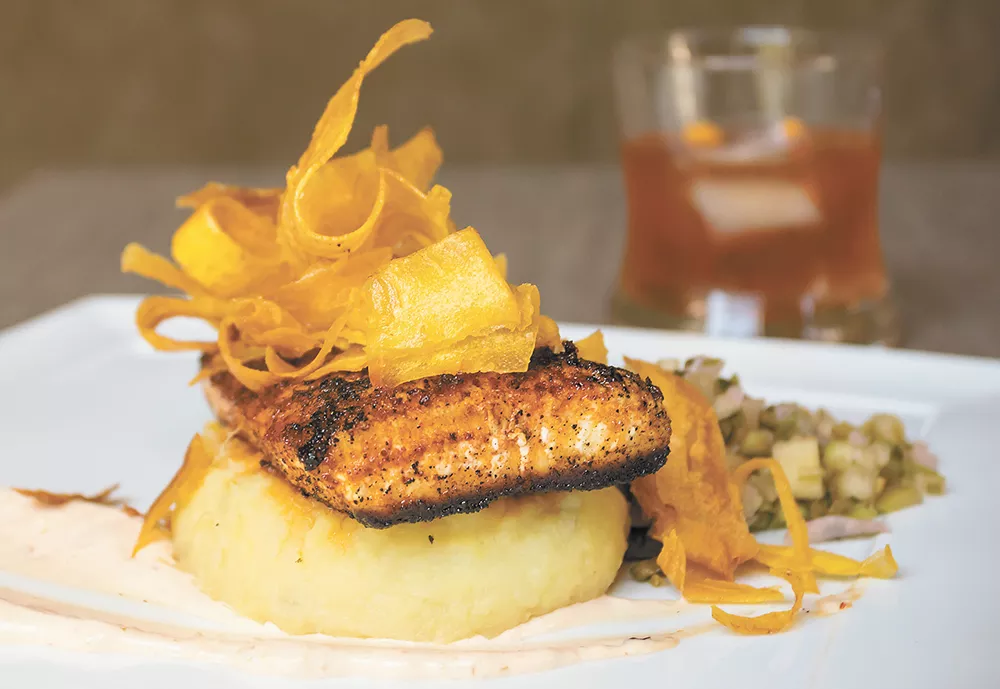 You'll notice something new on the ground floor of River Park Square, and it's tough to miss. It's the 2-foot flame that marks the entrance to Tortilla Union, the latest culinary addition to the downtown shopping center.
The space at the indoor entrance to Nordstrom, formerly occupied by a clothing retailer, features a steel and wood-finish decorating scheme. When you realize that Tortilla Union is the first offshoot brand for the Spokane-based Twigs Martini Bar & Bistro chain, it makes sense. Not that the two spaces look identical (Tortilla Union is a bit more rustic), but rather in the classy-meets-casual vibe that has made Twigs a massive and still-growing success.
On the menu, you'll find items that would be at home in a Mexican restaurant, but also many that wouldn't.
"I would call Tortilla Union Southwestern cuisine... but some people might call it Tex-Mex," says Trevor Blackwell, vice president of Twigs and its parent company, QOL Restaurant Group.
The price point for entrées is around the $13-to-$16 mark, with salads under $10 and appetizers that range from chips and three different salsas at $5 to bacon-wrapped prawns at $13. Again, the menu is a collection of items you may not have seen on a menu together. There is a burrito, there are tortas, six different kinds of tacos, enchiladas and other options, but you can also get a burger with jalapeños, cast iron chicken, spicy mac and cheese, chipotle-flavored ribs, seared wahoo and orange peel shrimp.
There's a full bar with a happy hour from 2 to 5 pm and again from 9 pm to close, and a long list of cocktails, perhaps a nod to the martini bar that gave birth to Tortilla Union. Just having opened the new venture at the beginning of August, the goal is to perfect this first Tortilla Union for starters, then someday replicate the eatery in other locations, just as Blackwell and company did with Twigs.
"The goal eventually is that we'll get one open and take it to other markets where we're already operating," says Blackwell. "We've been talking about doing this for a few years now, and then we put it on the back burner, and then picked it back up." ♦
Tortilla Union • River Park Square, 808 W. Main, first floor • Open daily from 11 am to midnight • tortillaunion.com • 381-5162