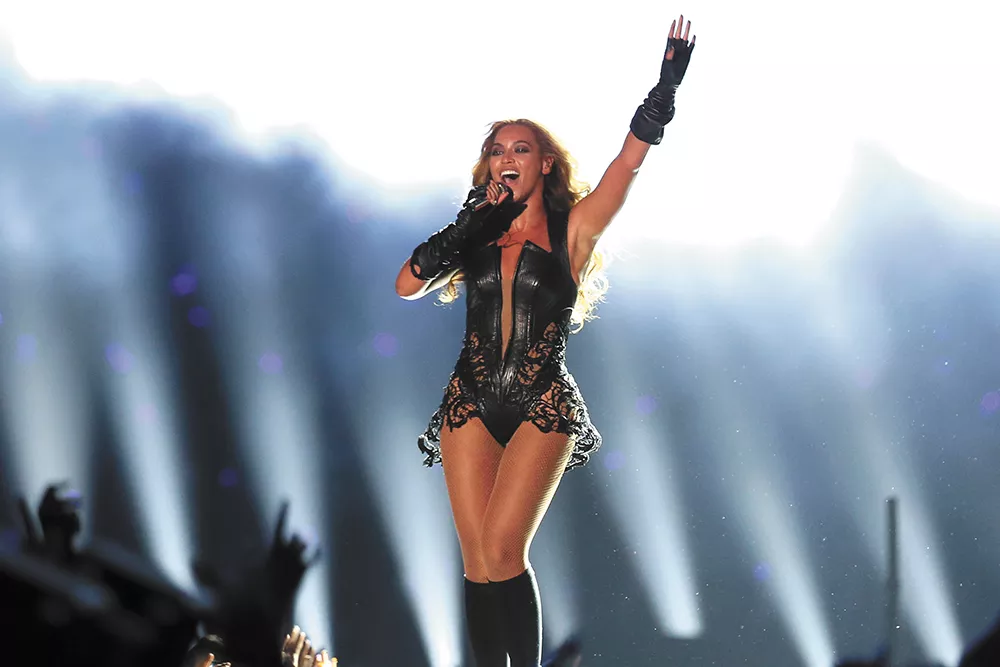 Even if you don't have a horse in the race that is the upcoming Super Bowl — or you just don't care about football — there's still something you can always look forward to: the halftime show.
Our notion of what constitutes a barn-burning halftime performance is generally considered to have started in 1993, when Michael Jackson upped expectations with a set full of pyrotechnics and special effects. His presence reportedly increased viewership of the Super Bowl, and future productions became more and more elaborate.
This year's halftime show on Sunday on Fox will be co-headlined by Jennifer Lopez and Shakira, which got us thinking: Which have been the best shows, which have been the worst, and what do we hope to see (and hear) this Sunday and in the future?
THE BEST: PRINCE
In 2007, the Super Bowl halftime show got a burst of funky energy in the form of the Purple One. Accompanied by a synchronized drumline and wielding his guitar shaped like his trademark symbol, Prince sashayed into the stadium like he owned the place and revved through a medley of signature songs ("1999," "Baby I'm a Star") and soulful covers ("All Along the Watchtower," "Proud Mary"). Oh yeah, and he did all of this in the middle of a full-on Florida rainstorm without batting an eye. And when he lit into the finale of "Purple Rain" while torrents of water poured from the heavens, it seemed as if it had been planned all along. I guess Mother Nature is a Prince fan. (NATHAN WEINBENDER)
THE BEST THAT ISN'T PRINCE: BEYONCÉ
Don't get me wrong: I have a soft spot for all the old timers that have done halftime duty — McCartney, Petty, Springsteen, the Stones, the Who. But even those legends must have whistled in amazement when they saw Beyoncé. Maybe it's recency bias, but her 2013 headlining gig in New Orleans was, like Prince's, another example of a solo performer proving the power of their presence. There was a setlist of her best solo songs — "Crazy in Love," "Baby Boy," "Single Ladies" — briefly interrupted by a much-publicized Destiny's Child reunion. And that's not the only time Queen Bey wowed a stadium full of football fans: In 2016, Beyoncé stole the show right out from under the top-billed Coldplay, premiering her brand new song "Formation" with a Black Panthers-inspired routine. What a power move. (NW)
THE WORST: THE BLUES BROTHERS & MAROON 5
Someone must have been fired after settling on "Blues Brothers Bash" for the theme of the 1997 Super Bowl. For one thing, half of the "real" Blues Brothers (John Belushi) had died 15 years previous. For another, the Blues Brothers were a vanity project-turned-movie band by Belushi and Dan Aykroyd — not actual blues and soul musicians. You know, like ZZ Top and James Brown, the ones given brief guest spots alongside Aykroyd, John Goodman and Jim Belushi on the Super Bowl stage. Oh, the humanity! Remarkably, though, that travesty was still not as bad as 2019's show. Somehow the football gods "blessed" the most boring Super Bowl in recent memory with the insufferable Maroon 5 at halftime, featuring human ab Adam Levine and his soul-deadening brand of corporate pop-rock. Any hopes that Big Boi or Travis Scott would save the day went unheeded. Even an appearance by animated characters from SpongeBob SquarePants couldn't breathe life into Maroon 5's time on stage. (DAN NAILEN)
THE FUTURE: BRING BACK COUNTRY
The lack of country music at Super Bowl halftime shows makes some sense, given the international nature of the TV audience. But country artists are much more popular overseas than they were back in 1994, the only time Nashville took center stage for the Super Bowl show with a lineup featuring Clint Black, Tanya Tucker and the Judds. Imagine a halftime that showcases modern bright lights like Kacey Musgraves and Brandi Carlile alongside a legend like Dolly Parton — I don't think anyone would complain. (DN)
THE PAYBACK: FREE THE NIPPLE
When Justin Timberlake peeled a layer of leather off Janet Jackson's breast in 2004, who would have thought the repercussions would reverberate as long as they have? In the immediate aftermath, everyone freaked out about "indecency in broadcasting" (even though they didn't complain about walking indecency offense Kid Rock being part of the same broadcast). We learned the phrase "wardrobe malfunction," and Jackson's career momentum stalled in a big way after radio stations and MTV blacklisted her music (not so much for Timberlake, though. Hmmm). Let's get Janet back on stage, preferably without Timberlake, to make up for one of the most idiotic episodes in Super Bowl history. (DN)
2020 PREDICTIONS
Despite the Oscar snub heard 'round the world, Jennifer Lopez had a great year, and Shakira just wrapped up a giant international tour. So here we have two superstars whose careers are still going strong, and they're splitting the headlining slot for the 2020 halftime show. Here's what you can bet the house on: We'll hear a bunch of J. Lo classics, Shakira will slay "Hips Don't Lie" and the choreography is going to be electric. But I'm hoping we'll get cameos from other Latin pop stars, like Gloria Estefan (it'd be her third halftime appearance) or Ricky Martin. Or maybe rapper Pitbull will stop by to rep his hometown of Miami. And don't forget that Jay-Z is a producer of this year's show, so could he make an appearance? Could Beyoncé? Well, maybe don't hold your breath on that one. (NW) ♦