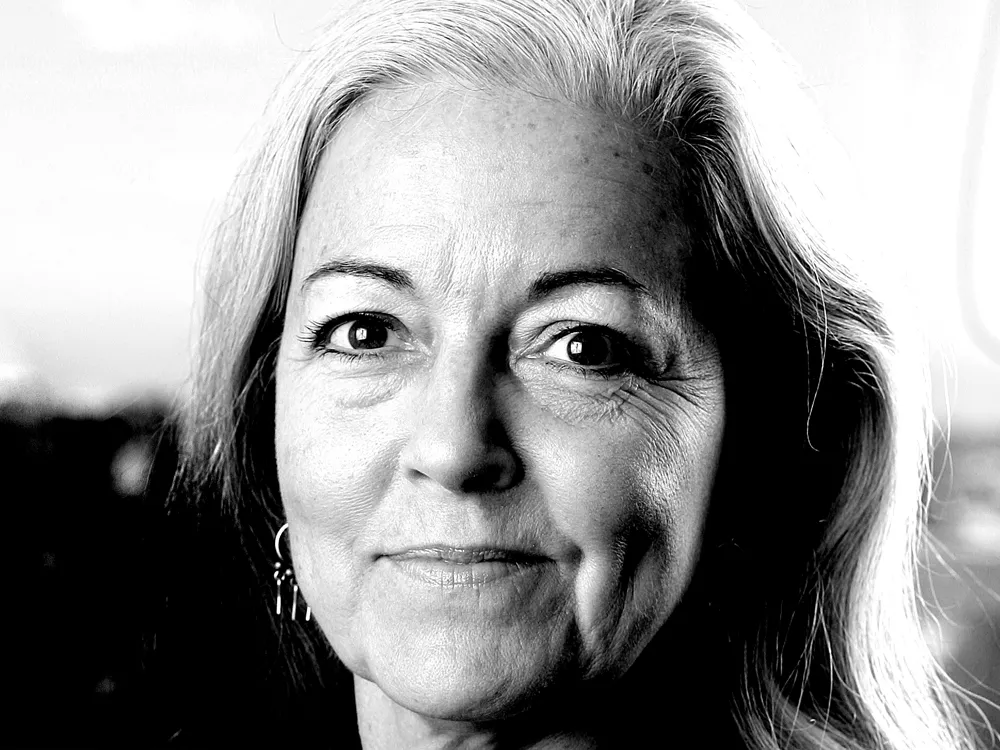 Usually politicians call a press conference to deliver news, but standing next to the barrel-chested county sheriff, with his badge and sidearm, Mary Verner wanted to do the exact opposite.
As cameras rolled and reporters jotted down notes in their skinny notepads, Verner assured everyone that a recent TV story about the city opening its own jail was way off. Her jaw set, she told the reporters to unsound the alarms. Everyone go home. Nothing to see here.
But, really, there was something to see here — namely, an actual press conference held by the mayor of Spokane. It was April 8, and it was Verner's first official press briefing of 2010.
Through her first three years in office, Verner has mostly shunned the spotlight. Unlike past mayors who wanted to broadcast accomplishments or assure the public they were hard at work, Verner isn't one to hold many press events or have off-the-cuff conversations with reporters.
She wasn't always like this. Verner stormed into city politics six years ago as a no-name outsider appointed to fill a vacant City Council seat. When the city roiled with the allegations of then-Mayor Jim West using his office to court potential gay lovers, Verner loudly and forcefully spoke out against him, calling his actions unethical and hypocritical. She fired into the sky, a leader with clear, bright ideas illuminating what was wrong in City Hall.
Two years later, she was mayor.
Now, as Verner looks toward her re-election campaign next year, many are wondering what happened. Where is the leader who called for openness and transparency in the city's business? Where is the calm firebrand who defeated two big political heavies to become mayor? And where is the city's top official when it comes to setting the agenda for Spokane?
Her supporters say she's still here, if overtaken by events out of her control —  specifically, the recession.
Her detractors agree, to a point. They also agree she's been overwhelmed and out of sight at critical moments. For example, in January 2008, when major winter storms prompted the governors of Washington and Idaho to declare emergencies, Verner announced at a press conference, "Folks, it's just snow."
"As a mayor, she doesn't want to admit that the city has any problems," says Councilman Bob Apple, whom Verner considers her closest political cohort.
"I was her ally back when she was on the council and I was her ally when she first became mayor — I can't say she's been a great mayor. I can't even say she's been a good mayor," Apple continues. "I think she is probably in over her head. I think she doesn't want to take charge. Everything is status quo, and nothing is getting better."
Over the past month, The Inlander sat down with the mayor for three separate interviews, and spoke with dozens of other people about her tenure in office.
What becomes strikingly evident is that both her supporters and detractors point to the same thing: her unassuming nature and desire for consensus — which has allowed her to broker some important compromises, but has also meant that she sometimes appears ineffectual and adrift.
And to hear Verner tell it, that's the way she likes it. Consensus and collaboration will be at the center of her campaign, as she tries to be the first mayor in nearly 40 years to be re-elected.
"To find ways to meet other people in the middle, to find compromise, to try to find common ground, that to me is what politics is all about," she says. "I'm trying to build a legacy of good working relationships, where the expectation is we're going to work together to solve common problems."
The Jim West Moment
It's hard to have a conversation about Mary Verner without someone dropping Jim West's name.
Without him and his graceless fall from power, after all, Verner might never have been mayor.
On May 5, 2005, the Spokesman launched its first in a string of stories detailing aspects of West's personal life — most importantly, that he had used the city's computers to "entice and influence" young men.
"You had a lot of our council members, they would rather live in a cave than come out and say something," former city councilwoman Cherie Rodgers says of the initial reaction. "Kind of the hear-no-evil, see-no-evil kind of thing."
Events progressed rapidly, as most Spokanites know: West fought to stay in power, was recalled by the voters and then succumbed to cancer, all in just over a year. But with her unequivocal call for righteousness in City Hall, Verner found her political star rising.
"I certainly wasn't thinking of it at the time as something associated with political ascendancy," Verner says. "I was serving in my capacity as a council person, expressing my perspective about what we should demand and expect from a mayor."
Separate from his downfall, West stands in contrast to Verner's own leadership style. As a former state Senate majority leader, West had governance and politics down, and it's often said that his ability to guide, direct and influence people was perfectly fit for Spokane's strong mayor system.
"His strength was taking the organization such as it was and engaging it very effectively," says Gavin Cooley, the city's chief finance officer, who is very supportive of Verner's re-election hopes. "He knew where he was and what he wanted to do with the institution."
Cooley remembers West enforcing a cabinet meeting every morning at 8 am, which every department head was expected to attend.
"If you were a minute late, he'd charge you one dollar. Two minutes late, two dollars," he says. At each meeting, West would go around the table asking every cabinet member to describe what his or her department was working on.
"On the third or fourth day, somebody repeated themselves. And Jim said, 'You said that Monday. Maybe we don't need your position,'" Cooley says.
Todd Mielke, a Spokane county commissioner, first met West in high school, and West remained his mentor from then on.
"I still believe Jim West was one of the most politically astute people who came out of this community," Mielke says. "He knew policy like no other. He could build alliances like no other. "Very few people had the insight or ability to move policy forward like he could."
Mielke is quick to point out his personal affection for Verner, which wasn't easy for her to earn.
"She and I have a lot of discussion on regionalism and collaboration," Mielke says. "She and I have been able to have some really frank, honest discussions. We've been able to talk without being defensive."
But Mielke's equally eager to say that Verner has her priorities backwards. Before promoting collaboration, he says, she needs to define her goals and objectives. At heart, Mielke says, Verner appears to lack one of the most basic political abilities: the capacity to articulate a vision and push through a principled idea, no matter the opposition.
"It's the issue of decisive leadership," he says. "Who owns that? I don't see anybody driving the [city's] policy."
When it's suggested that running a campaign based on her ability to compromise may be hard, Verner says, "What's hard for me is taking credit for things. But if you want me to take credit for things, I can take credit for things."
She rattles off her list: Hiring the police ombudsman, negotiations with the city's labor unions, annexation of the West Plains, the creation of Martin Luther King Boulevard, the move toward a Complete Streets program, building an urban forestry program.
"It's happened under my administration, it's happened at my direction and my leadership, but I don't for a moment want to say that I went out and did it," she says. "I directed that it be done. I am honor-bound, morally bound, to give credit where it's due, to the people who actually get the work done."
The Early Years
With a smile on her face, Verner drives her four-year old Toyota Prius north across the Monroe Street Bridge, apologizing for the smell of "dog and kid" in her car. Her teenage son, Daniel, has left his drumsticks on the floor, and her bicycle is jammed in the back half of the hybrid.
"I'd like to go car-less more often," she says, before adding that her schedule as mayor doesn't permit it. Some days, like today, her back-to-back meetings are miles apart. "But that feels like a lame excuse, doesn't it?"
Conversation turns to the Republicans' big local and national win the night before and — though the country is lurching rightward, for the time being — how she's still proud to identify as a progressive, an ideology that began forming around the family dinner table.
"My mom had her own little weekly newspaper, the Research Triangle News," Verner says. "We followed local, national and state politics, even as a kid."
Verner grew up the only daughter of a traveling telephone engineer. Her family — father Bill Bagley, her mom, Latrelle, and her older brother Randy — "lived in just about every state in the Southeast," Verner says, thanks to her dad's work for General Telephone and Southern Bell.
As a high school senior, Verner started earning college credit at the University of Alabama, Tuscaloosa. She might have continued her education there if she hadn't followed her dad on just one more move, to the Virgin Islands.
"It was really nice down there," she says. From 1978 to 1992, the island of St. Thomas was her home base, though she lived there on and off. "There's a lot to do outdoors, as you can imagine. I enjoyed snorkeling — some surfing, hiking the trails, sailing ... Fruit picking. There are 97 different varieties of mangoes."
But not all was sublime.
"It's a different lifestyle on a Caribbean island where the power goes out all the time and your drinking water comes off your roof," she says. "It's certainly more comfortable than, say, living in a hut in Uganda, but it's definitely not comfortable."
Soon, she met an airline pilot named Jaime Verner, married him, and had a daughter, Diane, in 1981. The family lived in Oahu and Philadelphia, among other places, but the islands were always home, where she first got involved with environmental issues.
"Social consciousness just doesn't spring anew later in life," she says, mentioning that she helped organize environmental youth groups and got involved in the protests surrounding the Navy's bombing of nearby Culebra.
"I never heard Mary say, 'I want to be president some day,'" says one of her closest friends, Ruth Holder, who met Verner more than three decades ago. "She was a foot soldier, quietly working to get things done ... She was always a doer. At the beach, not only would she would carry out her own trash, but everybody else's as well."
In 1988, after she and her husband divorced, Verner finished a degree in medical anthropology from Davidson College in North Carolina.
"I had always been interested in how culture affects behavior and policy," she says, explaining the degree. "I know it sounds esoteric and academic."
After college, Verner went to work for the environmental protection division of the Virgin Islands government. Then, in 1989, Hurricane Hugo struck.
"It was the final straw for me," Verner says of the Category 5 hurricane that left 100,000 homeless and caused some $10 billion in damage. "I lost everything. I mean, everything. My money. My belongings. Almost lost my life. Almost lost my daughter's life."
She ended up in Yale's School of Forestry and Environmental Studies, and earned a master's degree in 1992. That year, she got a job offer from the Spokane Tribe to create its natural resources department. She was 36.
"Was it scary? It was exciting. Pretty big move. I felt really good about it, and I was excited as anyone would be, and, you know, apprehensive about the unknown," she says. "But by the time I was 36, I knew I wasn't going to single-handedly conquer the world."
In Spokane, she met and briefly married a man, with whom she had her son, Daniel. For a time, she also took classes at Gonzaga's School of Law before and after work, and eventually got her law degree. In 2000, she moved to Fitzgerald, Ga., to help care for her ailing mother. There, she passed the Georgia bar and got her private investigator license before moving back to Spokane in 2002, her mother in tow.
Spokane is now home base. Her daughter and now two grandchildren are here, as is her son. Her mother passed away in 2006, following her father, who died in 1989. Two years ago, her brother Randy died.
"Cancer took everybody," she says.
A Team Player
In early 2009, Verner was preparing to give a tour to a few reporters of the city's evidence room, where over the previous decades local law enforcement agencies had been stuffing the cinder block building to its breaking point.
She was trying to drum up support for replacing the dilapidated building, but it didn't work. Voters rejected a proposal from the city to bond out $18 million for public safety facilities, which included a new evidence room. After the "no" vote, Verner directed her staff to find a solution.
Her work finding a new property evidence facility, she says, exemplifies her ability to forge a collaborative solution.
"We've come up with some incredible solutions through the use of project teams," she says. For the evidence room, city staffers from the finance division, police department and utilities division worked together to devise a solution. "You wouldn't have thought these people would have ever come to the same room and resolve problems together."
Her project team soon realized that if they moved police offices out of the privately owned Monroe Court, they could use the money they were paying on the lease to finance a loan for the purchase, remodeling and some operational costs of two new buildings, which would be used for more office space and a new evidence facility. Under their plan, both buildings will be paid off in 20 years.
"I was a little skeptical of the project teams," Cooley says. But they've worked. He credits her desire to create centralized accounting, which, he says, has instituted accountability where there was none before.
"All roads lead to Rome. All the finances funnel through her now," Cooley says, adding that without the mayor's directing it, each department would have pushed back hard enough to scuttle it. "It's almost like she's anti-short term fix," he continues. "She's a principle-based thinker. I haven't seen any 'the ends justify the means.'"
Big (Box) Problems
Not all of Verner's efforts at finding common ground have been successful.
In the Southgate neighborhood, south of town, a brouhaha began in 2006 when a 220,000-square-foot Walmart was proposed. Around 600 people showed up to a neighborhood meeting to discuss the potential for a big box store, which many feared would destroy the community.
More than a year later, as rumors swirled that a Home Depot was eyeing the neighborhood, Southgate residents began to beat their drums even harder to prevent the development.
They publicly called for City Hall to get involved. The new mayor was happy to oblige.
Within a month, the battle became "quite a drama in the bowels of City Hall," a pro-development Southgate landowner told the Spokesman.
As Southgate residents and developers negotiated potential designs in a series of meetings — or charettes, as they were called — Verner praised them. In fact, she helped broker the talks and gave them her stamp of approval, saying they were "a way forward" and suggested that "maybe we can use this same model to resolve [similar conflicts] in the future."
But half a year later, the City Council voted to allow big-box development in the neighborhood. Councilman Al French tacked on an amendment upping the size of allowable stores.
Southgate residents were angry and argued that the developers got everything they wanted. The common ground Verner had sought was elusive. She threatened a veto.
"It is my strong desire to veto [a] portion of the ordinance," she wrote in a statement. In the end, she didn't veto it or even sections of it, which is in her power.
Later, Jon Snyder, now a councilman, called the decision "reckless," and said it would "suck the lifeblood" out of surrounding neighborhoods.
"The neighborhood was promised a full planning process and what they got was a couple-day charette, and then they got the rug pulled out from under them," he told the Spokesman. "I don't know how we can look at this as a positive for Spokane."
She didn't veto it, but Verner didn't sign the legislation, either — a symbolic gesture that led some to question her devotion to finding the middle ground for both developers and neighbors.
"I pretty much had to eviscerate the entire agreement in order to veto the language I found offensive," she says. "That was after months and months and months and months of reaching compromise, and although it had elements in it that I absolutely abhor, it also had some things in it that I thought were good for the neighborhood. "You don't just throw all of that out and go back to square one, when square one was a horrible place."
It wasn't the last time Verner had an issue hijacked.
During her first year in office, she seized upon a long-ignored ordinance that would have replaced the city's overlooked, broken-down bus benches with ones that were compliant with the city's Comprehensive Plan. The one change needed, Verner argued, was the removal of advertising.
She soon lost control of the debate. Councilman Al French blocked her and articulated his own vision through three town hall meetings. In the end, Verner's push to enforce the law failed, and French won the day.
"They're ugly," Verner says of the new bus benches, still with a bad taste in her mouth. "Ultimately, Councilman French is really crafty, and he crafted a way to get his will."
Later, Verner introduced a pet project: the creation of the Mayor's Sustainability Action Plan, which, on its face, should have been a slam-dunk. In typical Verner style, the process was collaborative — involving 140 citizens — and though she didn't have to, she brought the plan to the City Council for approval.
It didn't work out as she expected.
The night she presented the plan to the council, conservative activists moved the conversation to conspiracy theories about the United Nations usurping the country's sovereignty.
In the end, the council voted to "accept" the plan — rather than "adopt" it — as if it were some unwelcome delivery from FedEx.
"That was a mistake on my part, to go to the council and ask them to approve the plan," Verner says. "I haven't made that mistake again. I didn't have to ask for their approval. And their lukewarm acceptance of it didn't stop me one bit. It was unfortunate because the news became about the conspiracy theorists instead of about the great benefit to the city of Spokane having a sustainability action plan in place. And I am implementing it, because I know that that's the will of our citizens."


Priority No. 1
Public safety has always been atop Verner's list of priorities for the city. It was there when she ran for office, and it's still there now, the first bullet point in her five "citizen priorities," a list she refers to all the time. (The list also includes "infrastructure" and "quality of life.")
And it's here where leadership from Verner is most needed, says local attorney Breean Beggs.
"She needs to get the best ideas from the best people and set out a vision for us," says Beggs, who was involved in the creation of the police ombudsman and the conception of the municipal court. "I'm pretty connected, and I often don't see why she does certain things."
Verner's best moment, Beggs says, was forced upon her, but she reacted decisively to create the municipal court, which handles misdemeanor cases originating in city limits.
For Beggs, the creation of the court has "led the way for alternatives to jail or fines," such as mental health or drug treatment programs, home monitoring and opportunities to volunteer at nonprofits — alternatives to jail time that Beggs credits with lowering the county's jail population.
"It's more effective public safety," Beggs says. "This was a high point for Mayor Verner. She was under tremendous pressure from the county" not to create the court, which some view as a move against collaboration.
"It's better justice sooner," Verner says. "That municipal court has been able to find much cheaper alternatives to incarceration. It's putting people back out, serving the community through community service assignments instead of sitting in jail. I can take more credit for that one than some of the others."
Verner's efforts to promote alternatives to incarceration have contributed to the continued discussion of building a municipal jail, though she still asserts — as she did with Spokane County Sheriff Ozzie Knezovich at her side — that it'd be wrong to call it a municipal jail.
"That's a misnomer for what we're doing," she says. "We're trying to find a cost-effective way to provide low-security detention for misdemeanors ... We could be paying $53,000 a year [to incarcerate] somebody who's committed a $750 offense ... And when I say 'we,' I mean the city and the county. Ultimately, if the city built something to house misdemeanants, it would not be something that we'd do in isolation."
Despite some high praise for Verner, Beggs faults her for not leading in matters related to the police ombudsman. Specifically, he says she was willing to compromise some powers for the ombudsman rather than battle the police union.
"Her style of leadership is to get everyone in the room and work something out. The Guild was not willing to work," he says. "I'm looking for a mayor to say, 'This is the way to go, regardless of the Guild. If they're not willing to do what's right and compromise the principles of the city, then I guess we'll go to court.' ... The administration was willing to compromise rather than go to court. And a lawsuit is not [Verner's] style."
She agrees, to a degree.
"The challenge I have in the executive branch is that there are certain authorities that have to be negotiated with the police Guild," she says. "I've had to weigh in the balance what they're going to want in return in the times we're in right now, versus what benefit do we gain from getting a concession on additional investigatory authority for the ombudsman."
She continues, saying that she has a list of priorities she wants to discuss with the Guild when its union contract with the city opens next year.
"Additional investigatory authority could be something on that list," she says. "My higher priority is the release of records. I'd much rather be able to release the full investigatory file."
Earlier this year — after an Inlander story discussed the relative lack of transparency in the police department compared to law enforcement agencies across the state — Verner said it was "time for us to take a look at this ... Our city's not adverse to ongoing reforms." Earlier this month, the local media — The Inlander, the Spokesman, KXLY, KREM and KHQ — sent Verner a joint letter imploring her to make the police department actions more transparent (pdf).
On Monday, Marlene Feist, the city's spokeswoman, said Verner was currently formulating a change to the city's records policy. The new policy could be announced as early as this week.
The man credited with creating the city's disputed records policy is Assistant City Attorney Rocky Treppiedi. For years, his actions have been called into question, and during the last mayor's race, a columnist with the Spokesman wrote, "Treppiedi's tactics should be a major campaign issue. Candidates who won't promise to rein them in don't deserve to sit in the mayor's office."
"He reports to the city attorney, who reports to me," Verner says of Treppiedi. "As such, I have directed the city attorney to review Mr. Treppiedi's work and opinions and then to discuss them with me. So there's less perceived autonomy on Rocky's part. He knows basically that his opinions are going to be run through the filter of the city attorney, who knows where I want the city to go, which is on the side of greater transparency."
When reminded that Treppiedi has been working from the same playbook for decades — he still relies on a state Supreme Court case he argued in the '80s to buttress his opinions keeping a tight grip on any internal police records — Verner says it's because he's skilled.
"He's a good lawyer," she says. "It's great legal advice — for the police department. I need to put that in the context of other relationships that we have with the community."
When it's suggested Treppiedi appears to be an immovable force in City Hall, Verner says, "No, I don't agree with that."
The Messenger
Once again, a well-dressed Mary Verner stands before a small crowd of Spokanites, the bearer of bad news.
It's lunchtime, and she's in the basement of St. Anthony's Church, just off Northwest Boulevard. Her audience is a couple dozen older women, members of the church's Altar Society. The topic of discussion, which Verner delivers with microphone in hand to the long table of gray-haired congregants, is the city's budget.
"It is a grim picture," she says. "It is a very grim, very tight, dismal budget."
Between bites, the women murmur politely — a lot of "mmms" and "oh mys" — at the bad news Verner gives them: The recession has taken, and continues to extract, a hefty toll.
"It's nothing to be depressed about," she says of the red ink filling the city's balance book, half of a smile on her face. "I'm depressed enough for all of us."
Not the best re-election message, and the depression likely won't lift this year. The outlook for the next budget indicates it will be as bad as this "grim" one, which prompted Verner to lay off 70 employees.
She also has to negotiate new contracts with the Local 270 and the Police Guild — a fight that is already shaping up to be the biggest challenge yet for Verner; it will likely test her ability to extract compromise from union leaders who feel they've given more than enough. The Guild, notably, has launched its PR campaign, buying billboards around town in an effort to insulate its members from layoffs.
Regardless, Verner looks forward to the budget fight, the year and her re-election bid. But she says she'll eye them separately.
"I really can't look at how the budget issues are going to affect my ability to run for office again," she says. "Maintaining the quality of life and the financial stability of the city has become the drumbeat under everything we do. "But the result that I'll run on is greater efficiency. This is a government that makes sense."
Back in the church's basement — bad news delivered — the mayor is taking questions. Joann Martell raises her hand and the mayor looks to her.
"How in the world can you say you enjoy your job?" she asks. And, suddenly, the mayor just laughs.
---
Advice for Verner
The people interviewed for this article were asked what Mary Verner could do to be a better mayor. Many of them had the same answer: Be more visible.
"She's a leader, we just don't see it. I'd call press conferences more often," says local attorney BREEAN BEGGS. Despite his criticism, Beggs is a supporter of Verner. "She needs to say, 'Here's the line. Here's the principles we believe in.' That way people know where you stand, where you're going."
"We never see her. I wish she had a weekly press conference," says SHERI BARNARD, the former mayor, also a supporter of Verner. "If you want to be re-elected, people better know what you're doing, what you're doing that benefits them."
"Who is the face of City Hall? It should be the mayor," says DENNIS HESSION, Verner's opponent in the last general election for mayor. "To me, this is such an important job. Spokane is capital city of the Inland Northwest. You have responsibility that is way beyond the borders of the city, on leadership and on direction, on issues that impact Idaho, all of Eastern Washington and into Canada. Things like environmental issues, human rights issues, things we share in common. That job has a responsibility to show some leadership. Where is it?" (Nicholas Deshais)
---
The Contenders
Mary Verner has already raised close to $20,000 for her re-election bid. Among the biggest donors are Democrats: former state Sen. Chris Marr, legislator-elect Andy Billig and state Sen. Lisa Brown. So it's no surprise that the people most often mentioned as her potential opponents for this nonpartisan position align with Republicans.
Mike Allen
Appointed by the City Council to fill Verner's seat when she was elected mayor, Allen quickly tacked to the political middle, voting against a contract that included 5 percent raises for the city's largest union and changing the language in the mayor's sustainability plan, which did not please her. Allen lost his seat last year to Jon Snyder.
Anthony Bonanzino
Former president and CEO of local pharmaceutical giant, Hollister-Stier, he left the company in 2008 and began teaching business and leadership courses at Gonzaga. He's also been acting CEO of the Institute of Systems Medicine, which was founded in 2003 to bring biomedical research to Spokane. Bonanzino sits on the boards of Deaconess Medical Center, Inland Northwest Bank and Gonzaga University.
Nancy McLaughlin
As the last remaining conservative member of the City Council, McLaughlin has consistently spoken out against some of the mayor's endeavors, including the Sustainability Action Plan, which she said was based on incomplete facts. (She disputes climate change.) She has proven her popularity among Spokane voters: She won her re-election last year by a 2-to-1 margin.
Steve Salvatori
Though he donated $100 to Verner's re-election campaign more than a year ago, his name is being raised as a potential opponent. Salvatori has made a name for himself by running the Spokane Entrepreneurial Center and by running for Spokane County commissioner this year. He came in fourth. (Nicholas Deshais)