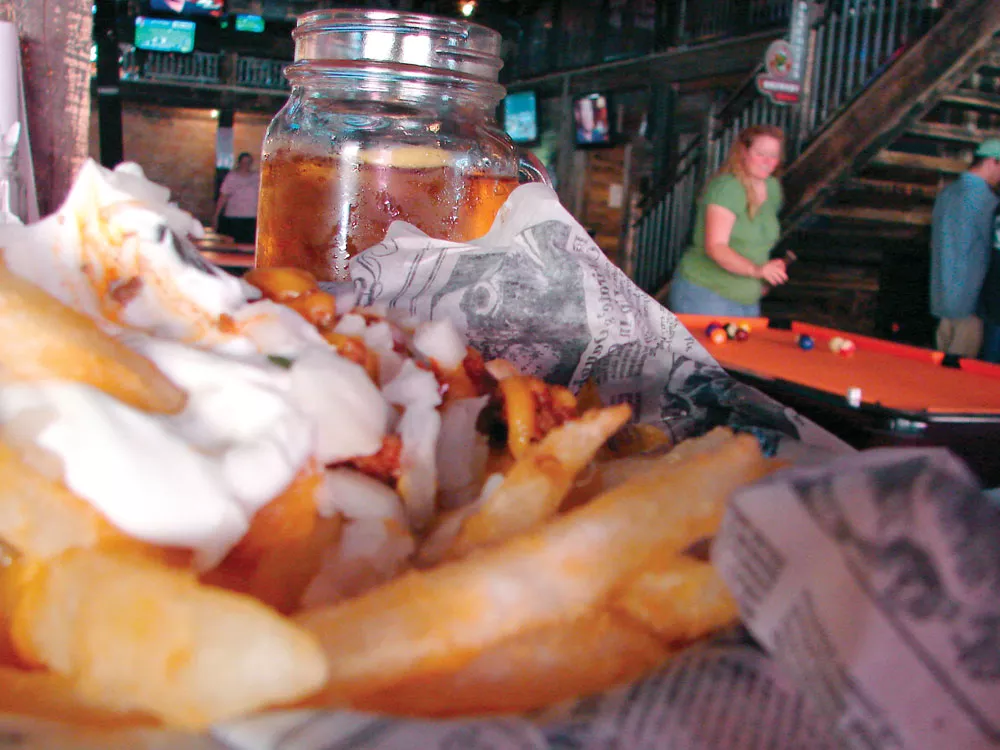 There are a dozen different reasons to be lured into the Dive, Sandpoint's newest restaurant and nightclub and part of the empire built by head chef and front man Junior Solis and his business partner, Lex Sparks. A few reasons involve food. Radio spots advertise it as "white trash comfort food" and it's true that the Dive's food goes well with beer — Bubba's Fish n' Chips ($9), for example, or the Hillbilly Pulled Pork Sandwich ($7) — or even a hangover (the Bacon, Egg and Cheese Burger goes for $9).
The Dive is an odd place, more about kickin' it with friends than cuisine. That's ironic for the classically trained Solis, who was recently profiled for his Latin and Asian stylings on the Hispanic Food Network's En La Cocina.
Regardless, Solis has a flair for marketing (they're considering franchising the Dive for Northwest college towns) and getting people talking. As with Oishii's wasabi green walls outside and red inside, Solis uses color like a graphic designer, dredging up and playing with our deep-seated notions. The Dive has Hooters-esque orange that dominates exterior walls, pool tables, and T-shirts, including those emblazoned with "Never Talk About Fight Club" worn by servers, all cute in their jeans, boots and hip-slung tool belts.
The Fight Club reference and Solis' interest in cagefighting sparked rumors about actual fight cages, but the Dive bills itself as family-friendly — at least until 9 pm, when DJ B Breaks pumps up the jam. It's non-smoking inside (though smokers congregating along exits form a tobacco gauntlet) and games are free for patrons: darts, air hockey, skeeball, ping-pong, foosball, etc.
The mechanical bull is a big draw, too. While we were there, three grubby, barefoot, chubby-faced pre-teens squirmed ahead for yet another bull-ride ("Limit: 2") while adults shot pool, drank beer or were upstairs playing the Xbox 360. Elsewhere upstairs was quiet, though, with the elevated patio closed due to a legal brouhaha.
In the court of public opinion, the reviews of the Dive are still mixed. However, with 22 beers on tap ($2.50-$3.50), a full-liquor cabinet, free games, an occupancy of nearly 600 and the kind of anything-goes atmosphere where you toss peanut shells on the floor, there is no question that the Dive fills a niche. (Carrie Scozzaro)
The Dive, 209 N. First Ave., Sandpoint, Idaho, is open daily 11 am–2 am. Call (208) 597-4763.
Pour It On
Amber-hued sesame wok oil spiked with garlic and ginger, deep green grape seed oil and rich, chocolaty brown balsamic vinegar are suspended in glass containers in front of a backlit wall showing off their vibrant colors. You'll find over 20 different oils, almost an equal number of vinegars and many other culinary treats at the new Oil & Vinegar store in River Park Square.
Oil & Vinegar was founded in the Netherlands in 1999 and now has 72 stores worldwide. The River Park Square store, which opened about two months ago, is the second location in Washington.
"It's really a fun concept. People are having a blast. We mix [oil and vinegar] concoctions for customers so they can taste their favorite combinations," says employee Debbie Williams.
Just walking through Oil & Vinegar can work up your appetite, but don't worry, there's plenty of sampling. In addition to the oils and vinegars, you can try sauces like the tangy, sweet Fruschetta, which would be perfect on grilled fish, or sample the Chili Garlic Sauce, which might possibly induce you into eating a whole plate of French fries just to mop up the sauce.
Select from the attractive assortment of cork-topped glass bottles ($3.95) and fill one up with traditional or flavored oil, with includes everything from truffle-flavored olive oil to spicy Moroccan grape seed oil with hints of cinnamon and cumin. Grab a second bottle and fill it with aged balsamic vinegar, or a sweet cassis-flavored dessert vinegar ($4-$7 for 100 milliliters). Bring the bottle back for a refill on your next visit.
You'll also find cookbooks, serving dishes, pastas, dips and sauces. "We keep adding all the time," says Williams. Next month, Oil & Vinegar will feature a line of African products, including pottery and a "seriously hot" peri-peri sauce.
Grab some oils, buy a loaf of Ciabatta, and pour yourself a glass of red wine. Heavenly. (Kirsten Harrington)
Oil & Vinegar, 808 W. Main Ave. (in River Park Square), is open Mon-Sat 10-9, Sun 11-6. Call 838-7115.