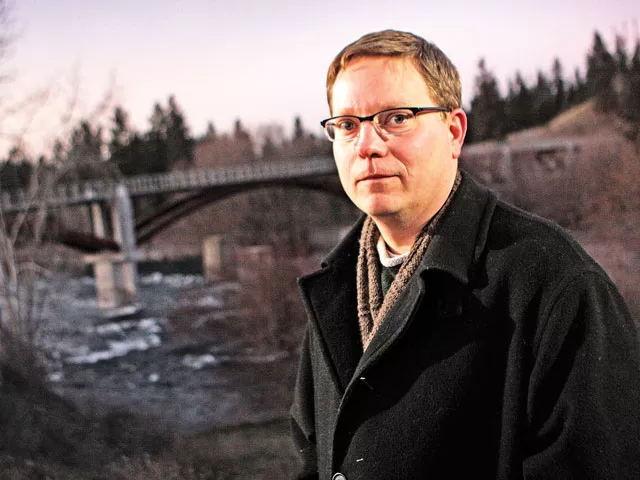 Like some pagan demigod, Rick Eichstaedt lords over the Spokane River as its Riverkeeper. That's his job, that's his title, that's what's on his business cards.
Unlike some ancient deity, Eichstaedt doesn't control the river's fl ows, its fi sh populations or what gets dumped in its waters, though he'd probably like to. Instead, he acts as the river's legal representative.
Last week, his organization — also called the Spokane Riverkeeper, part of the Center for Justice as well as an international alliance dedicated to protecting waterways — gave the city of Spokane a 60-day warning to reduce the amount of polychlorinated biphenyls (PCBs) it allows into the river.
Or else. We sat down with Eichstaedt to ask exactly what might happen if the city doesn't pay heed.
INLANDER: So you're going to sue the city, huh?
EICHSTAEDT: Well… [laughs] We're hoping we don't have to. This is a procedural requirement. Under the Clean Water Act, you have to provide notice to a polluter and give them 60 days' notice. On Day 61, you can go to federal court. It doesn't mean we intend to do that. That's how you get an enforceable settlement. You have to get it before a judge and have the court essentially bless it.
What needs to happen in these 60 days?
We're starting to talk. We had a meeting this morning [Monday] with the city's outside counsel. We've got a meeting with the mayor scheduled. We had begun discussions with the city back in October, and we were having trouble getting responses. It just didn't seem to be advancing quickly, so we decided that this step might add some urgency.
Does this have anything to do with the new slate of progressive members on the council being potentially more receptive?
No. We wouldn't bring action until we were fairly confi dent the law was behind us. I would hope that that group would be more receptive to cleaning up the river.
What level of PCBs — a probable carcinogen that was banned by the EPA in 1976 — does the city need to reach? And how does it do that?
First of all, the Spokane River has way too many PCBs. There's a draft cleanup plan from the Department of Ecology that says each source of PCBs needs to reduce [their output by] well over 90 percent to meet water-quality standards. What they need to do is figure out where the PCBs are coming from. [They're] doing that on a small-scale already. Go up the pipes, figure out what the sources are and address those. If it's a current industry, figure out why they are discharging PCBs. If it's an old industrial site, fi gure out who the owner is and get them to clean it up. The city's part primarily is to figure out where it's coming from — and then hold the owner's feet to the fire.
Why hasn't anybody held the city's feet to the fire?

Part of this problem isn't just the city's. The Department of Ecology hasn't done a really good job trying to identify these kinds of sites.
Under the Clean Water Act, every industrial site that has the potential of [discharging pollutants] is supposed to have an industrial storm water permit. You'd think there'd be hundreds in Spokane. The Department of Ecology has only issued four. It's their job to make sure these sites get permitted. And they're not doing it.
Why not?

I don't know. Maybe it's perceived as bad for business to actually have people legal. But it's really not clear to us. The New York Times has been doing a series of articles on the Clean Water Act. They looked at state enforcement of the [law], and Washington ranks 36 th . Out of every 100 violations — not complaints, but violations — Washington only takes action on nine.
What's the Riverkeeper's part in all this?

Our job is to be the legal eyes and ears for the river. If there are things like [PCBs] that are not being addressed by our state and federal agencies, the Clean Water Act lets citizens do their job. In this case, Mike Chappell [director of the Gonzaga Environmental Law Clinic] and the clinic are acting as our lawyers.
What's an ideal Spokane River look like?

We would have cleanup plans to address all the different pollutants of concern. We have PCBs, and Ecology's perpetually put the cleanup plan on hold. We're still dealing with dissolved oxygen and phosphorous, after 10 years of trying to get a plan. We'd get that done. Permits for all the major polluters along the Spokane River have expired and been administratively extended. We'd get new permits that get people on a schedule for cleaning up the river. Our county's wastewater plant would not discharge into the river. Instead, we would use that water for industrial purposes, for recreated wetlands. It does not make sense to put 8 million gallons of new wastewater into the Spokane River. One of the biggest impacts on the river is declining river flows, and part of that is over-pumping of the aquifer in Idaho.
We need Idaho to come to grips with that and be more responsible in its growth and its issuance of water-right permits.
What's the likelihood that we'll see salmon trying to swim up the falls in the middle of town?

There are a lot of dams, and not just on the Spokane River. We'd need to get them around Chief Joseph and Grand Coulee on the Columbia. And then we'd need to get them through Little Falls and Long Lake. The tributary habitat — Latah Creek, in this case — is hammered. So any of the tributary salmon spawn-ers just wouldn't work until we get a handle on that. It is something that might happen someday, but we have got a lot of work. As a region, we can't keep salmon where they already exist. How do we protect the salmon where they already are? But dams don't last forever. Nine Mile Reservoir is 90 percent full of sediment. At some point, Avista and our community are going to have to ask, "Does it make sense to keep these dams? What are the economic and environmental trade offs from keeping these dams?" Someday we make look at it as a society and decide it doesn't make sense.