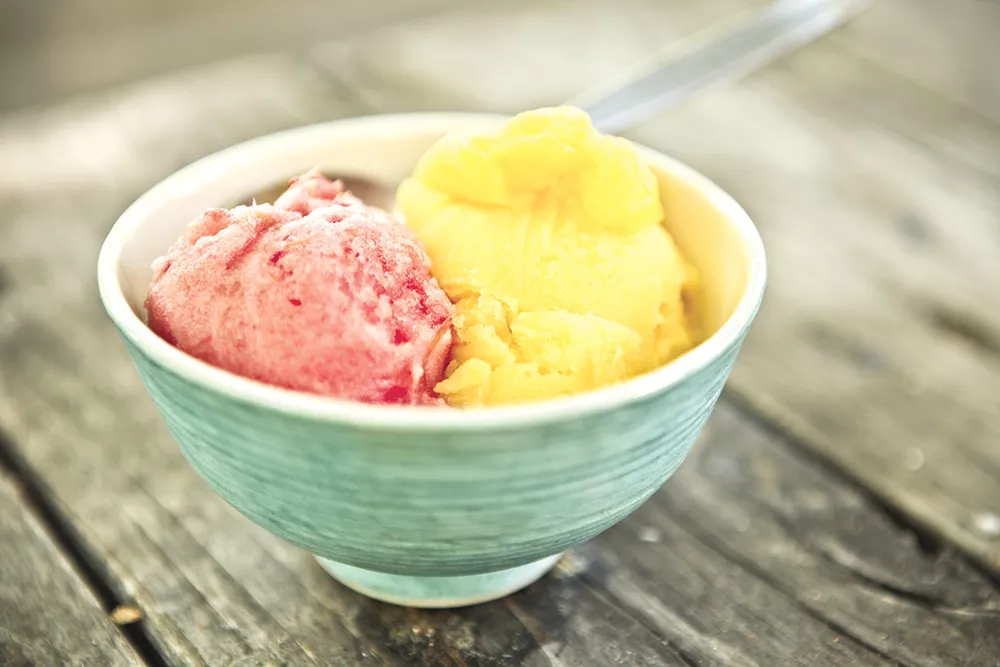 Looking around at the bright orange walls of the newly opened South Hill Brain Freeze Creamery location, Tom Purdum can still easily recall how hot it could get inside the tiny room in the basement of an engineering firm where the business was located when he took ownership six years ago.
Since then, Brain Freeze has outgrown multiple locations as more of its ice cream ingredients have been made in-house, including cookies, brownies, chocolate and caramel. In 2014, Brain Freeze opened its first shop in Kendall Yards.
"Kendall Yards was one of the biggest risks we've taken," Purdum says. "But it has been doing really, really well, and after its first year we thought, 'Let's expand a little bit and see what happens.'"
Brain Freeze opened a South Hill location last summer, but was forced to close when the building was sold. Purdum remained determined to reopen a Brain Freeze spot in that neighborhood, and did just that this spring with the new shop on Grand Boulevard.
Like the Kendall Yards location, the South Hill shop scoops 24 flavors and offers the same breakfast and sandwich menu. Purdum is excited about soon making another batch of the sauce for his favorite Brain Freeze food item — the coffee BBQ chicken sandwich.
Brain Freeze has around 100 flavors of ice cream, and when it comes to experimenting with flavors, Purdum and his son Nathan will make just about any flavor once — including a chicken wing flavor.
Purdum's wife Julie's dairy intolerance inspired him to create vegan flavors while maintaining the same level of deliciousness Brain Freeze has become known for.
"You can really taste the coconut milk in the first bite of most of our vegan flavors, but in the bites after that, it kind of fades into the background and really complements the other flavors," he says. "Some of our vegan flavors are our most popular, and people can't believe there isn't dairy in them."
Regarding future plans for Brain Freeze, Purdum hopes to open a few other shops around the Inland Northwest in the next few years, along with purchasing a newer mobile truck that — without giving too much away — will be unlike anything Brain Freeze has done before.
"You really have to be always thinking of new flavors and combinations. It's challenging," says Purdum. "Like the Rainier cherry chunk I made last week. It was awesome, but will I make it again? I don't know. Maybe next year." ♦
Brain Freeze Creamery • 1230 S. Grand Blvd. • Open Mon-Thu, 7 am-10 pm; Fri, 7 am-11 pm; Sat, 8 am-11 pm; Sun, 8 am-10 pm • 309-3830 • brainfreezecreamery.com