Count Hermann-Karl von Keyserling just wanted a good night's sleep. It was 1,200 bumpy miles from St. Petersburg to Leipzig, where his work as Russia's ambassador to Saxony took him. Once at court, he was among friends, but the times were fraught inside the Holy Roman Empire in 1741. A diplomat's job is to hold things together, yet Europe was being pulled apart by the War of Austrian Succession — the opening skirmish of the Seven Years' War.
Every time the Count's head hit the pillow — nothing. His mind could not stop. Desperate, he had begun to travel with a talented young musician who would play outside his door each night, trying to clear his head. Even that rarely worked, as he played the same blasted pieces over and again.
There was a composer and organist of some repute at court — the cantor of St. Thomas Church, Leipzig's largest. Would he, perhaps, write something new — something calming, yet inventive, to help the Count steal a few precious hours of peace? The cantor met the musical challenge, and the ambassador had his musical companion learn it — all 30 swirling, precise movements. It was an instant tonic.
"He never tired of them," Bach biographer Johann Nikolaus Forkel recounted the tale in 1802, "and for a long time, sleepless nights meant... 'Do play me one of my variations.'"
Apocryphal or not (more on that later), the elements of this tale are still very much with us. The Count's harpsichordist was Johann Gottlieb Goldberg, who is immortalized in the work's title — the Goldberg Variations. And while the War of Austrian Succession is but a misty memory today, the Goldberg Variations remains among the most beloved pieces of music ever written.
Of course, we also know the clever cantor who helped Count von Keyserling grapple with insomnia so long ago. It was Johann Sebastian Bach.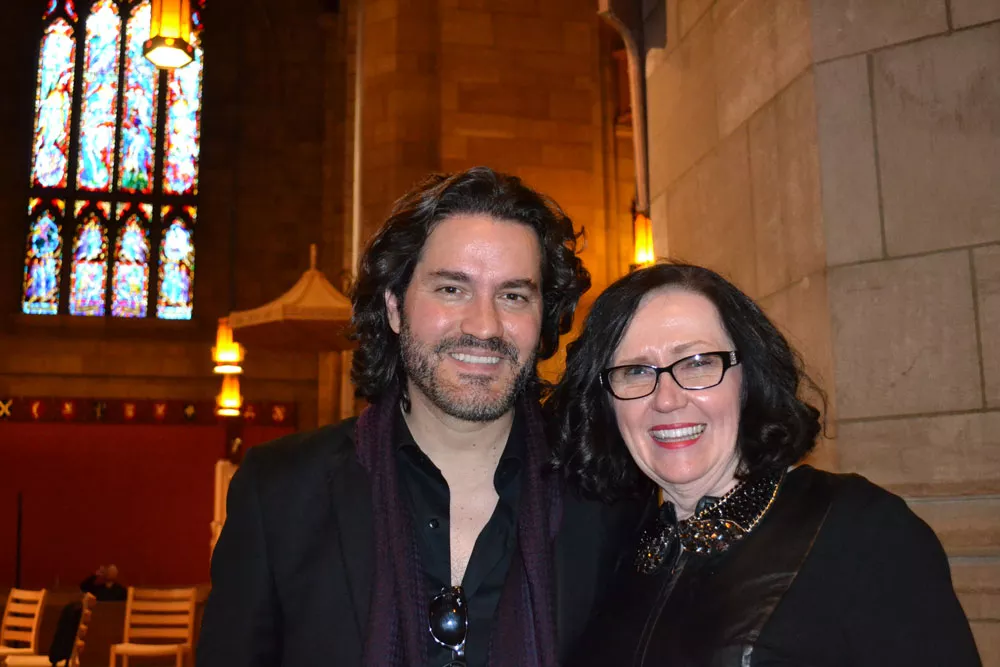 WORTHY OF CELEBRATING
And here we are in Spokane, marking the start of the 2017 Northwest Bach Festival, led by Music Director Zuill Bailey, fresh off winning a Grammy for his solo cello playing. It's a fair time to ask what it is about Bach that still has us listening.
The Goldberg Variations offer the perfect peek inside the Bach mystique; that it may have been a kind of one-off, back-of-the-napkin deal only adds to the legend. Listeners tend to be mostly dumbfounded by it — a "Rubik's Cube of invention and architecture," as one recent admirer put it. Filled with ever-varying melodies and musical canons, all referencing a simple, central aria, it's like music spit out of some elegant supercomputer. Except that it was the product of one man's imagination. It's like looking into the eyes of the Mona Lisa. Or seeing "E = mc²" scrawled on a chalkboard. Pure genius.
Oddly enough, after his death in 1750, Bach's music initially only lived on via his family — a brood of accomplished players. He was laid to rest in an unmarked grave for almost 150 years. Though the likes of Mozart and Haydn studied The Well-Tempered Clavier as if it were the Bible, only decades after his death did his music start to take hold again.
In 1829, Felix Mendelssohn mounted a performance of his epic St. Matthew Passion in Berlin, and the Bach legacy was secure. In the late 1930s, acclaimed cellist Pablo Casals fulfilled a dream to record some sheet music he had bought in a Barcelona antique shop when he was 13. It was Bach's Cello Suites, which had been nearly lost. The recordings were a sensation, launching a Bach revival that powered right on through to the creation of Spokane's Connoisseur Concerts and the Northwest Bach Festival in the 1970s.
Founded by David Dutton and Beverly Biggs, the early Bach Festival featured Baroque-era instruments that Bach would have written for. Later, Stefan Kozinski, associate conductor of the Spokane Symphony, became musical director. He brought a more modern sensibility to the festival, recalls Gertrude Harvey, executive director of Connoisseur Concerts, which produces the Bach Festival.
"Then, around 1992, we did a re-evaluation — we were looking for new direction," Harvey says. Maestro Gunther Schuller had a connection to the Spokane Symphony and the Festival at Sandpoint around the same time, "and we decided to see if he was interested," she says. "Turns out, he was."
Schuller commuted to Spokane from his Newton, Massachusetts, home for the festival from 1993 to 2013, recreating Bach with his originalist sensibilities.
"He fell in love with Spokane," Harvey says. "And Spokane musicians and Spokane audiences fell in love with him."
But Schuller's long, illustrious career was coming to an end; travel was becoming difficult. Harvey knew a transition was looming, but never quite got around to acting on it. Schuller, on principle, did not want to meddle in the recruitment of his replacement. It was going to take a little bit of that Bach magic to find a path forward.
Then one day, Harvey remarked to Schuller that she loved Bach's Cello Suites and that she wanted to get some cello back into the festival. Schuller said there was a cellist he had just seen perform — one Zuill Bailey.
"Gunther told me this man was not only a wonderful musician," Harvey recalls, "but he also had such an engaging way to draw people into the music."
So Harvey booked Bailey to play the 2012 Northwest Bach Festival, and the gears started to turn.
In June of 2015, after 89 years living one of the great American musical lives, Schuller passed away. Without meaning to, one of his final performances was to recruit Bailey to replace him.
WHO IS ZUILL?
As the son of two music educators in Northern Virginia, Bailey's career arc may have been already in the stars. But the speed with which he picked it all up surprised even his parents.
"My mom and dad still laugh about how I would sit up on a stack of phone books as a kid, and when I started to play, I would immediately shut my eyes," Bailey recalls. "Honestly, I don't remember learning to play, just how to refine playing. My parents never had to ask me to practice. They had to ask me to stop."
In fact, he started at age 4 with the Suzuki Method, which mimics the way young kids can learn new languages.
"My childhood changed my life," says Bailey, "with all those arts opportunities at my fingertips. It made me feel safe. It gave me the tools to feel comfortable expressing myself.
"So it makes sense," he continues, "that as the dust settles, I gravitate naturally to making a difference in education — bringing music to people who don't have it."
The year 1977 was big for the young Bailey, as "that's the year when [Mstislav] Rostropovich — arguably the greatest cellist who ever lived — became director of the National Symphony. We kind of turned into cello mecca at that point."
So the cello it would be, and soon enough Bailey was off to the Peabody Institute in Baltimore, then Juilliard on Manhattan's Upper West Side.
What followed was 25 years as a traveling soloist, going wherever the gigs took him — from plane to plane, his cello stowed in the seat next to him. He was living the dream every young musician imagines during those long hours of practice. And he's played some epic venues: Walt Disney Concert Hall, the Kennedy Center, Carnegie Hall; in Austria, South Africa, Jordan, the UK — the list goes on.
But there's a price to all that travel, and slowly it dawned on him that he wanted something different.
"The grass is greener," says Bailey, now 44, "where you water it."
He secured a faculty position at the University of Texas at El Paso, providing him a home base; he's also artistic director of El Paso Pro-Musica and the Sitka Summer Music Festival in Alaska. These posts give him the chance to stay put for weeks at a time, and although he has been offered similar posts in other cities, when the opportunity to lead the Northwest Bach Festival in Spokane came up, "I immediately said yes.
"I felt something that was so right when I came to Spokane," Bailey adds. "My friend Kevin lives here [Kevin Hekmatpanah, cellist with the Spokane Symphony and on the faculty at Gonzaga]. And the moment I met Gertrude, there was a synergy that was rare. Instinct is important; it just felt like home."
"When you just come and play a one-off concert, it's often just the standard, usual thing," says Hekmatpanah. "But when you're the director, you look at the longer arc. Zuill's goal is to have a long-term relationship here and really shape the festival into his vision."
Bailey is already bringing that horizon closer; he's performing and programming here not only during the Bach Festival, but for concert series in July, August and December. And Connoisseur Concerts is now producing shows in Coeur d'Alene and Walla Walla.
"I'll go ahead and make the comparison to Bach here," says Piotr Gajewski, music director and conductor of the National Philharmonic, who will conduct the Festival Finale on March 5. "Zuill works unbelievably hard; he puts himself out there like no other collaborator I have worked with. He's also a fabulous musician, just a joy to play music with."
Bailey's style is very personable and that makes him a little different — perhaps not exactly what you've experienced in a concert hall before. It's who he is, but it's also reflective of the sensibilities of the cadre of classical musicians now coming into their own.
"The generation that Zuill and I have grown up in, it's been a really pivotal time in the world of classical music," says Lara Downes, a pianist who has collaborated with Bailey and has performed at two recent Bach Festivals. "All our teachers thought the world of classical music was coming to an end. So you can walk away, or you can do what kids do and rebel — 'No, we're going to turn this around. We're going to do outreach on our own terms.'
"I really admire Zuill for being able to really redefine what music can be to a community."
My wife, Anne, is on the Connoisseur Concerts board, and we've experienced many musical highs with Bailey front and center, eyes still closed, or telling a funny story about an eccentric composer you've never heard of. We've talked about everything from the comparative benefits of male versus female horsetail hair in bows (there's a difference) to our boys — we have three, and he has two, with the artist Margarita Cabrera, whom he was married to until 2009.
Sure, it's intimidating that he plays a cello made when Bach was a child (a 1693 Gofriller), that he looks like an international man of mystery (the hair, the dapper suits) and the name "Zuill," well, that's just not fair. Despite all that, he's humble — very much the son of two teachers, with a soft spot for that kid out there (maybe sitting on a stack of phone books) who needs to connect to music.
FINDING PEACE
Back to old Count von Keyserling: I took some license with that story, building on the original from Forkel in 1802 and layering on some of the historical record. You should know that in academic circles, whether Bach wrote the Goldberg Variations to help some sleepless diplomat is in dispute.
But the point of the story is to draw a line from all the way back in 1741 to the here and now. We're still celebrating this man and his genius, across centuries and continents. But context matters, too. Artists going all the way back to Bach have been a comfort to us, but we don't always remember the times they lived in.
"Music gives us a connection to our past," says Downes. "We have this idea that classical music, and things from the past, came from some other reality, where there wasn't stress and people weren't overwhelmed. But the world was never a quieter place. Some of the great artists lived through incredibly turbulent times. Chopin was running away from a revolution, but he wrote all this soothing music.
"Today," she continues, "we're all feeling that through this whole mess, we're inundated with so many different things. We're all trying to pull inward to avoid the rabbit hole. Finding some quiet time in the course of our everyday lives right now is essential for survival."
Downes' remark about "this whole mess" of course refers to the times we live in, nervous about the future and worried that our leaders are ill-equipped to maintain peace and prosperity. We're having a collective "emergency of the soul," as Alex Ross put it in his recent New Yorker essay, "Making Art in a Time of Rage."
Three days after John F. Kennedy was assassinated, Leonard Bernstein conducted Mahler's Resurrection Symphony and famously remarked: "This will be our reply to violence: to make music more intensely, more beautifully, more devotedly than ever before."
Music has to be both a place of refuge and a statement of humanity. A nice Bach Festival right about now is just the tonic we need, as we seek out the arts — musicians of all kinds, comedians even — to help us find peace.
"It happens more than you would think," says Bailey, as we discuss the tale of the sleepless Count. "Someone comes up to me after a show and says, 'I can't believe it; I fell asleep.' These are busy, successful people — people who may be stressed out, who may struggle to sleep at night. What is it about a concert that can put them to sleep?
"Music brings harmony to our bodies," Bailey concludes. "Sleep is peace."
THAT OLD BACH MAGIC
Little did he know it, but in 2012, when Bailey first performed in Spokane, he was auditioning to lead the Northwest Bach Festival. At first, Harvey, the executive director, didn't know it either.
The weekend before Bailey's concert that year, the late pianist and composer William Doppmann, who lived in Bellingham at the time, had to cancel. Suddenly, Harvey had a giant hole in her festival.
"They called me," recalls Downes, who lives in California, "and they were like, 'Can you be here tomorrow?'"
After her fill-in performance, Downes went to dinner with the Bach Festival brain trust.
"She said, 'I see you have Zuill coming,'" recalls Harvey. "'You're going to have so much fun with him.'"
Bailey and Downes, it turned out, were longtime friends and collaborators. Harvey pumped her for details, and she shared the innovative things he was doing in El Paso and Sitka.
Soon Harvey saw the outlines of a gift horse and wasted no time. Bailey and Schuller would share the leadership of the 2013 Bach Festival. As a tribute to Schuller, Bailey played all six of Bach's Cello Suites over the course of two glorious hours. In 2014, Bailey took the baton.
How slight a series of accidents led Bailey to Spokane? Harvey just wanted to hear some cello. Schuller had just stumbled across Bailey in Santa Fe. A musician fell ill. His replacement just happened to be a friend of Bailey's.
Lest you think this is all coincidence, and that the magic of Bach had nothing to do with it, consider this: For her fill-in performance, Downes played the Goldberg Variations. ♦
---
ABOUT THE AUTHOR
Ted S. McGregor is the publisher of the Inlander. His favorite Bach-in-pop culture moment is Paul Simon's haunting 1973 lament "American Tune." Simon borrowed the melody from Bach's St. Matthew Passion. Willie Nelson's cover version is worth a listen, too.